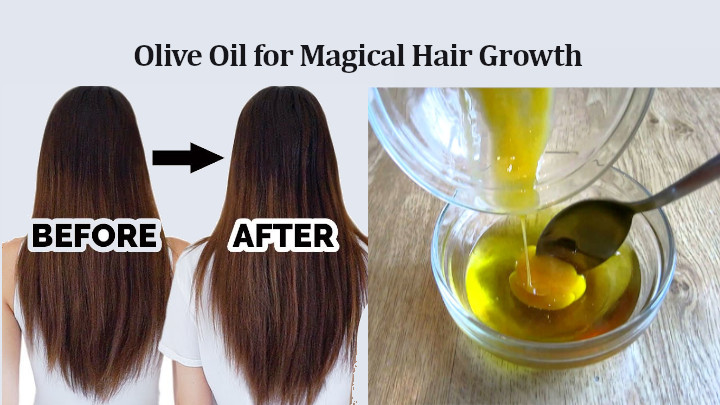 What catches your attention when you meet someone for the first time? No doubt it's your hair which is one of the most vital points of attraction that come in notice at the first meet. More or less, we born with it, but we can be a proud owner of the thick and lustrous head full of hair if we follow the proper hair care regime.
Though the hair health depends significantly on our biological condition, anyone can add shine to their hair by contributing some natural ingredients; like olive oil to their hair care regime.
By applying the goodness of olive oil, we can quickly overcome the hair related problems that inhibit hair growth. So to make your hair care routine more efficient we are here with the Uses of olive oil and how to get the maximum benefit of olive oil for hair in an appropriate way.
Here we are going to mention the Uses of Olive oil and the Benefits of Olive oil for hair. let's have a closer look-
Olive Oil for Hair Growth:
What is Olive Oil?
Olive oil is a kind of oil or liquid which we get from the olive fruit. It is a tree crop which is native to the Mediterranean region.
The fruit is pressed to get the oil which is a favorite medium of cooking and salad dressing in Mediterranean countries like Greece, Italy, Spain, and Turkey, and so on. In India, olive oil is mainly used in the cosmetic and pharmaceutical industries.
How Olive Oil is Beneficial for Hair:
Being a healthy cooking medium olive oil is well known for its beneficial effects on skin and hair. From the ancient time, it is known as liquid gold.
It contains a high amount of triglycerides and a moderate amount of FFA or free fatty acid. Due to this chemical composition, it is a huge powerhouse of moisturiser and an ideal natural ingredient for hair care.
So now it is time to know the uses of olive oil for our hair besides it cautionary applications.
Best Olive Oil for Hair Growth:
There are different versions of olive oil depends on the types of cultivated plant, time of harvest, altitude and most important is the extraction procedure. Each variety has a significant aroma and flavour and distinct uses. According to the experts, there are 4 types of olive oil.
1): Extra virgin olive oil:
2): Virgin olive oil:
3): Refined olive Oil:
4): Olive pomace oil:
Among all the varieties the extra Virgin olive oil is the best one to use for hair care because:
Extra virgin olive oil extracted from fresh olive within 24 hours of yielding the crop.
The extraction procedure follows non-chemical mechanical methods without excessive heat.
The acidic level should be below 0.8%
The oil is extracted from the first pressing of fresh olive fruits.
Also Read: 10 Best Uses and Benefits of Olive Oil You Must Know
Therefore, extra virgin olive oil is the best one to use for hair as contains all the natural ingredients, and also it is less acidic.
Moreover, no extra chemical is used or mix up with this olive oil so it's purely natural and it has the highest amount of vitamins, minerals, and antioxidants.
Benefits of Olive Oil for Hair:
Our hairs have to struggle with pollution and damage now and then. Not only that use of modern hair styling tools and chemical based products causes our hair to get dry and brittle day by day.
As a result hair strands become weak and start thinning. So before it is too late to get rid of such annoying hair problem, let us include olive oil as a hair-care product. Let us see how olive oil can improve our busy work schedule.
1. Improve Hair Texture:
Due to pollution and exposure to excess sunrays hair texture tends to get dry and dull.
But to get it is possible if you massage your hair with olive oil, it will help you to get back the shine and smoothness you had olive oil provides extra nourishment on applying on hair and its nutrients improve hair quality.
2. A Solution for Spilt end Problem:
Spilt ends is a common problem that stops the hair growth. Improper combing, use of chemical based shampoo often and random use of a hair drier can cause your hair ends to break.
As olive oil is extremely rich in antioxidants and essential vitamins and minerals, it can save your hair from further damage.
Also Read: How to Get Rid of Split Ends and Frizzy Hair
3. Reduce Dandruff:
Dandruff is the chronic problem that happens when the scalp gets dry or excess oily. The excess oil causes dead skin cells of the scalp to get deposited and produce white fakes.
Olive oil provides the entire natural nutrients that supply moisture to the scalp and prevent it from getting dry.
4. Lock the Hair Moisture:
lack of adequate moisturiser is the root of hair problem and hair fall. So it's a vital factor to lock the hair-moisturises.
So that hair shafts won't get dry. Olive oil has antioxidants and fatty acids as key components that provide the hair with moisture by sealing the cuticles with a projective guard wall around each hair shaft.
5. Helps in Hair Growth:
Hair growth entirely depends on a healthy scalp. As olive oil is enriched with antioxidants, it improves the blood circulation on the scalp surface and stimulates follicles to grow thicker.
Also Read: Top 10 benefits of Coconut Oil For Hair Growth
6. Get a Manageable Hair:
Managing your hair locks with olive oil is easy and require less time. Daily use of olive oil makes your hair softer and tangle free.
So you can manage your straight and curly hair easily.
7. Strengthen Hair Strands:
Being a huge source of multiple natural ingredients olive oil helps to fix the keratin layer in the hair.
Keratin is the key protein that builds up hair follicles so that you can avoid hair breakage.
8. Remove Head Lice:
Yes, it is surprising enough that olive oil can remove lice is a proven fact olive oil is heavy, so it doesn't allow the nits to hatch and loosen them from the hair shaft.
It also helps to kill the lice, as it penetrates the respiratory system of lice.
9. Prevent Scalp from Itching:
Itching scalp is caused due to dryness of the scalp, dehydration and when our hair remain exposed to open sun rays for a long time.
Olive oil is thick and full of moisturizers, so it's the ultimate solution to your itching scalp problem.
Related: 10 Best Home Remedies For Itchy Scalp Treatment
10. Acts as a Conditioner for Dry Frizzy Hair:
Conditioning hair with oil is the most important part of hair care routine, unless which your hair can lose its natural shine and growth.
Olive oil is full of antioxidants, and it damages the free radicals and locks the moistures of the hair. Thus it acts as a conditioner
How to use Olive Oil:
Though applying olive oil may prove lots of benefits for your hair, bet no one wants to get out with oily hair. But shampooing every day will neutralise the advantage of using it.
So, considering all the facts, the easiest way to get the benefits of olive oil is to use it as a hair mask or hair tonic. Let us see what the best ways to use it for hair are.
1. Olive Oil For Hair Growth:
To ensure hair growth:
Take adequate olive oil according to your hair length.
Make it warm lightly in the micro oven.
Take it on your palm and gently massage on your scalp.
Warp your head with a towel or shower cap and wait for one hour.
Wash your hair with shampoo.
2. Egg and Olive Oil Hair Mask for Treating Hair Loss:
Requirements:
White portions of 2 eggs.
Three tablespoons of olive oil.
Towel or shower cap.
Methods:
Add the olive oil into it to form an even mixture.
Apply on the scalp and hair evenly so that it covers the entire hair shaft. Put the shower cap on.
Allow the mask on your hair for one hour and then wash off with shampoo.
3. Olive Oil and Honey Hair Mask for Treating Dry Hair:
Requirements:
Two tablespoons of pure honey.
Two tablespoons of extra virgin olive Oil.
A bowl and a shower cap.
Method:
Mix honey and olive oil in the bowl.
Warm it for 10 seconds in a micro oven.
Apply in between hairs and on the scalp with fingers.
After one and half hours wash hair with shampoo.
4. Olive Oil and Lemon Juice to Ward off Dandruff:
Lemon juice and olive oil mixture work magically to remove dandruff and it also increases softness. Lemon juices loosen dandruff and olive oil helps to soften the flaky layers of the scalp. This musk also bring shine to the hair
Requirements and methods:
Two tablespoons of olive oil and one tablespoon of lemon juice.
A bowel to mix.
Mix the two ingredients with two tablespoons of water evenly.
Apply the mixture on the damp scalp and wait for 30 minutes and then wash off.
Related: Mix Lemon Juice and Olive Oil for Amazing Benefits
In conclusion, I would like to say that massaging olive oil on hair is an age-old therapy for improving hair growth and to prevent premature hair greying.
The emollients components of olive oil work best for skin and hair if we include it in our daily personal care products.
So, friends, we hope that after going through the above Uses and Benefits of Olive Oil for Hair Growth will surely help you. So don't delay to take the benefits of fresh green olive fruits.