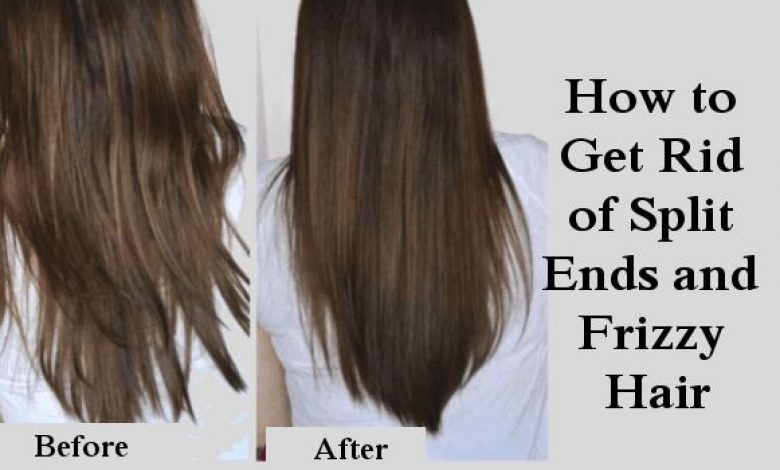 Are you looking for how to get rid of split ends overnight? Split ends or split hair is a common beauty issue for thousands of ladies. Many girls are curious to grow their hairs, but split ends force them to cut their split ends, and their desires hang in the river's middle. If you want a permanent solution without chopping your ends, you must read this article carefully.
Split ends spoil the whole personality and appealing look of a woman.
Though there are many hair care products on the market, we suggest that you should not use those harsh chemicals on your hair.
In this Article
What causes Split ends
Split ends can be caused by a variety of factors such as over-bathing, using harsh hair care products, tight braiding, and frequent use of hair dryers.
Wrong routine, Poor hair care, pollution, and stress are the primary causes of split ends.
Lack of proper diet and nourishment can worsen your trouble, especially long hair.
Using harsh chemicals to style your hair can also lead to split ends.
Washing your hair too often can also damage the hair strands and cause split ends.
Split ends are caused by over- styling your hair.
How to Get Rid of Split Ends and Frizzy Hair
Here, we will mention home remedies for frizzy hair and split ends, which are quite effective and very simple to use.
1. Egg Hair Mask
An Egg is an excellent hair mask for split ends for getting rid of those stubborn split ends and frizzy hair.
Eggs include high protein and fatty acids components, making your hairs healthy, strong, shiny, and smooth because your hair follicles are also made of protein.
The high protein value is very beneficial for unbreakable hairs and fulfills the essential needs of your hairs. Eggs are easily available at your home as well.
How to use
Take one egg, whisk it well, and add some organic honey drops and olive oil. Gently mix it and apply this mixture on your scalp and hairs ends and massage well.
Leave this hair mask for 35 minutes, then wash your hair with lukewarm water with a mild shampoo.
You can also use almond oil instead of olive oil. Almond oil includes vitamin E, which is good for the health of your hair.
Repeat this remedy once a week, and you will get positive results soon.
2. Hot Oil Massage
Hot oil massage is a great method for getting rid of several hair problems, split ends, and frizzy hair. It is considered an ancient home remedy that is still working perfectly.
Hot oil massage therapy nourishes your hair and makes them healthy, strong, and healthy. The females looking for long hair must choose the hot oil massage therapy. You can choose the oil according to your wish.
How to use
Take 2 tablespoons of olive oil, almond oil, castor oil, and coconut oil, mix them well in a container, and heat for 10 seconds.
Massage this oil well into your roots to ends for 20 to 25 minutes and leave for an hour.
Then wash your hair using a mild shampoo and conditioner. Repeat this remedy twice a week. You can also put some drops of essential oils for a fine fragrance and as the base oil.
3. Avocado
Avocado is a great fruit having lots of health benefits, but many people are not aware that avocado can be used as the finest hair mask.
Avocado includes:
Vitamin A and E.
Folic acid.
Protein.
Other necessary components that can make your hairs strong and split ends free.
Thanks to Mother Nature for providing a beautiful and healthy product. Also, try to eat avocado regularly for further and better results.
How to use
Take a well-ripped avocado, extract the pulp out and mash it well and mix some olive oil or almond oil in this.
Apply this mixture to your hair, avoiding roots. Massage well on your frizzy split ends and leave it for 35 to 40 minutes, then wash your hair with normal water.
Repeat this remedy once a week.
Related: 7 Amazing Ways To Turn Grey Hair Into Black Naturally
4. Banana Hair mask
Banana works great for split hairs frizzy and rough hairs. If you want to get miraculous changes in your dead hairs, then this fruit can help you for sure.
Banana includes vitamin A and C, iron, potassium, and other components, which reduce the hair breakage risk and help rejuvenate your hair.
How to use
Take a ripe banana and mash it well with the help of a fork, or you can also use a blender. Add some lime drops, almond oil, honey (optional), and curd.
Mix well and apply on your hair and massage for 5 minutes and leave it for 30 minutes, then wash it with a mild shampoo.
Repeat this remedy twice a week.
5. Mayonnaise Hair mask
Mayonnaise is a perfect side product for enhancing the taste of the food, as it is helpful for damaged and split ends.
How to use
Apply some mayonnaise on your hair gently and leave it for 30 minutes, then wash it off with lukewarm water using a mild shampoo.
Repeat this remedy twice a week. You can feel an odor after using mayonnaise, but it's natural.
6. Beer
Beer is quite beneficial for enhancing the shine of your hair and getting rid of split ends.
There are many beer shampoos available, but you can also directly use this on your hair. You have to use the beer as a conditioner.
How to use
Wash your hair with a shampoo and apply some beer or sprinkle some beer on your hair. Massage well from roots to ends, leave it for 5 minutes and then wash with plain water.
Repeat this remedy twice a week, do not worry about the smell; it will vanish on the same day.
7. Yogurt Hair mask
Yogurt is an excellent remedy for treating the split hairs issue. Yogurt has protein value and other healthy components that help smooth your hairs and make them strong and split ends free.
How to use
Take half a cup of yogurt and add some drops of lime; you can also add some drops of coconut oil or olive oil.
Apply this on your hair's roots and ends well, massage for 10 minutes, leave it for 45 minutes, and then wash your hair with normal water.
Repeat this remedy twice a week.
Yogurt is excellent remedy for split ends remover.
8. Milk
Milk is a good moisturizer for your skin and has a good amount of protein; it makes your hairs breakage free, healthy, and strong.
Using milk on your hair is a 100% natural remedy with no side effects, and it will suit every type of skin tone.
How to use
Take some milk according to your hair length and directly apply this to your hairs, and massage well.
You can also dip your hair into lukewarm milk, keep it for 10 to 15 minutes, and then wash it with normal water. Make sure that you do not wash your hair with any shampoo.
Repeat this remedy twice or thrice a week.
9. Papaya Hair Mask
Papaya has many health components, which are quite hair-friendly.
Papaya helps restore the natural strength of your hairs and make them frizz-free and split ends free.
How to use
Take a ripe papaya, peel it off, cut it into small cubes, mash it, or blend it well and add some yogurt.
Mix it well, apply this hair mask on your hair, and leave it for an hour.
Wash your hair and repeat this remedy once a week.
Also Read: Top 10 Benefits of Coconut Oil For Hair Growth
10. Honey
Honey is a perfect ingredient for rough and weak hairs. It works as a natural moisturizer and conditioner.
How to use
Take 3 tablespoons of honey and mix one cup of water. Apply this after washing your hair, massage well, and leave it for 5 minutes.
Repeat this once a week.
How to Prevent Split Ends Naturally
Split ends are the result of over-styling your hair. They are caused by using hot tools and harsh chemical treatments that can cause the follicles to become damaged.
Split ends are caused by damage to the hair follicle. The damaged hair follicle cannot repair itself, and as a result, it splits open. This results in split ends at the root of the hair shaft, where your finger can easily grab them.

Split ends can be prevented naturally with proper care and the use of certain products on your hair daily. Some easy ways to prevent split ends include:

1) Don't pull or tug on your hair when washing it. Use gentle shampoo and conditioner instead, so you don't damage your strands while they're wet.

2) Try not to over-dry your hair, which is often achieved by blow-drying after showering or swimming. Instead, try using a towel dryer on low heat for a few minutes before drying normally (no more than 5 minutes).
3) To prevent split ends, you need to use a deep conditioner after every wash or at least once a week. You should also avoid using heat on your hair because this will only damage it further.
4) Make sure you're not applying too many products on your hair like gel or waxes because they'll weigh down the strands causing them to look limp and frizzy.
References
Shampoo and Conditioners: What a Dermatologist Should Know– https://www.ncbi.nlm.nih.gov/
Clinical Study to Evaluate the Efficacy and Safety of a Hair– Ncbi.nlm.nih.gov/