Home Remedies
Homemade Laxative Recipe: You will Empty Your Bowels in 2 minute!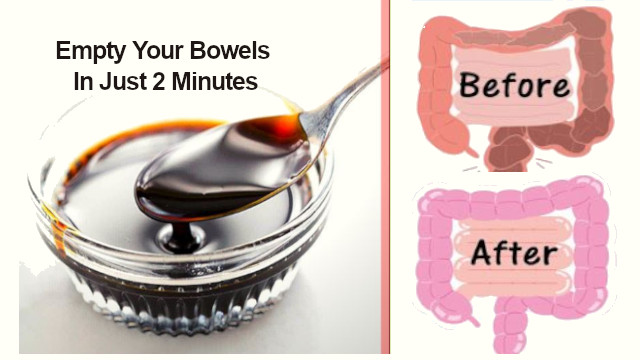 What is the best homemade laxative recipe for constipation? Constipation is a widespread but highly considering health issue that has affected millions of people. If you have less than three bowel activities in a week, you may have constipation that makes you uncomfortable, and sometimes the condition can be worse.
Temporary constipation can be cured easily, but chronic constipation can bother you for a long time.
Lack of exercise, lack of drinking water, poor diet, wrong lifestyle, medication, or ailment can cause constipation.
Even infants and kids also have constipation, and experts say that excess medication is not a good idea for little guys.
If you are also facing uncomfortable bowel activity, constipation, and heaviness, you must carefully read this article. You must follow the instructions that we will describe here through a homemade laxative recipe a instant indian home remedy for constipation.
Homemade Laxative Cocktail Recipe: Method-1
This home made recipe is very effective also known as constipation bomb recipe.
What you need:
Preparation:
Take prunes and dates and extract the seeds out, or you can take them without seeds.
Put them into a bowl and soak them in some water overnight.
The next morning, make a smooth paste in a blender adding a little water.
How to take:
Consume three tablespoons of this paste before going to bed and not eating anything after taking this remedy.
The next day, you will see the magical results with this homemade laxative remedy, and in some days, you can get rid of constipation and irregular bowel movement.
Repeat this recipe daily until you feel the rooted treatment.

This remedy can also be used as a homemade laxative for weight loss.
ALSO READ: Foods that Cause Constipation
Homemade laxative Recipe: Method- 2
What you need:
10 to 15 dried organic prunes
Some boiling water to make a paste
Preparation:
Put the prunes into a bowl, add piping hot water, and soak them for 2 to 3 hours to make prunes puffy and soft.
Now blend it smoothly into a blender to make a fine paste.
Now great homemade laxative cocktail is ready to use.
How to take
Adults can take three tablespoons before going to sleep.
Do not eat anything after taking this paste.
Repeat this process daily until you feel better.
The flavor can be tangy and a little sweet; maybe some people not like it, but head up to the benefits.
ALSO READ: Pasteli recipe Lowers Triglycerides
Can be Given to Babies Also
This natural laxatives that work fast can be given to infants more than 6 months to cure constipation.
For infants, use a half tablespoon; for toddlers, use 1 tablespoon, and kids, use 1 tablespoon twice a day.
The natural ingredients are safe for kids and provide expected results without harming the body.
Benefits of Prunes and Dates
Prunes
Prunes are rich in fiber and several vitamins and minerals. Prunes contain a special component called sorbitol that works as a natural laxative and cleans the whole bowel.
With that, prunes include antioxidants that are suitable for all over the body. You can also add prunes to your diet. Eat dried prunes every day if you have constipation or other irregular stomach processes.
Dates
Dates are also healthier for the overall health system and highly rich in fiber, iron, and magnesium. Eating a handful of dates regularly can provide many wonderful effects on your body.
ALSO READ: How to Cleanse your Colon in just two weeks
Do's and Don't
Dos–
✓ Drink 7 to 8 glasses of water in a single day. Lukewarm water would also be good to cure constipation.
✓ Add more fruits and vegetables to your diet and take a fiber-rich diet.
✓ Add more cereals in the routine that contains fiber and other needed vitamins and nutrients.
✓ Do some exercise, especially that moves the bowel, even walking for 30 minutes would also work.
✓ Follow all the steps, and if you still feel any difficulty in the stomach, pain, or blood while pooping, consult an expert.
You might be interested in: Symptoms of IBS
Don'ts
✓ Avoid excess alcohol consumption and smoking. Both are prior causes of constipation.
✓ Avoid junk food and fried food that are heavy to digest and increase bowel discomfort and heaviness.
✓ Don't sit for a long time. Move your body so things can also move on.
✓ Don't take medicines without a doctor's prescription.
How Homemade Laxative Works
Laxatives are quite effective for bowel activity and digestive issues, especially natural laxatives.
Laxatives are the components that help the balanced bowel movement and help in lubrication to move the things easily and treat constipation.
You can find many home ingredients that include natural laxative quality and help you without any side effects and adverse in the body.
Frequently Asked Question & Answers-
Q. How can I make a homemade laxative drink recipe?
A. A mixture of date and prune is the best homemade laxative for constipation in adults and kids. Take 10-15 prunes and 5 to 7 dates, soaked overnight. The next morning drink it, making a smooth paste.
Q. What are the best ways to relieve constipation?
A. Homemade natural laxative discussed in the article is the best way to relieve constipation. Increase dietary fiber, drink more water and do exercise daily.
Q. How can i relieve my baby's constipation fast?
A. The first cure for baby constipation is to find home remedies. Prunes and dates are safe for kids and provide expected results without harming the body. Follow the remedy discussed above in the article.
Q. How can I make myself poop instantly?
A. You can poop yourself instantly by drinking hot water, Consuming more fibre-rich foods, Getting some regular exercise, and taking a homemade laxative.
Q. What is the most effective laxative for weight loss?
A. The mixture of Prune and date juice mentioned in this article is one of the easiest and quickest natural homemade laxative for weight loss. A glass of prune juice in the morning will help relieve constipation, and drinking it regularly will help with weight loss quickly.
Final Words
Following a healthy diet and drinking enough water in a day can also bring a positive transformation.

Eat more salad like cucumber, tomato, carrots without anything else that will also cure the trouble.

Our eating habits and routine affects a lot to the overall health system. We hope that these remedies will help and you will get the accurate solution to your trouble.

If you have any questions or any queries, please feel free to ask us. Share this information on how to make yourself poop immediately with your friends and stay happy and constipation-free.
Don't miss