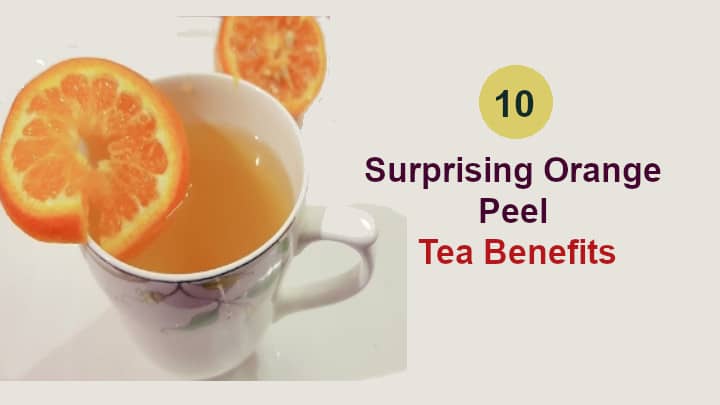 Looking for orange peel tea benefits and side effects? Orange, which is an excellent source of vitamin C has numerous benefits both internally and externally. It is beneficial for clearing your skin by detoxification. Noting about orange peel, it's not at all less valuable than the pulp. It has its advantages.
Orange peel also includes its tea which helps in weight loss, specifically which almost everyone should involve in their healthy lifestyle. Tea is also the most popular and enjoyed beverage across the world. A good diet in the current miserable situation is essential, thus considering tea as a good option.
Fruits are essential for a body to be healthy in your daily diet for multiple benefits. Oranges here add up as one of the most potent fruit as it is full of antioxidants and is excellent for the sound immune system.
Adding orange peels to your diet also helps keep your blood sugar levels under proper control, and it allows for the management of cholesterol.
There are numerous ways to consume orange peel, one of which is also to drink orange peel tea regularly, which is known to be the best method.
In This Article
Orange Peel Tea Benefits (Boiling orange peels)
Some significant dried orange peel tea benefits and side effects are as follows-
1. Help you lose weight
Orange peel helps you in weight loss. Being rich in vitamin C orange also promotes fat burn. It also has anti-obesity benefits to regulate fat burn healthily.
2. Lung Health is Improved
Orange peels highly help in congestion and also helps to cleanse the lungs completely. Boosting your body's immunity will also prevent any lung infections. Cold and flu can also be further prevented.
3. Fiber Packed
As rich in fiber, orange peel is a very accurate supplement for weight loss. This fiber-packed fruit helps to keep hunger at a distance adding to a healthy weight loss.
4. Regulation of Blood Sugar Levels
A significant spike in your sugar level is not acceptable for your body and can cause some severe harm. Therefore consuming this orange peel tea can prevent it with the presence of pectin.
5. Healing Constipation
Due to pectin in the orange peel, it helps prevent constipation and improves the digestive system of your body, which is an essential part of our body to function. Acidity and heartburn can also be prevented further. Due to an excellent digestive system, weight loss boosts up too; hence multiple problems can be resolved.
6. Prevention of Brain Damage
Orange peel also consists of a neuroprotective effect that effectively helps your brain get damaged. Stress and anxiety symptoms can also be helped in relaxation.
7. Prevention of Cancer
Due to flavonoids in the orange peels, it tends to inhibit a protein linked to cancer hence curing it. Also, the limonene compound present in the orange peels helps to cut cancer risk further, being more effective in preventing cancer.
8. Treatment of Diabetes
As being high in pectin, orange peel also regulates sugar level hence treating diabetes. Peels can also treat diabetic nephropathy.
9. Eye Health
Overall, compounds like limonene and decanal, and citral boost eye health for improving good vision.
10. Protection of Teeth
Limonene in orange peels also help to whiten teeth naturally and healthily.
11. Orange tea benefits for skin
Many benefits of drinking orange tea include its ability to improve skin health. Here are the reasons why orange tea can be a valuable addition to your skin care routine:
Orange Peel tea is a natural anti-inflammatory agent – Studies have shown that orange tea can reduce inflammation and improve the look of skin conditions such as eczema and psoriasis.
Orange tea helps to fight acne – Some people believe that orange tea's high levels of antioxidants help to fight acne.

Orange tea is a natural photoprotective agent – Sun exposure can cause damage to the skin, including the development of wrinkles and age spots. Tea contains antioxidants that can help to protect the skin from damage caused by the sun.
Also Read this Article: Health Benefits of Banana Peels
Orange Peel Tea side effects
There are numerous benefits of orange peel tea. But have you ever heard of its side effects?
Orange peel side effects are majorly due to not consuming the tea in moderation. Otherwise, it has only a few side effects.
Yes, you heard it right; it has side effects too, if and only if it is being used non-cautiously. Sometimes you should be careful of your sensitive body and drink the tea accordingly. Always take care of the number of spices you put in the boiled orange peel water.
Consuming it in large amounts can also sometimes show adverse effects, so be careful about that as well. Do a test before drinking less amount so that further regular use does not cause any severe effect.
Orange peel tea in pregnancy can also affect the fetus and hence should be avoided at that time. Some people having caffeine as a supplement may also feel a disturbance in sleep by drinking this.
So be aware of the side effects of orange peel tea before consuming it regularly, and also you if you have any heart-related problems, you should consult a doctor before drinking orange peel tea.
How to make Orange Peel Tea?
First, take one large cup of water and boil it. Add one teaspoon of chopped orange peels. Then add cinnamon, cardamom, and ginger. Boil it for 5 minutes. Then add half lemon juice. If desired, add sweetener to taste. Orange peel tea is ready to be served once it has been strained.
How to Make Orange Peel Tea for Weight loss?
In the method of preparing orange peel tea, you can use both fresh and dried orange peels. You have to take that peel and water as the main ingredients to prepare the tea, and the rest of everything is optional according to your requirements.
The orange peel tea recipe is as follows:
Peel an orange and add finely chopped orange peels (dry) or dry orange peel powder in a container in which you will make the tea. Always remember to keep the orange peel at room temperature and not in the fridge. You can keep the orange peel to dry in a dry and cool place. If you want to increase the drying process, you can also roast the orange peels in the oven and remove it when it is slightly crisped.
Add some water to the same container and put it to a boil.
After 8 to 10 minutes, when you are satisfied by boiling it turn off the flame.
Let the boiled orange peel water settle for a while and strain it nicely in a cup.
And finally, your orange peel tea is ready to drink.
You can also add spices to add many exotic flavors like cloves, cinnamon sticks, or honey/jaggery to add sweetness. (You can also add honey after the tea cools down, it's total as per your choice and convenience).
This will also enhance its taste, and you can enjoy drinking it and reduce your weight with a healthy and tasty diet. You can also store this tea for 2 days in the fridge.
Be Sure to read: Cinnamon and Bay Leaf Tea Benefits for Diabetes
Orange Peel Shot Recipe
Orange peel- 1 tbsp
Ginger root
Lemons
Honey
Cayenne pepper
Water- 1 cup
How to Make Orange Peel Shot Recipe
Take 1 tbsp of orange peels.
Remove any dirt by cleaning the ginger.
Add the ginger and Orange peels to the blender and process until smooth.
Add the lemon juice, 1 cup water, honey, and cayenne to a blender and mix until smooth.
Blend the ingredients until they are completely smooth.
Strain the mixture and orange peel shot is ready to drink.
Keep in the refrigerator for up to three days (drinking fresh is better).
Orange Zest Tea Recipe ( Video)
Frequently Asked Question & Answers-
Q. Is Orange peel tea good for gas?
Ans. Yes, orange peel tea for gas is an excellent natural cure to remove excess gas from the stomach. It helps to minimize constipation, vomiting, and indigestion disorders.
Q. Can we use Orange peel tea for colds?
Ans- Orange peel tea helps remove phlegm and congestion from the lungs. Orange Peels are a rich source of vitamin c that is a vital nutrient that reduces the risk of cold.
Q. Can we use Orange peel tea for diarrhea?
Ans. Orange peels have anti-inflammatory effects, effectively curing various gastrointestinal and digestive problems, including diarrhea, indigestion and acid reflux.
Q. Can we use Orange peel tea for stomach ache?
Ans. As we know, orange peel tea has an anti-inflammatory effect. So it helps with stomach cramps and relieves stomach aches.
Q. Orange peel tea for babies is safe?
Ans. Orange peel tea for babies is not safe because it can cause allergies to babies.
Q. Is consuming Orange peel tea safe during pregnancy?
Ans. Consuming orange peel tea while pregnant is generally safe if taken in moderation 2 to 3 cups a day.
Q. Consuming orange peel tea for skin is good?
Ans. Orange peel tea rich source of vitamins and antioxidants polyphenols that promote healthy skin cells. So orange peel tea deals with numerous skin problems, including acne, dark circle under the eye, and it also helps brighten your skin.
Q. What are benefits of drinking boiled orange peel water?
Ans-There are a number of health benefits that can be gained from drinking boiled orange peel water. For example, drinking boiled orange peel water can help improve cholesterol levels, lower blood sugar levels, and reduce the risk of cancer. Additionally, boiled orange peel water can act as a natural cleanser and detoxifier.
Be sure to read: coriander tea for thyroid
In Closing
Including such natural's products in your healthy diet will bring rich goodness for sure. Usually, people throw orange peels in the garbage instead of taking their numerous benefits into use.
Do remember all the valuable health benefits of orange peel tea before discarding them now. Let this tea help you to avail the best benefits offer and keep you healthy forever.
Reference from trusted sources-