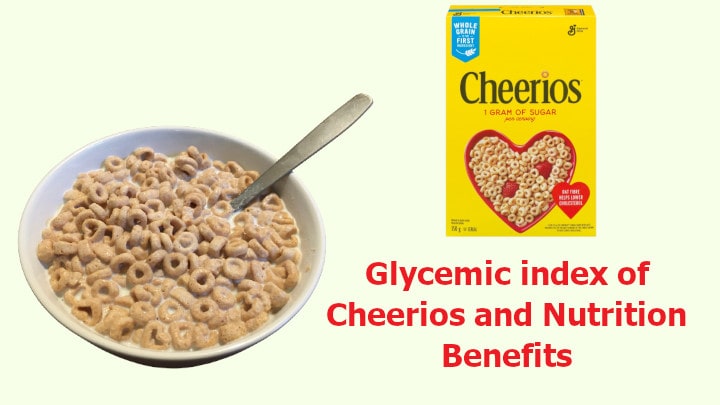 Are you curious about the glycemic index of cheerios Cereal? You're not alone. As one of the most popular breakfast cereals on the market, it's no surprise that people are curious about how it affects their blood sugar levels.
In this post, we provide you with the glycemic index of cheerios and other related information so that you can make an informed decision about whether or not to eat them for breakfast.
In This Article
What are Cheerios
Cheerios is a cereal brand manufactured by General Mills. It was first manufactured in 1941 as CheeriOats. The cereal is made with Whole Grain Oats, Corn Starch, Sugar, Salt, and Tripotassium Phosphate.
They come in various flavors: original, honey-nut, strawberry, banana, and raisin. Cheerios are a staple in many households and are often eaten as a morning breakfast.
Cheerios ingredients
Cheerios ingredients label (Nutrition Value)-
Serving size – 50 gm
Calories- 150 gm
Total fat- 1.5 gm
Cholesterol- 0 mg
Sodium- 150 mg
Potassium- 180 mg
Total Carbohydrate- 32 gm
Total Sugars- 8 gm
Do Cheerios have a High Glycemic index?
Yes, Cheerios have a high glycemic index (GI-74). But cheerios are excellent for people with diabetes because, unlike white rice, they don't cause blood sugar to increase.
This is one of the numerous well-liked morning bowls of cereal that many Americans, including people with diabetes, regularly eat is Cheerios.
These breakfast cereals are low in sugar and fat and contain soluble fiber, a form of fiber that has been shown to decrease LDL cholesterol levels.
Are Cheerios Healthy
Cheerios are a cereal that is usually considered to be healthy. Some ingredients in cheerios include whole grain oats, wheat, sugar, and corn. Cheerios are a good source of fiber and vitamins. Cheerios are a good choice for breakfast because they are nutritious and don't contain too many calories.
Cheerios Nutrition Benefits
Cheerios are a cereal made from whole grains with several health benefits. Below is a comprehensive list of the cheerios benefits:
Cheerios are a good source of fiber, which can help to keep you feeling full longer and help to lower cholesterol.
Cheerios are a good source of iron, which is essential for your body's energy production and helps to prevent anemia.
Cheerios are a good source of potassium, which helps to maintain normal blood pressure and fluid levels in the body.
Cheerios are a good source of magnesium, essential for healthy nerve and muscle function.
Cheerios contain vitamin B6, essential for nerve function and promoting healthy skin.
Are Cheerios a Low Glycemic food
Cheerios are a low glycemic food, meaning they have a low impact on blood sugar levels. This is excellent news for people with diabetes or other blood sugar-related conditions. Cheerios are also a good source of fiber, which is beneficial for regulating blood sugar levels.
Are Cheerios Gluten-free
Yes, cheerios are gluten-free. They are made without wheat products. They may contain other gluten-containing ingredients, so it's always important to read the nutrition label to ensure you get the most accurate information.
How much sugar is in cheerios
Cheerios are a cereal made of whole grains, fruits, and nuts. Each one-cup serving contains about 1-2 grams of sugar. Cheerios are a healthy breakfast choice, and their sugar content is listed on the Nutrition Facts label.
In Closing
We hope you enjoyed reading this article on the nutrition benefits of cheerios. The low glycemic index makes it a good choice for people with diabetes or those who want to control their blood sugar levels.
Cheerios are a great choice if you are on a diet and want to control your blood sugar. The product is available in retail stores as well as grocery and drugstores.
References