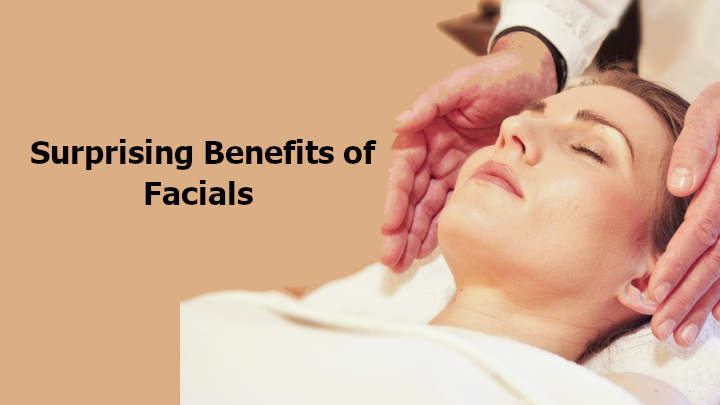 Looking for benefits of facials? Visibly younger-looking skin is the dream of every person, whether male or female. Nothing can compete with the touch of facial massage that pampers your skin and deeply nourishes it like a pro.
Most people consider facial a waste of time and money, but that's not true. One-hour availability at a salon under a professional can be worthy to remove dark spots, acne marks, hyperpigmentation, and dark circles, helps to maintain the skincare routine, and you feel more confident and beautiful.
What else do you need to earn if you don't own healthy skin? Today we have brought the benefits of facials and everything you need to know about that, so let's check out the article with curiosity.
In This Article
What is a Facial massage?
A facial is a basic massage treatment, including your face, neck, and back area. Moreover, it contains exfoliation, cleansing, face pack, steam, peeling, and toning.
Properly performed facial massage is highly beneficial for all the beauty issues and makes your skin looks younger and brighter.
Different types of skin require different types of facial massage and procedures. You need an expert that will choose the facial according to your skin.
Benefits of Facials massage
1. Reduce Anxiety and Aging sign
According to a general biomedical report, a proper facial massage triggers the nervous system and helps in reducing stress and anxiety, and makes you feel better and relaxed.
We have thousands of pressure points in our face connected with the overall body, and a superb facial massage offers healthy glowing skin and affects the other body organs.
Always ask a professional with the knowledge of these facial points and get the benefits of facials that you never knew before.
2. Stimulate Blood Circulation
We all know that a relaxing massage stimulates blood circulation, invites more oxygen, and hydrates the skin well. A few minutes of facial massage improves circulation, makes your skin breathe more openly, speeds up the cell regeneration process, and improves skin quality.
3. Detoxify and cleanse the skin
Only an expert knows your skin needs well, and you'll get an excellent deep cleansing after an hour session with your facialist.
Skin detoxification is always essential to get a healthy skin tone. Nowadays, such facial products include anti-oxidants and herbal components that detoxify the face skin you make you look brighter.
4. Reduce acne and marks
Acne marks look very ugly and stubborn to remove quickly. The facial creams and lotions have salicylic acid that helps to reduce acne and acne marks. You'll soon get acne-free skin if you opt for regular facial sessions.
5. Tighten up the Pores
As we get old or due to environmental factors and lack of nutrients, our skin loses elasticity due to a lack of collagen. Switching to facial massage boosts collagen levels, tightens up the pores, and reduces wrinkles and fine lines.
6. Remove Dead skin
Mild scrubbing and exfoliation unlock the way of healthy skin by removing dead skin that interrupts your brightness and actual skin tone. Exfoliation is a major process that comes in every facial.
7. Remove whiteheads and blackheads
The esthetician uses special tools after massaging and steaming to remove whiteheads and blackheads, which is an important step that you can't perform at home.
8. De-puff Eyes and Fix dark circles
Counted in one of the main benefits of facial de-puffing the eyes and reducing dark circles is a must for an impeccable look. Our under-eye area is quite soft and needs special care and attention, and the excellent quality of facial has nourished creams and masks that repair the delicate eye skin and reduce dark circles.
9. Offers Even skin tone
If you have dark spots and hyperpigmentation, you must take the benefits of facial because regular facial sessions make even skin tone. Facial creams have serums, toner, and lotions loaded with minerals and vitamins.
10. Rejuvenate your Skin
No one wants saggy skin or early aging signs, and you must know that it takes a lot of attention and care to remove them. Proper facial massage enhances the cell regeneration process and decreases the aging signs.
11. Makes skin soft and Glowing
By using various steps and at last, applying a face mask makes the skin soft, bright, spot-free, and glowing, and it is the most acceptable way to say to your skin how much you love yourself.
Benefits of Facial Steam
Facial steaming is a significant way that adds a new life to your skin by making it healthier and glossy. One can use a facial steamer or steam with hot water.
One can add natural herbs or oils to the water according to skin tone and suitability while having facial steam.
The experts recommend facial steaming once a week, not more than that, and the benefits of facial steam are:-
It hydrates the skin.
Your skin breathes openly.
Enhances the relaxing state and reduces stress.
Elevate the blood circulation.
Trigger the ability of skin absorption.
Enables deep cleansing.
Boost collagen and skin elasticity.
Disadvantages of Face massage
Though there are numerous benefits of facials, every coin has two sides, and you must know the disadvantages of facials, too, so you can be aware before booking an appointment.
Facial can cause redness and even more dry skin tone with a blotchy feeling due to excess exfoliation and harsh creams or gels.
Lack of proper hygiene is the other issue; if you have a facial at a poor salon, it can cause a bacterial infection.
Untrained aestheticians harm the soft skin layer as they have no idea how to slide the fingers well or use facial tools.
People with sensitive skin tones must undergo a patch test before any facial treatment.
Many people can't afford the expensive facials.
In Closing
Facials are like sheer bliss and a good surprise to pamper your skin. All you need to appoint is a trained one who can give you a fabulous facial.
We hope you would like the information, and next time, you will surely spare an hour for this treatment and say bye-bye to skin blemishes and other issues.
Please share your reviews and facial experience with us, and stay tuned for more information like that.
Be sure to read:
References
The facial massage reduced anxiety and negative mood status, and increased sympathetic nervous activity