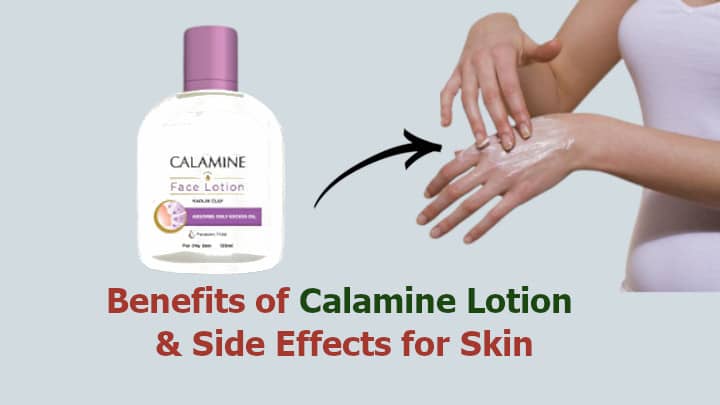 Looking for calamine lotion uses and side effects? Calamine lotion is a far better option than those expensive skincare creams or lotions, adding the quality of zinc oxide, phenol, and other ingredients that gives your skin a soothing effect and prevent sunburn, skin inflammation, and cure infection and wounds.
Calamine lotion has been considered one of the safest and cost-effective methods that suit mostly all skin types, and it works as an antiseptic medicine.
Here we mention some of the amazing calamine lotion uses and side effects, and everything you need to know about that.
In This Article
What is Calamine Lotion?
Including the counted-irritating ability, this medicine or lotion has an anti-itching formula that enables higher soothing effects to your skin.
Calamine lotion has ferric oxide that appears pink that's why most lotions appear pink. With its thick consistency, it easily evaporates in the skin.
It has zinc that cures wounds and scars, renovates the skin cells, and repairs them. If you are looking for a panacea for all skin problems, you'll love calamine after knowing its health benefits of calamine lotion and side effects.
Calamine Lotion uses and side effects
1. Heat rash, and sunburn
Calamine lotion works efficiently to protect your skin from harmful UV rays, and if you are out of your favorite sunscreen lotion, one can use it instead of that. It fixes up the skin damage causes pollution and environmental effects.
If you are experiencing rashes, just apply it regularly and see calamine's magic as people have been calamine lotion for sunburn for decades.
2. Acne
Zinc present in calamine lotion proves a great astringent that shrinks the acne and eliminates the stubborn acne scars. Some studies also revealed that calamine results in treating acne were quite satisfactory.
If you are prone to acne breakouts, just apply a thin layer of calamine lotion to the affected part and leave overnight and the next day, wipe the face and wash with simple water.
3. Hives
Getting any type of insect contact like bees, spiders, bugs can lead to skin allergies and hives, and you would be surprised to know that applying calamine lotion can provide instant relief.
Simply apply it over the skin and repeat as required still; if you don't see any improvements, you must consult an expert.
4. For Babies
Calamine lotion has proven results to eliminate diaper rashes in babies and infants as it absorbs moisture and keeps the skin dry and soft. You need to wash the area, clean and dry it well, apply a thin layer of calamine lotion and spread it occasionally. Repeat twice a day, especially in the nighttime when you have to keep the diaper for a long period.
5. For Eczema
Zinc oxide and glycerin play an essential role in calamine lotion and are helpful to treat eczema. Its anti-inflammatory and antiseptic components work fantastic and reduce dryness and itching.
Applying calamine lotion on skin before sleeping makes you feel comfortable and eliminates the signs of eczema and psoriasis.
6. Scabies
Scabies is caused by tiny mites and their eggs and makes you feel bothered with itching, scratching, and dryness. Calamine lotion helps reduce scabies' symptoms, but it never kills the mite responsible for this skin issue, so if you want the root treatment, you must seek a skin expert.
7. Pigmentation
Kaolin clay added in calamine lotion effectively cures pigmentation and uneven skin tone and color. Pigmentation is one of the significant beauty issues affecting millions of people, and sometimes even various expensive skin products are never worthy of treating.
Apply calamine lotion once or twice a day, and remember that always wash your face properly to remove it.
8. Itching (Itching during pregnancy)
More than 8% of women complained about the unstoppable itching in various body parts during pregnancy, including stomach, legs, back, or thighs, that becomes worse at night.
Hormonal changes are majorly responsible for itching during pregnancy, and calamine lotion can be the safest way to reduce it. Moreover, we would suggest asking your doctor before using it during pregnancy.
9. Razor Burn
Razor burns are pretty normal, and we all have it many times, no matter men or women; we all used razors a couple of times, and razor burns can also irritate you more than your imagination.
This is also a common benefit of calamine lotion uses that has anti-inflammatory agents, and soothing property decreases razor burn and provides an instant coolness.
10. Treat Allergy
Suppose you notice any type of allergic reaction due to any plant named poison oak sumac that can develop rashes, redness, itching, swelling, or blisters. In that case, you can simply apply calamine lotion to the affected area.
Wash the area properly and tap dry and apply the lotion. In the case of severity, never delay asking for medical help.
Calamine Lotion Side Effects
Though there are not any side effects noticed after using calamine lotion still, in rare cases, you can face such issues:-
You may notice allergic reactions or swelling around the area treated by calamine lotion.
Some of the calamine with low quality have anesthetic properties that are harmful to the skin.
You may notice hives on the face or tongue and trouble breathing.
If you found any of these issues, seek medical care immediately.
Calamine Lotion Uses for babies
If you're looking for a safe and gentle way to soothe your baby's skin, calamine lotion is a great option. It is formulated with ingredients that are known to be gentle and effective on the skin, and it can help to soothe and protect delicate skin from the elements.
It's been proven to be effective in treating various skin conditions, including redness, itchiness, and dermatitis. Plus, it's easy to use – just apply it to your baby's skin as needed.
How to Use Calamine Lotion?
It is always recommended that shake well the calamine lotion before using it to blend with the skin evenly, and always keep this at room temperature.
Firstly, wash the affected area, pat dry with a clean cloth, apply a thin layer of calamine lotion, and spread it well using cotton or your hands.
Repeat the application as required, and never forget to wash your hands after applying the lotion. If you have excess dry skin, mix it with some moisturizer and use it.
One can regularly apply this on the face, too, and for skin brightening, you can leave it overnight and wash the face the next morning.
What does Calamine Lotion Contains
Calamine is the combination of zinc oxide, glycerin, ferric oxide, phenol, calcium oxide, and kaolin clay (used in other beauty products too). However, some companies add other ingredients like aloe vera to enhance the cooling effects.
Calamine Lotion Dosage
Calamine lotion dosage is typically based on a person's skin type and activity level. For most people, a daily dose of 2 to 4 ounces (60 to 120 milliliters) is sufficient.
How much calamine lotion to use will vary depending on the severity of the skin condition being treated, the strength of the lotion, and how often the person applies it.
How Fast does Calamine Lotion work?
Calamine lotion starts its work instantly, and initially, you may feel itching after applying, but it disappears in a few minutes, and its effects can stay for 4-5 hours a day and apply again as required.
If you wish the leave it for the entire night, don't cover the whole face or apply where needed.
Special note: calamine lotion is only used for external parts. Never swallow it; never use it in the eyes, anal area, nostrils, or ears.
Be sure to read: Coconut oil for Diaper Rash
In Closing
Calamine lotion has proved the best remedy that millions of people have loved for decades in various skin issues. It is suitable for all skin types and naturally removes acne, pimples, acne scars and makes your skin brighten and lighten.
Many women use calamine lotion as a primer due to its long-lasting stay that keeps your makeup stay for a long time.
We hope this information on calamine lotion uses and side effects would be worthy of reading and now you know mostly all about calamine lotion. Please share your valuable words with us and stay connected for more articles.
References
Does the use of calamine or antihistamine provide symptomatic relief from pruritus– ncbi.nlm.nih.gov
(PDF) Calamine lotion – ResearchGate