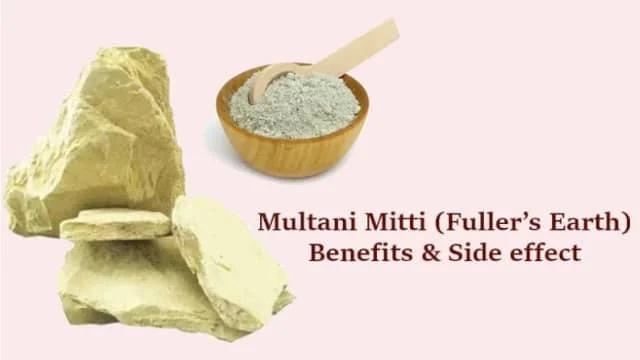 Are you looking for multani mitti benefits and side effect? Multani mitti, also known as fuller earth, is a superior product, including medicinal properties and highly demandable beauty items used for skin and hairs. Multani mitti is a type of clay or mud, and the name originated from Multan, based in Pakistan.
Multani mitti made of silicates adding aluminum and other minerals. Multani mitti has no chemicals still; one has to stay aware while using it, and in this article, we will discuss various aspects of Multani mitti and its side effects.
Multani Mitti Benefits and Side effect
Multani Mitti is excellent for both the Hair and the skin. Take a look at its beauty benefits and side effects-
Multani Mitti Benefits for Hair
Applying Multani mitti to hairs makes them shiny and strong and cleans all the dirt from the scalp without harsh shampoos.
It deeply nourishes the hair and promotes blood circulation, and mixing with other ingredients enhances Multani mitti.
It works great to treat split ends and control hair loss, and make hair longer and healthier.
Multani Mitti Benefits for skin
If you have an oily skin tone, you must apply a Multani mitti pack to the face, and it removes pimples, acne, and tanning.
It cleanses the skin well and increases blood circulation naturally.
You can add lemon, honey, or other face cleansing items that will make your skin lighter and brighter.
It reduces dead skin cells, and your skin can breathe well with a gorgeous texture.
Reduces the appearance of wrinkles, making you look younger.
Multani mitti soothes skin irritation, redness, and itching.
Multani mitti shrink your pores by removing excess dirt and oil from the skin, keeps your skin super soft and energetic.
Multani mitti, because of its exfoliating properties, can significantly reduce the appearance of blackheads and whiteheads.
Other Benefits
Multani mitti can be applied to the overall body to prevent skin problems.
It can be used for hot and cold compress to treat cramps, bites, or menstrual pain.
Multani mitti side effects
Multani mitti considered a soothing product of nature, but like every ingredient, it has pros and cons, and you must know the side effects of Multani mitti so you can use it better and in moderation so let's have a look at the side effects of Multani mitti:-
Multani mitti side effects on hair
Multani mitti is a strong oil absorber, so if you have dry hair or sensitive skin, you must avoid Multani mitti or use it less or add some moisture like almonds or olive oil or curd or honey.

If you use Multani mitti to hairs more than twice a week, it can make the scalp dry and dehydrated, leading to dandruff and dry scalp.

Excess dryness can provoke hair fall and premature grey hair.

The other side effect of this clay on hair is removing or washing when it gets dry; after applying, you have to make a strenuous effort to clean it properly due to it gets stuck in the hair and sometimes can be painful.
Multani mitti side effects on face
If you already have dry skin, it can make your skin drier due to high oil-absorbing power, dry skin never looks good, and long-term usage can give you fine lines and wrinkles.

If you have skin allergies or sensitive skin, you mustn't apply to the face or do a patch test first, or you can have rashes, or the situation can become worst.
Multani mitti side effects for oily skin
Although Multani mitti is excellent for those with oily skin and related issues like pimples, acne still, if you apply it regularly, can make the skin dry and rough.

If you want to use it regularly, you must add milk or yogurt.
Multani mitti side effects for dry skin
Using Multani mitti on dry skin can give you wrinkles and fine lines and make your skin uglier and pale.

People with normal skin tone can use it casually, but people who have dry skin must avoid excess usage of fuller clay.
Read Also: How to Get Glass Skin in 7 Days!
Multani mitti face pack side Effects
People have no idea about their skin type, and they add such things that make their skin dull and dead please read carefully and make sure to avoid such actions:-
If you have a dry skin tone, then avoid adding lemon or rose water in Multani mitti. Lemon, potato juice, or tomato juice, and rose both works as an absorber and remove excess oil and impurities, and if you already have dry skin, it can reverse the benefits.

People with oily skin tone must avoid oily or moist items while making a face pack of Multani mitti like any oil, milk, honey, or banana.

Stop the excess applying of Multani mitti face pack and use once or twice a week.
Is it safe to use Multani Mitti Every day?
It depends on the skin type. People with highly oily skin can use Multani mitti every day as a face pack or scrub.
If you have any clay allergy or sensitive skin, or dry skin tone, avoid regular fuller clay usage.
Side Effects of Eating Multani Mitti
People have carvings for Multani mitti, but that's not a wise idea as our intestine can't digest the components available in Multani mitti and dangerous for the stomach.
The excess eating of Multani mitti can raise kidney stones and swell in the gall bladder, and in worst cases, it can cause intestine bleeding.
Eating Multani mitti can dehydrate and cause skin sores and cause deficiency of iron and potassium.
Eating excess Multani mitti can generate many other health issues, so you should avoid eating this clay if you don't want to pay the hospital bills.
Is It Safe To Consume Multani Mitti During Pregnancy?
Pregnant women fond of Multani mitti due to multiple changes during pregnancy, but it is not safe for pregnant women and babies.
Eating Multani mitti in pregnancy can cause intestinal issues and digestive disorders.
You may interested in: Do's and Don'ts during Pregnancy
In Closing
Multani mitti has lots of benefits and disadvantages, and you should be aware of both. Use it in moderation and apply it to hair and face according to your skin quality.
We hope this information on multani mitti benefits and side effect would be helpful for you. If you like this article, please share it with your friends and share your reviews and experience related to Multani mitti.