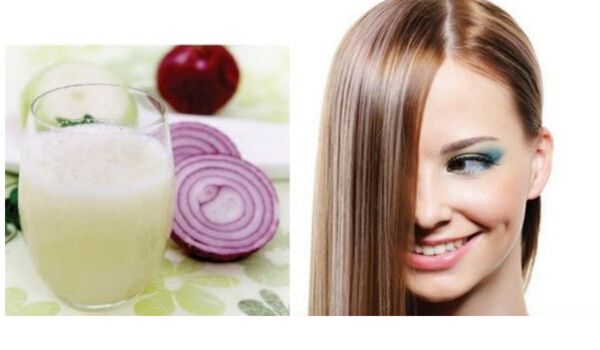 Nowadays we can usually see people with problems related to their hair. We often see teenagers who are suffering from hair loss and due to this, they found it harder to meet new people as they are afraid that everyone may make fun of them.
The first thing that everyone notices, besides the face, is the hair, therefore it is important how it looks.
Different hair gives you a different personality. So don't worry about the hair loss you've been experiencing lately, it's totally natural.
Onion and Potato Juice for Hair
If you are losing the normal amount of hair, but want to have it thicker, you can use various remedies that stimulate its growth. Here is one of the best remedy, onion and potato juice for hair growth without spending money on clinical treatments!
Well hair fall-related problems are caused due to multiple reasons and some of the reason behind your hair fall may be:
1. Pollution
The black fog you go through every day is pollution and it can cause severe damage to your lovely hair. Pollution is dangerous for hairs as well as skin and other organs.
When the harmful chemicals are gathered on your hairs, they cause problems like dandruff, hair fall, irritation, aging, etc.
2. Excessive use of Hair Products
The overuse of products used for the maintenance of your hairs can also cause severe damage to them and can lead to very serious hair issues.
These products contain a chemical that, when taken in the amount more than required starting to harm the health of the hairs.
3. Family History of Baldness
The reasons behind the loss of hair are not always chemical, sometimes there are reasons which are not in our control.
Yes if your father suffered from the hair fall and if anyone in your family is bald, then there are chances that you may also lose hairs and may even go bald.
Today and here in this post, I will tell you about a remedy that can really help you with your hair fall-related issues. This remedy is very simple and you can easily prepare it at home.
The good news here is, there are no side effects that come along with the use of this remedy. It is 100% natural and the ingredients used in the making are, simple and easily obtainable.
ALSO READ: How to use Onion Juice for Double Hair Growth
How to use Onion and Potato Juice for Thicken Hairs
Onion and potato are two of the easiest obtainable vegetable than can also be used to get long and thicken hairs. This vegetable comes with some powerful properties that can help you in getting the hairs of your dream or the hair which you have lost.
Requirements
Potato (one)

Onion (one)

Egg (one)

Aloe vera (1 tbsp)
Steps to Create a Mixture
First of all, we are needed to make juices out of the onion and potato so, we will peel them off and then cut them into small pieces. Now take the pieces of onion and potato in a jar and grind them in a mixture grinder.

This way the mixture of potato and onion can be obtained and later with the help of a filter the pure juice of onion and potato can be obtained.

Now take a raw egg and mix it in the mixture.

Now take one tablespoon of Aloe vera and mix it well with the mixture.
ALSO READ: Best Home Remedies for Hair Loss
Steps to apply
Take the mixture and massage your scalp with it slowly.
You are needed to cover your whole head and hair in order to get the positive effects.
Use this mixture twice in a week to get results.
You can also this mixture to treat baldness in some cases, this mixture is very effective in bringing the lost hairs.
Onion comes with loads of sulfur that is why it is the best thing that can cause rapid growth in your hairs. onion also helps in reducing hair fall and strengthen the roots of the hairs.
Potato is also one of the most powerful ingredients that can boost the growth of the hairs and helps in reducing hair fall. potato also contains some very important nutrients that are important for the proper growth of the hairs.
An egg is also important in this mixture as it contains important nutrients that nourish the hair scalp and provides strength to the hairs.
Aloe vera works as a natural conditioner for hairs, it provides shine in the hair and helps you get healthy and long hairs.
The ingredients present in this mixture are very powerful and can open hair pores and boost the growth of hairs.
This is a super-fast hair growth challenge and we challenge you to apply this remedy with proper instructions and if you don't see a sudden effect in your hair growth you can ask us.