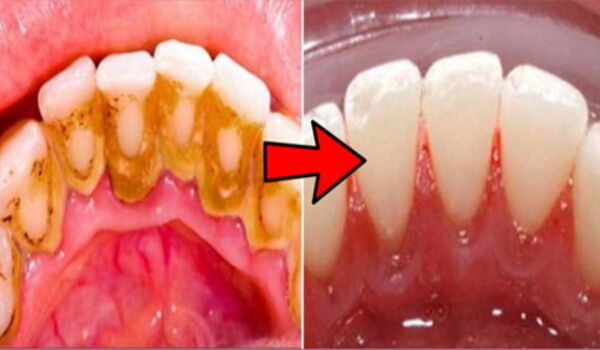 How to remove plaque from teeth? The shiny, healthy smile with shiny white teeth looks great and increases your confidence level. Everybody wants white and healthy teeth but eating sticky sweet food stuck on the external layer of your teeth and poor brushing method can produce dental plaque, cavity, and tarter in teeth that cause tooth decay and smelly breathing.
The Dental plaque should not leave untreated because it includes bacteria that can harm your teeth' protective enamel, which is not good news.
However, there is lots of toothpaste available in the market that claims to sort out the trouble, but they not always work.
Fortunately, there are many home remedies available that can help remove dental plaque. Today we describe an essential treatment that will remove Remove Plaque from Teeth Without Going to the Dentist.
How to Remove Plaque from Teeth
Without wasting any time let's check out how to remove plaque from teeth
Ingredients
Baking soda or sodium bicarbonate 2 tablespoons
1 tablespoon of fresh lime juice
1 tablespoon of toothpaste
1 tablespoon of apple cider vinegar
1 tablespoon of organic coconut oil
A piece of foil paper
How to prepare the remedy
Step 1:
Take a plastic bowl and add 2 tablespoons of baking soda and add toothpaste with that and mix well.
Step 2:
Now add lime juice and apple cider vinegar into the bowl and mix well and the mixture will react with baking soda and look acidic but not to worry it is totally natural.
Step 3:
Now add coconut oil and mix all the ingredients for some minutes until you get the fine foamy mixture.
How to Apply on your Teeth
Take the aluminum foil according to your teeth and tear it into two to apply it to the upper teeth and the lower teeth.
Take one part of aluminum foil and fold it slightly and place some mixture on it and spread it well and put this foil to the upper teeth and press slowly.
Repeat the procedure with the other remaining foil and teeth, leave it for just 2 minutes and then remove the foil paper and wash your mouth with the regular tap water.
Use the remaining mixture and brush your teeth with that and do not leave the mixture for after use. Brush your teeth for 2 minutes and wash your mouth, and you will see the instant effect of the procedure.
How these Ingredients works?
Baking soda
Baking soda is one of the most potent anti-bacterial ingredients that works great to kill bacteria and has been used to cure many health and beauty issues without any doubt.
Adding baking soda in your brushing experience eliminates the bacteria and kills it. It is cheaper in the price, and you can get this from any grocery shop.
It helps to whiten your teeth naturally, and its acidic property helps to maintain the Ph balance of your mouth. Due to its acidic property, we will suggest using the procedure twice in a week and if you have any allergic reaction with the ingredient then take the expert advice first before using it.
Lime juice
Lemon is also considered a natural whitening ingredient of nature that includes bleaching property. Its anti-bacterial quality naturally kills bacteria and removes plaque and tartar and makes your teeth white shiny and healthy.
Mixing it with apple cider vinegar can appear magical and instant results and if you want to avoid baking soda, try to add lemon in your brushing process twice or thrice in a week. You will get the same results but after a few weeks. If you are not in too much hurry, then repeat it.
Toothpaste
We use the toothpaste regularly, but still, we get teeth troubles because only toothpaste cannot kill those stubborn bacteria in your teeth and mouth. Mixing some toothpaste with these ingredients helps to remove bacteria and makes your breath suitable.
Toothpaste also helps make a foamy mixture that is needed for the procedure, so try to add white toothpaste rather than others.
Read Also: How to Fix Small Gap Between Front teeth
Apple Cider Vinegar
Apple cider vinegar is also a perfect option and ingredient to remove plaque and tartar, and it also works excellent with dull yellow teeth and makes them whiter and healthier.
You will quickly get this ingredient from any grocery store, and it is also cheaper in the price.
It also contains anti-bacterial and whitening properties and adding only one tablespoon would be okay. Make sure that always buy organic and raw apple cider vinegar.
Coconut oil
Coconut oil has multiple components that work well with your teeth. Coconut oil helps tooth decay, and it provides mild moisture to your gums and prevents swelling of the gums. This ingredient is also readily available anywhere even it will be already in your home.
If coconut oil is not available, you can also use mustard oil, and both work well without harming your teeth.
Be sure to read: What Causes Yellow and Stained Teeth?
Summary
We have elaborated every detail, so you never feel any confusion regarding this remedy's usage as you saw that this remedy only includes natural and cheaper ingredients.
The process of preparing and applying the mixture is very simple, and it is far better than going to a dentist or getting those expensive teeth polishing or whitening procedures. Use this remedy twice in a week, and that's all.
We hope that it will help you remove all the dental problems naturally and if you have any question, then ask us anytime. We will recommend that if you are sensitive, then ask an expert before using any home remedy.
Stay connected with us for more remedies like this and takes care of you.