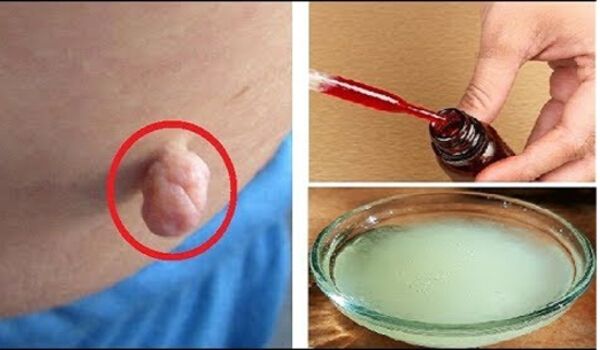 How to get rid of skin tags? How does it make you feel when you get some unwanted and spare skin bumps on your body parts, especially on the face and neck? Though they are not harmful and causing much pain, you wouldn't like it as it is too annoying and a source of embarrassment.
To get rid of ugly skin tags on the face, it is necessary to find out a quick way to remove them.
Although there are some traditional methods to remove it, they are painful, expensive, and every chance of developing a scar on the spot.
So the best ways that you can follow are the home remedies for skin tags removal to take out skin tags on the neck and other parts of your body. Be with us to know how to remove skin tags in one night.
In this Article
What are skin Tags?
Skin tags are polypoid growth that occurs outside the skin surface, known as the epidermis layer and fibrovascular tissue.
Medically it is known as Acrochordon, and they are attached to the body with a small stalk. Character-wise they are a small benign tumor that comes out as the cutaneous eruption on the face, neck, and groin.
Usually, skin tags are often growing in those parts of skin folds where creases are found. They are harmless and small in size, varying from a few millimeters to 2 inches wide.
What causes Skin Tags to Suddenly Appear
Skin tags can occur due to various reasons. Usually, it comes out as an external popping bump of soft skin tissue visible from the outside.
It can grow at any part of the body, but usually, the growth occurs in those parts where the skin creates folds and rubs against skin continuously.
It is formed by the collagen tissue and bloodstreams covered by a layer of thin skin. Anyone can develop skin tags, but the chances are higher in the case of individuals who are –
Overweight.
Suffering from Type 2 Diabetes.
Aged person.
Hormonal imbalance.
Although skin tags can grow anywhere outside the body, the most affected area where it comes out are:
Neck and adjacent area.
Face.
Eyelids.
Under the breast.
Groin area.
Upper chest region.
How to Get Rid of Skin Tags at Home
As skin tags are harmless and, in most cases, it causes no pain, so it has been noticed that people often live with them unless it creates any discomfort.
Usually, skin tags do not require any additional treatment, and they usually fall away from themselves.
But if we consider from an aesthetic point of view, skin tag removal is necessary, especially if they grow on the visible part like the neck or face.
So here we go with some of the best skin tags removal home remedies that work to remove skin tags on the face and skin tags on the neck.
1. Apple Cider Vinegar
The well-known apple cider vinegar application to remove skin tags is a safe and time-saving method.
You can remove your unwanted tags from the skin with only one ingredient and without any doctor.
Apple cider vinegar has acidic properties and destroys the tissue that grows the skin tags.
How to remove skin tags with Apple Cider Vinegar
At first clean the area when skin tags have formed with mild soap and water.
Pat the skin dry.
Damp a cotton ball with apple cider vinegar and place it on the skin tag.
Cover the area with a bandage for 30-40 m and then wash off.
Repeat this for several weeks.
2. Using Essential Oil Mixture
Essential oils are overloaded with antioxidants and anti-inflammatory properties that help remove skin tags on the face without leaving any scar or spot.
Apart from this, essential oil dries up the skin from any infection.
Steps to Follow
Take 2-3 drops of Lavender oil, tree oil, oregano oil, and Neem oil.
Mix them well in a carrier oil. You can use one tablespoon of organic coconut oil as a carrier oil to dilute the mixture.
Apply on the skin tags with a cotton swab, gently warp a cotton bandage and leave overnight.
3. Aloe Vera gel
How to remove skin tags at home with aloe vera gel? Nature has gifted us numerous medicinal plants, which are the base of Indian Ayurvedic Treatment. Aloe vera is such a plant with healing properties, and it is full of antioxidant that works to cure wounds.
Steps to Follow
Cut and collect fresh aloe vera gel from aloe vera leaf.
Mix it well with a clean spoon.
Gently rub the creamy gel-like solution over the skin tag.
Do the process daily to get the best result.
ALSO READ: How to use Aloe vera for Hair
4. Garlic Paste
Garlic has impressive power to cure skin tags as it is anti-fungal and anti-bacterial by nature.
Moreover, it contains lots of enzymes that help to dry skin tags from inside. So you can depend on garlic juice to get relief from skin tags on the neck and face.
How to Get Rid of Skin Tags with garlic paste:
Take two or three garlic cloves.
Extract the juice from it.
To apply to the exact area, use a clean cotton swab to apply the liquid on the skin tags.
Do it twice daily with fresh garlic. it is the best tips to remove skin tags.
5. Lemon Juice
The application of lemon juice to treat different skin problems is traditional to get a quick solution regarding skin tag removal from any parts of our body.
Lemon juice is extremely acidic and natural anti-bacterial, and it slowly damages the skin tag from the root. But make sure to take the juice from a freshly squeezed lemon.
Steps to Follow
Take two tablespoons of fresh lemon juice.
Apply on the skin tag, pour the required drops on a cotton ball, and cover the area.
Repeat the process for several days so that it disappears altogether.
6. Banana Peel
Banana peel has as many nutrients as banana, and so it can help you get relief from unwanted skin problems like skin tags.
The presence of strong antioxidants and active enzyme works efficiently to remove skin tags without causing pain.
Steps to Follow
Peel off the banana and take the outer skin.
Cut it into pieces.
Cover the area of skin tags in a manner so that the white portion of the banana peel touches the skin tags and wrap it with a bandage or adhesive tape.
Leave it overnight and repeat the method several times.
ALSO READ: How to Get Rid of Moles on face
7. Applying Castor Oil
Despite its horrible taste, castor oil is best known for its anti-inflammation effects. It also acts as an antiviral agent, so it works effectively on wounds and irritated skin.
There are many best over the counter skin tag removal products available may simply irritate the skin. So you can remove skin tags with only one ingredient using castor oil without much effort.
Steps to Follow
Take an adequate quantity of Castor oil.
Apply it on the skin tag with a cotton ball.
Rub it gently for a few minutes.
Repeat this at least twice a week till the skin tags fall off.
8. Skin tag removal with Iodine
Iodine is a popular method as it is safe, and it helps break down the extra skin cells around the skin tags and thus makes the skin tags fall off.
Moreover, IodineIodine is useful for fighting against bacteria, viruses, and other microorganisms that cause harm to our skin.
How to Get Rid of Skin Tags with Iodine:
Before applying Iodine cover, the adjacent is of skin tags with Vaseline or olive oil for protection.
Hold a cotton swab and wet it with liquid Iodine.
Apply on the skin tags and keep it for 15 minutes.
Repeat the method daily.
9. Baking Soda
Baking soda is used to remove skin tags on the neck and other covered parts in a safe way.
Baking soda is a natural and effective skin tag treatment because it is an alkaline agent. Alkaline agents are known to kill bacteria, fungus, and other microorganisms that can contribute to skin tag development. Additionally, baking soda can help remove oils and fats that may be contributing to the growth of skin tags.
How to Get Rid of Skin Tags with Baking Soda:
For removing skin tags on the face or neck, you have to take one tablespoon of baking soda.
Mix it well with little water to form a smooth paste. You can use virgin coconut oil instead of water.
Apply onto the skin tags with a cotton ball and stay for 30 minutes.
Repeat the process daily.
10. Apply Manuka Honey
Manuka honey has anti-fungal and antiviral properties, so using it to remove skin tags is an excellent way to get relief.
It is mainly found in New Zealand and capable of healing wounds due to the presence of antioxidants. Moreover, it has free peroxide compounds. It also softens the skin and prevents scar formation.
Steps to Follow
Take one teaspoonful of Manuka honey.
Use a cotton ball to spread the honey on the skin tags.
Wrap it with a band-aid for 2 hours.
Repeat the method daily
Does vicks remove skin tags?
Using vicks vaporub for skin tags does not work. Vicks is an effective remedy for relieving itching and inflammation associated with these growths. However, it is important to keep in mind that skin tags are harmless and can be removed by yourself using a home remedy or by your doctor through surgery.
How much does it cost to remove skin tags?
Skin tags are a common skin condition that is not dangerous. They may be removed easily with no scarring or disfiguration. It is a procedure that can be done by a dermatologist. The cost for removal of skin tags varies according to where you live, what type of skin tag you have and how many there are.
The cost for removing one skin tag ranges from $500 to $1,000 depending on the location, size and type of surgery needed to remove it.
Additional Facts About Skin Tags Removal
1): skin tags are harmless and non-contagious.
2): warts and skin tags look alike, but they are not the same.
3): In some cases, there may be a black scar appear on the surface, but it will disappear in a few months
4): Applying antibiotic ointment after removing skin tags can help in quick relief.
5): Removing skin tags do not allow it to grow more in number.
So, friends are some of the easiest ways to remove skin tags from the face and skin tags on the neck. If you notice any bleeding or deep would immediately contact your health care provider for further treatment; otherwise, these methods are safe enough to practice at home.