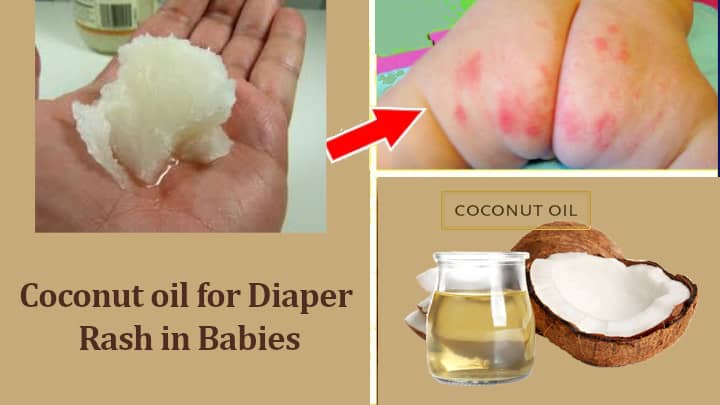 Looking for coconut oil for diaper rash? Diapers are a convenient way for the parents to get rid of all the hassle that they often face without a diaper but can you imagine yourself in a nasty wet cloth that you are wearing the whole day? Well, no way.
Diaper rashes are quite common that every baby has to face once or many times. A baby has soft and sensitive skin, and rashes can cause redness, inflammation, blisters, and allergic reactions.
Babies have a small tummy that becomes empty soon when they pee or poop, and wearing a diaper for a long time can cause diaper rashes. Parents use ways to cure diaper rashes with creams and lotions, but they must know that many effective home remedies can help you.
In This Article
What causes Diaper rash in Babies
Though all the babies have fragile skin tones, they can quickly get rashes, while dermatitis irritation is the primary cause in most babies. When a baby wears a diaper for a long time, it becomes heavy and wet, resulting in rashes around the lining and the area.
The second reason is yeast and fungal development, and a wet diaper contacted with the moist environment can be a hub for fungi and yeast and cause infection and rashes.
The growth of bacteria due to diapers or moist atmosphere can also be the primary reason for diaper rashes.
Some poor-quality diapers contain chemicals that can cause allergic reactions in the baby and provoke rashes and skin irritation.
How to use Coconut oil for Diaper Rash
Coconut oil for nappy rash works as a natural moisturizer that includes antibacterial and antimicrobial properties and provides soothing effects. It keeps your baby's skin soft and reduces diaper rashes.
1. Applying Coconut Oil Directly
You need to take some organic coconut oil on your palm, apply it to the affected area, and massage for a while. Repeat it twice a day.
2. Coconut Oil with Lavender Oil
Using coconut oil with lavender oil will significantly diminish skin inflammation. Your newborn will get fast relief from diaper rash as coconut oil encourages healing and the rash will disappear instantly.
Take 1/3rd cup of coconut oil and mix 1 tbsp of lavender oil. Mix it well and apply this paste to the affected area. Leave it for half an hour. The rash will disappear.
3. Coconut oil Diaper Rash Cream recipe
Ingredients for coconut oil and cornstarch for diaper rash
Organic coconut oil half cup
2-3 drops lavender essential oil
Method
Mix the shea butter and coconut oil in a pan and heat to a flame until it becomes in a liquid state. Please turn off the flame, then add corn starch and mix it well.
When thoroughly mixed, add the drops of the essential oil. Coconut oil Diaper Cream for rash is ready to use.
It is the best remedy to use coconut oil for treating diaper rash.
What kind of coconut oil for diaper rash?
The perfect coconut oil being used is organic virgin coconut oil, since it is fully pure and unprocessed, which ensures that it has not come into contact with any other additives, so this is an all-natural remedy for your baby's delicate skin.
Is Coconut oil Good for Diaper rash?
Yes, coconut oil is good for diaper rash. Coconut oil has antifungal properties, and it is a natural emollient that makes the skin soft and smooth. It helps to heal diaper rash by moisturizing the skin of your baby's bottom.
Don't miss: Side Effects of Diapers for Baby Girl
Other Home Remedy for Diaper Rash in Babies
Here we are listing 8 other effective home remedies to treat diaper rash in babies let's check out what are they:
1. Aloe Vera gel
Aloe Vera is also a natural soother with anti-inflammatory and antibacterial properties. Aloe Vera has been used for medicinal remedies from ancient times.
If your baby has diaper rashes, you must take freshly extracted aloe vera gel and apply gently to the baby's skin and massage for a minute and repeat the process twice or thrice a day.
The readymade aloe vera gel is also available for you can use as well.
2. Breast Milk
As we all know, breast milk is an essential nutrient for infants and works as an immunity booster. Breast milk also has a healing property and anti-inflammatory components that fight bacterial infection and reduce diaper rashes and skin irritation.
Take some breast milk on your palm and apply to the skin and let it air dry for a while and repeat it thrice in a day and see the magic.
3. Petroleum Jelly
Petroleum jelly is a mild and soothing moisturizer that heals the damaged skin and provides mild effects. It prevents microbes and reduces bacteria's growth around the skin, and relatively cheaper and readily available.
Just wash your baby's bottom area and pat it dry and apply some petroleum jelly gently and repeat it twice a day.
4. Apple Cider Vinegar
ACV can also be useful to treat diaper rashes as it is antibacterial, antimicrobial, and contains acetic acid that kills germs and bacteria, and provides a soothing effect.
Take 1 tablespoon of ACV and add 1cup of lukewarm water. Dip a cotton ball or a cotton cloth on the solution, clean the affected area gently and repeat it twice a day.
5. Yogurt
Plain yogurt works as a probiotic that eliminates yeast infection and enhances good bacteria. If your baby is ready for a diet, you mustn't ignore yogurt.
Treat the diaper rashes, apply some yogurt to the affected area, and massage gently for a while. It is better to perform this in the summers. Repeat the process daily or until you get the expected results.
6. Tea Tree Oil
Tea tree oil has been used to cure skin disorders for a long time. Why not, as it contains antibacterial and antimicrobial components that naturally kill bacteria and heal the skin.
All you need to add 2 or 3 drops of tea tree oil in any essential oil like coconut or olive oil and apply to the area, and massage for a minute.
7. Oatmeal
It sounds a little weird but works amazingly to treat diaper rashes and repair skin. Oatmeal contains unique components that heal the skin and remove bacteria, dirt, and excess oil.
Add 1 or 2 tablespoon oatmeal to the baby's bathtub and let your baby rest in the tub for 5 minutes. Repeat the process once a day.
8. Baking Soda
Baking soda is a versatile ingredient that is not only used in the kitchen for preparing cookies and cake but also works great for treating skin issues.
It kills bacteria and maintains the skin Ph level, and reduces disturbing rashes. You need to mix 1 tablespoon of baking soda with 3 cups of water and mix it well.
Wash your baby's bottom area with this water and pat it dry and apply some coconut oil or a mild moisturizer and repeat the process twice a day.
How to Prevent Diaper rashes in babies
Always stay aware of your baby's hygiene and change the diaper within 2 or 3 hours, and if you see the diaper is dirty, immediately change it.
Clean the area well and use a baby powder and a moisturizer that keeps the area germ-free and dry.
Always choose a diaper according to the baby's age and weight. Sometimes a tight diaper can bother a baby too much.
Dos
You can wear a cotton nappy in the daytime and a diaper at night.
Choose a branded diaper and don't compromise with the quality.

Clean your hands before and after every change of diaper.
Don'ts
Never leave your baby with a wet and dirty diaper and let the skin open and breathe it for a while so rashes can be reduced.
Never rub the baby's skin or don't give any pressure.
So, friends, we hope that after going through the above coconut oil for diaper rash treatment in babies will surely help you.
Be sure to Read: