How to
Super Foods
How to Eat Fig Fruit? Health Benefits and Uses That will Surprise you!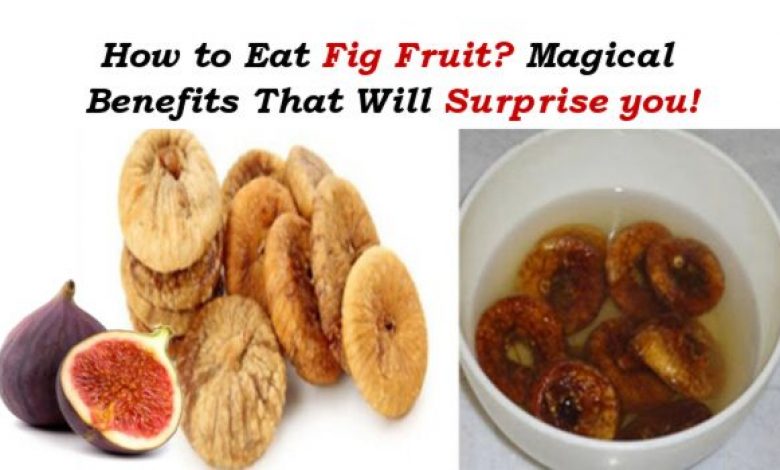 People hardly enjoy anything much better than good food. Although, to choose the perfect food is a tough job itself But nothing to worry because we are blessed with naturally healthy for the ads from our mother nature as a gift.
Among all these foods, fruits are worth to mention atop the list for their never-ending benefits for a healthy body and mind. Here, we would like to talk about one such fruit popularly known as Fig fruit or Anjeer.
It has been considered as one the best fruit with incredible benefits for our well-being. So here we start.
What is Fig?
Ficus Carica or common fig is native to the Middle East, and Western Asia is a flowering plant, and it belongs to the mulberry family. It grows the fruiting fig cultivated worldwide nowadays as an essential crop.
Nutrition Factors:
Figs are small bell-shaped fruit with numerous seeds and it can be eaten ripe or dried. The colour varies from yellowish green to light purple depending on the species.
They are called nature's candy because of high sugar content. The colour may vary depending on various types like—
• Black mission. (Deep Purple)
• Brown turkey. (Dark Brownish)
• Sierra fig. (Yellowish Green)
• Calimyrna. (Green)
• Kadota fig. (Light Green)
Raw figs are a great source of :
• Dietary fibre
• Essential minerals like manganese, calcium, potassium, and iron.
• In a 100 gram serving, we can get 229 calories from fig fruit.
• Vitamin A, E, and K.
• Vitamin B12 such as niacin, folate.
• Antioxidants.
• Natural Sugar.
• Carbohydrate.
• Proteins.
Benefits and Uses:
Figs have been considered to be the oldest food which is consumed by a human from ancient time. It has numerous benefits not only for our health but also for our skin and hair. Let us check—
1. Figs Help to Improve Heart Health:
Consuming fig in any form can prove helpful to lower the bad cholesterol level in the blood responsible for heart diseases. Figs are loaded with antioxidants helps to improve the free radicals that block the coronary arteries.
Moreover, it helps us to reduce the triglyceride level. The presence of omega-3 and omega-6 fatty acids helps to decrease the natural cholesterol synthesis in the body. Also, the high level of potassium controls the blood pressure.
Also Read: 10 Serious Signs Your Heart is Not Working Properly
How to use:
Those who want to start the day with full energy must include nutritious figs in their breakfast in the following way—
1. Juices and milkshake— If you dislike plain milk, then you can add some chopped fig into your milk and grind it well with the milk to make it a smoothie or milkshake. You can use nuts and seeds as tipping.
You can make fig juice in the following way—
• Grind some fresh figs.
• Add water.
• You can add apple, orange or other fruits for taste.
• Grind all ingredients to form a yummy juice.
2. Treating Piles with Figs is Natural Home Remedies
People who are suffering from piles know that it is very tough to cure piles completely. But you can control it by some home remedies.
Fig fruits are full of dietary fibre, and thus, it has a laxative effect. Therefore it helps to soften the stool and reduce the pressure in the rectum area the seeds of figs are the active agents that help to prevent constipation.
How to Use:
• Take 7-8 figs
• Soak the figs in water for overnight.
• Take them early in the morning in an empty stomach and during the night.
• Follow the process for a few days to prevent your constipation.
Also Read: Cure Piles Permanently at Home in 3 days
3. Improves Bone Health:
Bone health is as vital as another organ because it makes our body structure. Calcium is one of the important components of bones and fig fruit is enriched with natural calcium, manganese and potassium and all of which are essential for a healthy bone.
With growing age, we need lots of calcium so that we can prevent the breakdown of bones by improving bone density. Fig serves a great deal as far as strength of bone is a concern. Moreover, the potassium in fig can resist the urinary calcium loss due to high sodium diet.
How to Use:
To make our bone strong human body requires approximately 1000mg calcium daily. Since fig is a rich source of calcium, it should be included in our diet in any form.
We can take a fig jam with bread in the morning. Let us check how you can make fig jam in brief—
Procedure:
• Fresh Figs. (300gm)
• Cinnamon powder. (One teaspoon)
• Sugar. (2 cups)
• Water.
Steps:
• Wash and cut the figs into pieces.
• Take a deep cooking pan and boil the water.
• Add the sugar and stir until it gets dissolved.
• Add the fig pieces.
• Let the fig and water boil for 10 minutes. And then add the cinnamon powder.
• Stir and boil until the mixture turns into deep red and become thick.
• Now your tasty fig jam is ready to use.
4. Figs Help to Reduce Weight:
Figs are a very popular choice among all fruits, not only for its naturally sweet taste but also for its nutritional benefits. To help in weight, lose is one of the most important benefits that make it most wanted fruit for overweight people.
People who are following a strict routine for weight loss training prefer fig as it is low in calorie and highly energetic with zero fat content. Apart from this, it contains other beneficial nutrients and antioxidant which our body needs to stay fit and steady.
Due to the presence of high dilatory fibre figs take much time to digest, and so it cuts our hunger for a long time. One serving of figs helps to stay your stomach full for a long time.
How to use:
Fig and banana smoothie is a good snack to fill your stomach. Let us check how to make it
• Take 6 to 8 fresh figs and wash them.
• Take a medium size ripe banana.
• One spoon of honey.
• Keep all the ingredients in a mixer and grind them well to form a thick smoothie.
• For extra taste sprinkle black pepper or chat masala.
5. Figs Cure Anemia:
Dried figs are loaded with iron, which is the key component of haemoglobin. Our body used to obtain iron from dietary sources.
The inadequate level of iron, red blood cells and oxygen cause anaemia in human being. So to maintain the perfect level of iron in the blood, we should include iron-enriched food like figs.
How to use:
• Take 4-5 fig fruits.
• Take 1 cup of water in a bowel
• Soak the fig in water overnight.
• Now in the morning, take the soaked figs with a glass of milk.
6. Figs are Effective in Sore Throat:
Figs works very efficiently to cure sore throat as it contains high mucilage that works fast to protect against sore throat. Juicy fruits like figs are soothing to the throat, and thus, it helps to heal the irritation in vocal cords.
Moreover, figs are natural remedies for tonsillitis, and it reduces swelling and painful irritation.
How to use:
• Wash 3-4 figs and put in 2 cups of water.
• Boil the figs for about 10-15 minutes.
• Strain the water with a strainer and allow it to cool.
• Now drinks the water.
• Do this at least five times a day.
Figs Benefits For Skin:
7. Figs Cure Acne:
Apart from health benefits figs are beneficial for skin and hair. Acne and pimple are a problem that makes our skin dull and rough.
Regular consumption of fig can provide adequate nourishment to our skin, and it will prevent acne and pimple from spreading. Moreover, figs face pack is very effective if we apply on the surface of the outer skin.
Figs are loaded with antioxidant and other skin-friendly minerals; therefore, it can be an easy home remedy of regular skin problems.
How to use:
• Take 5 to 6 figs and smash them to form a thick paste,
• Wash the face and apply the paste directly on face.
• Wait for 30 minutes and then wash with cold water.
• Repeat it at least four times a week.
8. Figs Help to Reduce Wrinkle:-
Including figs in daily diet could be helpful to prevent premature wrinkle that develops with growing age. Our skin health depends on our inner health and balanced diet, but sometimes tropical use of face musk or fruit facial could be helpful.
So figs are dense nutrition fruits, and it contains a high amount of vitamin c and antioxidants which hydrates the skin texture. Therefore, we can use it on the face and get a glowing skin.
How to use:
• Take a couple of figs and smash them well.
• Add two teaspoon of yoghurt and one teaspoon of honey with it.
• Mix it well with a spoon and apply on the face.
• Rinse thoroughly after 30 minutes.
• Fell the softness of your skin.
Figs Benefits for Hair:
9. Figs Boost Up Hair Growth:
Figs contains magnesium, potassium and plenty of vitamin c that nourishes the hair root and promotes hair growth. Due to these properties, figs are very well known in the hair care industry.
10. Figs Are Good Conditioner:
The extracts from figs are very useful to moisturise the hair follicles without making it extra oily. Therefore, figs work as a very good conditioner to manage frizzy hair.
Moreover, figs work amazingly to solve hair dandruff, itchy scalp and ensure soft and silky hair.
How to use:
It is better to incorporate fresh figs in your daily diet to promote the inner immunity so that your hair gets the require nourishment.
Also, there is fig oil in the market to use with your hair oil to get the desired result. Otherwise, you can take a bowl of salad made of fresh vegetables and dried figs.
Method:
A bowl of fresh salad is considered to be the most delicious food everyone and especially for those who are trying to get luscious hair and glowing skin.
• Take some freshly boiled fig or dried fig.
• Take vegetables like carrot, cucumber, onion and cut them into pieces. You can take cooked broccoli or spinach too.
• Toss in the pieces of figs with this bowl of salad and add lemon juice from top to make it tastier. You can add healthy seeds like flax seed into it.
Some Tips About Figs:
• Store the raw figs in the fridge as fig does not have a very long shelf life.
• Always use fresh figs.
• Consume in a moderate quantity.
• Do not buy figs which are already tender.
• Before cutting the figs, dip the knife in warm water to avoid sticking.
So, friends, Hope you will like the Article on how to eat fig fruit, figs are tiny in size but huge in benefits. So don't think twice to use it in your kitchen.