Home Remedies
Hydrogen peroxide uses: How to use Hydrogen Peroxide in correct way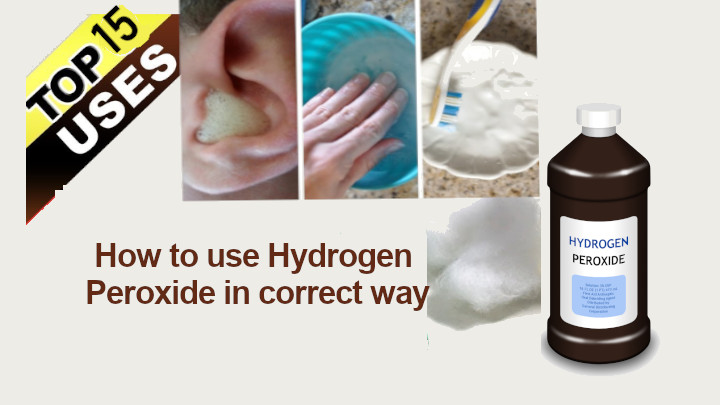 What is hydrogen peroxide uses? Hydrogen peroxide is a mild antiseptic used in disinfecting cuts, burns, and scrapes. It is a mixture of water and hydrogen and comes in variations, and is used for various things.
Maybe your parents also used it to treat your burn or any cut when you were a child. Hydrogen peroxide has more multi-uses than disinfecting. It can be used medically, for the bathroom, for the kitchen, and even for a garden.
Hydrogen Peroxide uses
In this article, we will elaborate on hydrogen peroxide uses at home, so let's have a look at that-
1. Stain Remover
Using bleach on the clothes can ruin the color and fabric shine. Using hydrogen peroxide for removing stains can be the best alternative to bleach.
How to use hydrogen peroxide to remove stains–
You can spray some hydrogen peroxide on the stain and then wash it with soap.
For removing tough stains, take some hydrogen peroxide, add some baking soda and some liquid soap or surf in the mixture and apply on the stain, leave it for a while, then wash it.
2. Nasal Spray
Hydrogen peroxide not only treats the outer wounds and burns but also useful for the blocked nasal path.
How to use hydrogen peroxide for nasal spray–
Take 1 tablespoon of hydrogen peroxide and mix 1 cup of water and put the mixture in a nasal spraying bottle, and use it as required.
3. Unclog Bathroom Drains
Bathroom blockage is regular, and people use acid, but it can destroy the tile's finishing. Using hydrogen peroxide is much better.
How to use hydrogen peroxide to unclog a drain–
Take warm water, add 3 to 4 cups of hydrogen peroxide and some baking soda and put in the drainage area, and then add some more simple water.
4. Get rid of mold
How to use hydrogen peroxide for mold? If you see mold growing in the home, use hydrogen peroxide and spray directly on the mold, leave it for 10 minutes, and then scrub it well using a brush or hard scrubber.
5. Cracked Heel Remedy
Now you can repair cracked heels and take a good spa at home that can make feet beautiful and clean, smell-free, and dirt-free.
Hydrogen peroxide uses for cracked heels-
Add some water in a tub, add two cups of hydrogen peroxide and soak the feet for 20 minutes.
Use a pumice stone or a brush and rub the heels. Wash the feet with normal water and apply some moisturizer or coconut oil.
Read Also: Home Remedies for Cracked Heels
6. Whiten Nails
How to use hydrogen peroxide for nails? Now avoid an appointment with the saloon if you want clean white nails. Just take some lukewarm water, add some hydrogen peroxide, rinse your nails for 10 minutes, and see the magic.
You can also add a pinch of baking soda. It will brighten your hand skin and remove dead skin and pale nails.
7. Hydrogen Peroxide for Ear Wax Removal
Putting a drop of hydrogen peroxide in the ears can remove dirt and wax and extract it efficiently.
If you feel excess dirt in the ears, all you need to do is put a small cotton ball in the ear, use a dropper, put one or two drops of hydrogen peroxide, and bend your head.
You may feel some fizzing and repeat it with the other ear. If you have an ear infection or any injury, don't do this process.
8. Clean Toys
Now you need not buy expensive disinfectors or sprays for the sake of your baby's health that is very important. Buy a bottle of hydrogen peroxide cheaper than other products and spray it on the toys.
You can also take a clean cloth and dip it in the mixture of hydrogen peroxide and some water and clean the toys and let them dry.
9. Hydrogen Peroxide uses for Teeth
White teeth look lovely when you smile and laugh, and people make such efforts to make their teeth naturally white. If you also want your teeth white, you must use hydrogen peroxide.
How to use hydrogen peroxide to whiten teeth
Mix some hydrogen peroxide with water, gargle it and rinse your mouth for 1 minute after brushing the teeth. Repeat it once a day, and don't swallow it.
Note: don't repeat the excess process of this as hydrogen peroxide can weaken the enamel and make teeth weak.
10. Clean your Smelly Shoes
Hydrogen peroxide kill foul odor frequently, and shoe odor is seriously the worst smell.
Hydrogen peroxide uses for smelly shoes–
Spray some hydrogen peroxide on the shoes or disinfect them using a cloth and keep them aside for a while.
11. Clean your Toothbrush
Toothbrushes are the hub or bacteria as they clean our mouths, and we place them openly.
How to clean a toothbrush with hydrogen peroxide–
It would be best if you disinfected your toothbrush once a week. Just soak them for 5 to 10 minutes in hydrogen peroxide, then wash with regular tap water.
Read Also: Apple Cider Vinegar Uses for Skin Hair and Body
12. Clean your Fridge
Our fridge must be clean and bacteria-free as we keep the fruits and vegetables in it. Clean fridge and freezer interior with peroxide.
Spray some hydrogen peroxide, then use a clean cloth for wiping and clean all the parts of the fridge and repeat the process once a week.
13. Clean your Household Floors
Is hydrogen peroxide a good household cleaner? Hydrogen peroxide can remove floor stains and grime and grout professionally.
Mix some hydrogen peroxide with some baking soda and apply it to the floor, keep it for 10 minutes, then wash the area or mop it with simple water.
You can clean the wardrobes, drawers, kid's material, chairs, or whatever you want to disinfect.
14. Glass Cleaner
Spray some hydrogen peroxide to the glass and use a clean cloth or tissue paper and clean it.
It can remove stubborn glass stain mirror stains and make it look neat, shiny, dirt-free, and bacteria-free.
15. Relieve Toothaches
If you feel toothache suddenly and no other way is available to get rid of it, use hydrogen peroxide.
How to use hydrogen peroxide for Toothache
Mix 1 tablespoon or 3% of hydrogen peroxide with 1 cup of water, swish in the mouth, keep to the affected area for a minute and repeat it 3 to 4 times.
Don't swallow the mixture and repeat the process whenever needed.