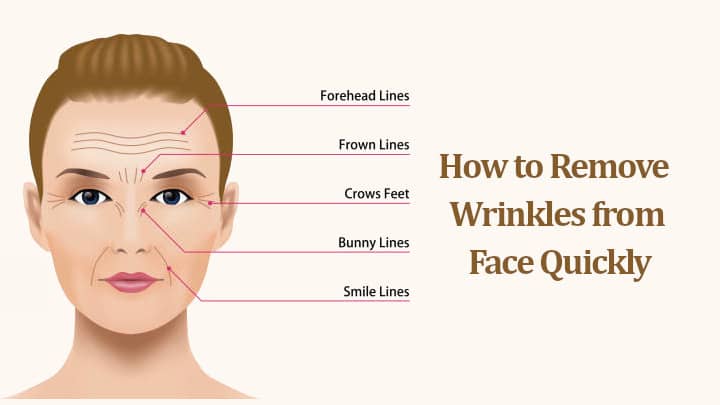 Did you know how to remove wrinkles from face at home? Are you worried about those creases under your eyes? Then please stop worrying right away. Worrying and getting stressed about the wrinkles under your eye will further exaggerate the issue. Therefore stop worrying about wrinkles on the face and get into action to prevent wrinkles. First, start with finding the root cause of the wrinkles.
Various factors lead to wrinkles. Loss of moisture and elasticity of skin leads to wrinkles. The reasons for losing moisture are many, which include pollution, higher exposure to sun and heat, use of harsh soaps and drugs.
Similarly, there are multiple reasons for losing skin elasticity, like sudden weight loss: age, use of certain medicines, smoking or deficiency of certain nutrition.
The first effort to remove under eye wrinkles is to determine the reason behind the wrinkles under your eyes.
Avoid standing in the sun, smoking and eat healthy to keep wrinkles at bay.
Along with this, you can get rid of those under-eye wrinkles by using many ingredients commonly found in our household.
The application of these ingredients helps to reverse and stop the wrinkling process and keep your skin hydrated and elastic.
How to Remove Wrinkles from Face Face quickly
Here is the best natural remedy on how to remove wrinkles from face at home–
1. Honey for Wrinkles
The area around the eyes does not have oil glands; therefore, this area easily dehydrates. Therefore it is important to keep this area moisturized to avoid wrinkles. Honey has excellent moisturizing properties.
How to use
As honey is chemical-free, it can be directly applied under the eyes and on the forehead.
You can also mix honey with lemon juice, pineapple juice or rose water and apply it around your eyes.
Leave it for 30 minutes, and they wash the face with lukewarm water. Do not apply soap while washing your face.
2. Vitamin E Mask
Vitamin E oil is full of antioxidants, and it helps in neutralizing free radicals responsible for skin damage. Regular application of vitamin E oil will miraculously remove wrinkles on face and keep them away for years to come.
How to use
Vitamin E is available in the drug store in the form of capsules. You puncture the capsule with a pin and directly apply the oil to the area around the eye.
However, for better results, mix the oil with olive oil or yoghurt before application.
Leave this mask for 1 hour, and then wash your face with lukewarm water. This procedure should be done once a week for effective results.
RELATED: Benefits of Vitamin E Capsules for Skin and Hair
3. Egg White for Wrinkles
How to remove wrinkles on Face with Egg white? Yes, egg white is a very effective home remedy against wrinkles.
It is full of proteins and vitamins. It has got properties that help in tightening your skin, thus prevents your skin from sagging.
How to use
Like honey, egg white can be directly applied to the area under your eye or mixed with milk and then applied.
After applying egg white, you need to wait until it dries up and then gently removes the mask with a wet hand.
If performed regularly, this mask can do wonders for your skin.
4. Fruits to Reduce Wrinkles
Fruits are full of vitamins and minerals that are required to keep your skin healthy. Many fruits can be applied or used in the masks to prevent and reduce wrinkles.
Here are details of some of the fruits, their benefits and application procedure:
Avocado
Avocado is full of essential nutrients, vitamins, minerals, and antioxidants. To reduce wrinkles on face, you can eat this fruit and externally apply it to your skin.
Avocado's amazing properties help in slowing down the skin ageing process. Mix it with cream and honey to make a smooth paste.
Apply this paste for at least an hour, and then wash the face with water.
You can make this paste in large quantities and keep it in the refrigerator for future use. Use this mask regularly for at least a month and see the stunning results.
Banana
The humble banana is full of potassium and antioxidants. Potassium moisturizes your skin and revitalizes skin.
Vitamin A component of banana helps in smoothing skin and heals withered skin. It is nature's Botox full of wrinkle-fighting elements.
You can make a mask by taking one mashed banana and add one teaspoon of orange juice to it.
Apply this gently on the skin around your eyes. Keep the mask for 20 minutes and then remove it by using wet cotton balls.
Apply rose water after you remove the mask. This will further soothe your skin.
Papaya
Papaya is rich in vitamin A and contains enzymes that remove old dead cells and help in the regeneration of new cells. You can directly apply mashed papaya under your eyes and keep it till the paste dries.
Then moist your skin with water and then gently scrub the area. You can mix papaya with other fruits mentioned above and apply it around the eye. For better results, do this exercise two times a week.
ALSO READ: Surprising Benefits of Papaya Seeds
5. Oils to Keep your Skin moist and Wrinkle Free
As mentioned earlier, areas under the eye do not have oil glands; therefore, applying oil in that area will keep the skin moist. Many oils can be applied under the eye to reduce wrinkles.
However, as under-eye is a sensitive area only mild oils should be used. The best one for the skin is coconut oil.
How to use
Coconut oil is a very good moisturizer, and it boosts the regeneration of skin cells. You can use coconut oil before going to be and also before bathing.
You also mix coconut oil with honey, apple cider vinegar, turmeric or vitamin E and apply. Olive oil, too, can help you to manage wrinkles.
It is full of polyphenols which are powerful antioxidants and helps in the retention of moisture and elasticity. You can use olive oil in your food and directly apply to your skin before bed and keep it overnight.
6. Turmeric to Avoid Wrinkles
Wrinkles appear due to loss of collagen, a type of structural protein that keeps your skin firm.
To maintain this collagen, dermatologists recommend having a diet rich in antioxidants. Turmeric contains Curcumin which is rich in antioxidants.
Curcumin's antioxidant property is equivalent to both Vitamin C and E. Even in low doses; it can trigger antioxidant enzymes.
Therefore to add elasticity to your skin, turmeric is the best option. You can have turmeric in your diet, which also adds flavour to food.
Turmeric can also be applied to the skin. Turmeric belongs to the ginger family, and due to this, some people can experience skin irritation. Therefore turmeric can be mixed with gram flour or olive oil and then applied to the area under your skin.
Turmeric can also be mixed with yoghurt and milk and then applied to the skin. As turmeric is the natural ingredient, you can keep that for more than an hour on your skin without any side effects.
Use cleansing milk to remove turmeric from your face. The effect of using turmeric on your face is immediate. You must try this and enjoy the glowing skin.
ALSO READ: How to Boost Immunity with Ginger and Turmeric
7. Cucumber for Wrinkles
Cucumber can do miracles for your skin. You can keep thick slices of cucumber on and under your eye.
It not only soothes your eyes but also nourishes the skin underneath. Cucumber can be applied to the area near your eyes in multiples ways.
You can crush the cucumber and squeeze the juice out of it and can directly apply this juice.
Additionally, you can mix this juice with lemon juice or pineapple juice for better results. You can also freeze the cucumber, grate it and then apply the grated cumber.
8. Rosewater for Wrinkles
Rosewater helps to maintain the pH of your skin. Your skin's pH falls in the range of 4.5 to 6.2, which makes your skin slightly acidic.
The use of soaps, cleansers, chemical creams can interfere with the balance of the skin. Therefore rosewater can be daily applied to your skin.
Rosewater can be applied directly with a cotton ball's help or can be mixed with fruit juices, honey or yoghurt. Due to its mild nature is also perfect for sensitive skin.
These are some of the natural remedies to get rid of under-eye wrinkles. Use them regularly to get rid of wrinkles or keep them at bay.
So, friends, we hope that after going through the above, how to remove wrinkles from face at home quickly will surely help you.