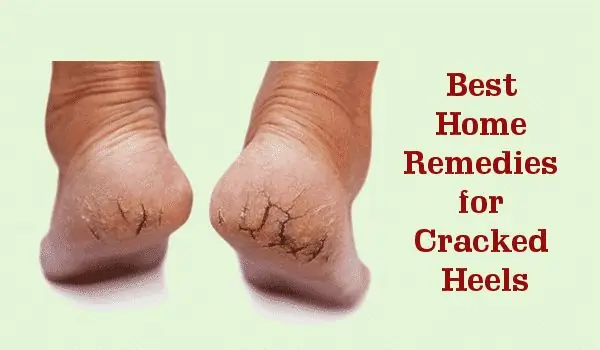 Looking for home remedies for cracked heels? Dressed to nine perfection, flawless makeup, matching accessories, and a charismatic personality! All your efforts may ruin in an instant if you don't care for your feet. And, are you the one who hides your feet? Because cracked heels are common as common cold! It can be a cosmetic issue, a fungal infection, or maybe an extremely painful condition. Foot care is as important as your skincare.
Feet take you places. Shouldn't you care about it? At least, to get rid of the cracked heels; Here is the list of 10 Best and Effective Home Remedies for Cracked Heels that is also helpful in deeply cracked heels.
Causes of Cracked Heels
Before we look into 10 simple home remedies for cracked heels, let's see about the cracked heels reason.
1. Lack of proper care
2. Dry atmosphere
3. Poor hydration
4. Fungal infection
5. Health conditions –Cracked heels due to Thyroid, diabetes, psoriasis, etc
6. Aging
7. Wrong footwear
8. Unhealthy diet
9. Cracked heels due to vitamin deficiency
Home Remedies for Cracked Heels
These 10 home treatments for dry, cracked heels can give your feet a fresh look.
1. Coconut Oil Massage
The primary cracked heels home remedy is very simple. Just apply coconut oil. The primary cause of cracked heels is dryness of the foot skin. Skin in the foot is thicker than skin in your arms.
So, it would help if you had extra moisturizer. Lack of moisture causes dryness and leads to cracks. Applying coconut oil hydrates the skin and nourishes your foot. Coconut oil also has other healing benefits; it treats bacterial and fungal infections.
How to use coconut oil
• Dab coconut oil on foot on the cracked areas
• Gently massage the foot
• Leave overnight
You can apply it every night.
Recommended: Organic coconut oil
2. Vinegar Foot Soak for Cracked Heels due to Fungus Infection
Fungal infection is a significant reason that triggers cracked heels. Vinegar foot soak works effectively for mild infection and mild cracks. It also soothes dry skin and retains moisture.
Things you need
• Warm water
• 1 Cup ACV vinegar
Heat the water (1 or 2 liters of water) and bring it to a boil. Let the temperature reduction, and make sure that the water temperature is comfortable to immerse your feet. , you should feel comfortable and relaxed with the hot water.
Pour warm water into a vessel or tub.
You can add any choice of aromatic essential oils (lavender oil, eucalyptus oil, rosemary oil, etc. to the foot soak) to enhance the effects of the foot soak.
Add vinegar
Immerse water
Soak the feet in the water until the temperature reduces
Try the foot soak regularly, if possible daily. Your feet should be fully immersed in water.
Pick the tub that comfortably accommodates your feet. Try warm water foot soak every day before going to bed; you will sleep tight.
3. Lemon Scrub and Foot Bath
Lemon is a skin rejuvenator. It has a lot of healing effects on the skin. Nourish the rough and dull feet with a lemon foot soak.
Things you need
Hot water (neither too hot nor too cold)
2 medium-sized lemon
A handful of salt (optional)
A few drops of eucalyptus oil (optional)
Wash your feet with running water. Scrub the lemon rind for a few minutes.
Squeeze a lemon in hot water (don't add when it is boiling) and gently stir it.
Add salt and eucalyptus oil
Soak your feet and let them stay for 10 to 20 minutes
Wash your feet with running water and apply any moisturizer. Shred the rind of the lemon and add to the boiling water. Make it more refreshing and aromatic.
4. Listerine and Vinegar Foot Soak
'The best cure for the cracked and dry foot ' As stated above, many times, cracked foot causes a lot of pain. You can feel crusts and scales of foot skin.
If you look for a sure shortcut way to remove the dead skin, reduce cracks and make your feet soft, go for this.
Listerine and vinegar foot soak recipe will help you wipe off the dead skin cells with ease. If you have layers of crusts and scales in the feet, you can remove them without struggling.
How does it work?
Listerine is an antibacterial and antifungal product. Thymol is a critical ingredient that kills the hidden germs in your feet.
Vinegar is nothing but acetic acid. It has a high concentration of acetic acid combined with anti-bacterial properties, removing the dead cells and making the feet' skin soft and smooth.
How to make it
• One cup Listerine
• One cup white vinegar (or equal portions)
• Warm water
Add Listerine and vinegar to the warm water and stir it.
• Soak your feet for 15 minutes. Let your feet absorb the goodness of Listerine and vinegar even if the water turns cool.
• Wash the feet and pat them dry.
You will see noticeable improvements after the first soak itself. This recipe does wonders for dry and crusted feet.
Also Read: Hydrogen peroxide uses
5. Bentonite Clay Foot Soak
Bentonite clay helps in foot detox. It moisturizes the dry skin and heals the cracks. Besides, it is one of the simple remedies for sore foot, joint pain, and muscle pain. Invigorate your foot with bentonite clay foot soak.
How to make bentonite clay soak
• 2 to 3 cups bentonite clay
• A few drops of essential oil
• Warm water
Mix all ingredients in warm water and blend it well
• Soak your feet for 15 minutes and wash them with running water
• Pat it dry and apply moisturizer
You can experiment with the foot soak recipes with different oil combinations.
6. Paraffin Wax for Painful Cracked Heels
Paraffin wax is a natural emollient. It softens the foot skin and makes the best remedy for cracked heels. If you suffer from pain due to heels, this is the best remedy.
This remedy for cracked heels is not for diabetic patients. If you have diabetes, do not try this.
How to use
• 2 teaspoon paraffin wax
• Few drops of oil (coconut oil/almond oil/olive oil)
You can add any choice of essential oil or cooking oil to paraffin wax to cure cracked heels.
• Mix paraffin wax and oil
• Heat the mixture until the wax melts
• Let it cool and apply on your feet
• Allow it to dry and cover with a pair of socks
• Leave overnight and wash your feet in the morning
7. Scrub –The Simplest Home remedy for Cracked Heels
Ignorance can be a significant reason for cracked heels. To cure cracked heels, all you need is a few minutes and a pumice stone. Scrub the feet gently with a pumice stone after soaking the feet.
It will give the skin extra nourishment, remove the dead skin cells, and soften your feet. Rub your feet before or after bathing every day.
8. Rice Flour
If you have sensitive skin, you can try rice flour to cure cracked heels. It is the natural exfoliating agent. It removes dead skin cells, softens the skin, prevents dryness, and cures cracks in the heel.
How to use rice flour for cracked heels
• Take two cups of rice flour
• Mix with honey or glycerin and make a paste
• Soak your feet in water for 5 to 10 minutes and pat it dry
• Apply the paste on the cracked part
• Gently scrub it
• Wash it with running water
You can try this almost daily until you get the desired result.
9. Glycerin and Rosewater
Since the foot skin is more complex and thicker, it needs extra nourishment and hydration. Glycerin is one of the best hydrating ingredients, which also softens the skin.
Rosewater and glycerin make the best combination for cracked heels. Rosewater is a natural cleanser. It removes impurities and makes it look softer.
• Take equal parts of glycerin and rosewater
• Rub it on your heels
• Leave it overnight
Also Read: Surprising Benefits of Cupping Therapy or Hijama
10. Simple Foot Care Routine
Many times, a simple foot care routine can be helpful to clear the cracks in your heels. What should you do? Try foot soak regularly. Foot soaks pampers your tired feet, reenergize and revitalize the skin.
Foot soaks are meant to provide relief from tiredness, sore feet, and even leg pain. You enjoy numerous benefits from a foot soak beyond getting the pretty feet!
1. Wash your feet in running water
2. Do foot soak for 5 minutes in warm water
3. Scrub daily with sea salt or Epsom salt to remove the dead cells
4. Wash again and pat it dry
5. Apply any oil
6. Do this every day at night. You can also enjoy a good night's sleep.
Additional Tips to Prevent Cracked Heels
There are only a few things you should do regularly that nourish your feet.
Spend a few minutes for foot care.
Make sure your foot is clean and fresh, always.
Always apply moisturizer to your feet (Or any oil) before you sleep.
Do not try any chemical-based soaps on foot.
Avoid exposure to hot water, which aggravates dryness
Wear closed heel footwear. It prevents the aggravation of cracks.
So, friends, we hope that going through the above 10 Best and effective home remedies for cracked heels will surely help you.