Hair Care
How to Make Rice Water for Hair Growth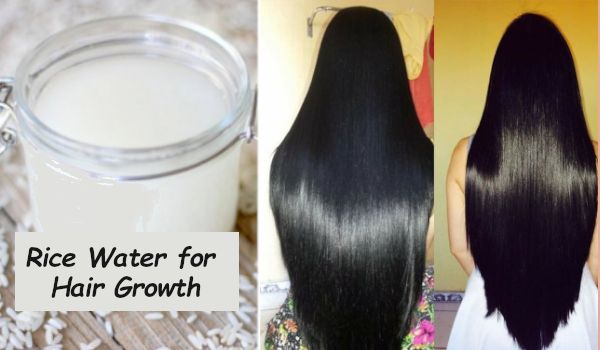 How to make rice water for hair growth: You would be surprised to know that rice water has been using as an ancient home remedy for getting long shiny and strong hairs that drape to the floor and looks stunning.
If we talk about beauty especially about hairs, people are much crazy and women are curious to get strong hairs and they spend a lot of bucks all those expensive and harmful products even without getting any expected results.
Rice is considered a starchy food and it includes 75% starch. It also includes many vitamins minerals and antioxidants that are a panacea for skin and hairs.
If you ever noticed, Japanese and Chinese women have very strong thick and shiny hairs and history describes the benefits of rice water that these women use when they wash their hairs.
Many female claimed that rice water prevents grey hairs and keeps them strong and also prevent hair fall and other hair troubles. Rice water helps to remove all those harmful toxins and bacteria from your hair that can damage your hair.
In this article, we will discuss the benefits of rice water for hair growth and we will also tell some easy steps to make rice water at home and how to use it. So without any delay let's have a look at that:-
Benefits of Rice Water for Hairs:
Make your hairs shiner and stronger
Remove dirt and dust from your scalp and make them healthy
Prevent early grey hairs and hair fall
Help hairs grow fast and natural
No side effects of using rice water
Repairs damaged hairs and split hairs
How to Make Rice Water for Hairs:
One of the positive points of using rice water is that you can easily make it at your home. All you need rice and water, that's it. There is no special effort needed to make it.
There are several methods available to make rice water choose according to your suitability.
Soaking method:
This is the most quickies and easiest way to make rice water and most people use this method.
What you need:
Preparation:
Add rice in the water and let them soak for at least 1 hour.
Strain the rice water that looks cloudy into a clean bowl.
If you feel dirt or dust before soaking the rice then wash them once with plain water then soak them.
You can cook the remaining rice or also can store it in the fridge for later use.
One can also store rice water into a bottle so it would be easy to apply to the scalp when you are in the bathroom.
ALSO READ: Benefits of Cucumber Water and How to Make It
Fermented Rice Water Method:
According to some hair experts, fermented rice water contains plenty of antioxidants that are much beneficial for hairs. Antioxidants and minerals repair cell damage and improve hair type.
If you can put a little effort into your hairs this way will help you a lot to get shiny glossy and healthy hairs.
Preparation:
All you need to repeat the soaking method but do not strain the rice from the water just cover the bowl.
Let them be into the bowl and leave them for 2 days so they can ferment via a natural fermentation process.
After two days strain rice water into the other bowl and this is called fermented rice water.
We must say that this rice water is far better than the hair products that you buy from the market without any knowledge of what they can harm to your hair.
Boiling Method:
The other method for making rice water is the boiling method and it is also easy. You can get this water whenever you are cooking plain rice or you can make it, especially whenever you want.
Preparation:
Take ½ or 1 cup of rice and double water amount.
Boil water into a pan and add rice and let them cook for 10 to 15 minutes.
Off the flame and strain the water into a bowl and you can use cooked rice as you want.
How to Use Rice Water for Hairs:
Wash your hairs with shampoo as you do on a regular basis. If you use any conditioner use it without any worry.
Now apply rice water to the wet hairs properly and massage well on your scalp and leave it for 15 to 20 minutes.
If you are in a hurry then leave it for 5 to 7 minutes and massage well and wash hairs with plain water.
If you are washing your hairs with rice water then you need not any conditioner because rice water works as a natural conditioner for your hairs.
Repeat this method whenever you wash your hairs and get the visible results within a few days.
Side Effects of Rice Water on Hair:
Yes, that's a fact that rice water has its own side effects if not used properly and we are concerned about each aspect regarding your hair care so you must know the side effects.
1. Use once in a week if you have dry scalp:
If you have a dry scalp then never use excess rice water to your hairs or it can make them more dry and rough. Use once in a week as a home remedy. Only those people can use rice water thrice in a week that has an oily scalp.
2. Fermented rice leaves a strong odor:
The fermented rice water has a strong odor due to fermentation and when you apply this water on your hairs you can always smell it. If you are sensitive and allergic to any smell or strong odor make a test before using it.
3. Storing is not a good idea:
Many people claimed that when they used the stored rice water after three days or four days it makes their hair rough and stiff.
4. You have to wait for the results:
As you know that every person has different types of hair and skin so any home remedy can take different time and sessions for expected results.
If you have hard curls and rough hairs then you have to wait for the results even sometimes it can be more than a month.
What Studies have revealed about Rice Water:
Research has been done in Japan as their ancient women use rice water for hair growth and the experts get visible results after using rice water.
Persons who used rice water find stronger shiner and healthy hairs than non-users and they felt the immediate transformation after applying rice water.
Still, many researchers and studies are under-testing.
Summary:
Using rice water has become a popular method and many people have gained 100% positive results. You must know about your hair type and use rice water accordingly. It will simply remove inflammation and itchy scalp issues and stimulate natural hair growth.
Like our skin, our hairs are also important that play a lead role in our personality. The plenty of hair treatments and surgeries available but can't be afforded by anybody.
Some people use wigs due to early hair fall and they look old before their age. Use this natural simple method and wait for some time and you will surely get the results.
Share your experience about how to make rice water for hair growth, with us and stay connected for more information like this.