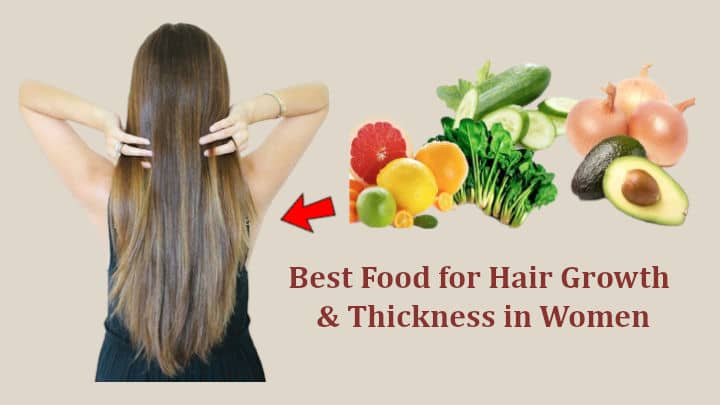 Looking for the best food for hair growth and thickness in women? We all desire to have beautiful thick, healthy hair on our heads that looks great and enhances our beauty and appearance. Men or women both want their locks gorgeous without any issue. That's why people spend thousands of bucks on hair care products every year.
We all know whatever we eat in the routine affects our beauty and health, and hair care is not an exception. A balanced and nutritious diet is significant for hair, including omega-3 fatty acids, protein, fiber, vitamins, iron, and minerals.
Today's life is more hectic and stressed than before and eating packed food, junk food, using wrong artificial products on hair, and poor routine habits can make hair frizzy, early hair fall, premature grey hair, etc.
Food for Hair Growth and Thickness in Women
Here we are mentioning 11 foods that can fight hair loss and support thick, shiny, healthy, and gorgeous locks, so let's see what are they:-
1. Flaxseeds
Flaxseeds are an excellent substitute for those people who never like eggs. The ground flaxseeds contain essential fatty acids and other helping nutrients that go well with hair care.
It provides nourishment to the scalp and reduces scalp dryness and frizzy hair. You can add them to the yogurt or add some flaxseeds in some water, rest for 10 minutes, drink it once a day, and see the magic.
2. Spinach
We have seen Popeye eating spinach and becoming strong, which can be effective for your hair. Spinach is loaded with iron, vitamin A and vitamin C, and folate, and the studies stated that deficiency of these all nutrients could cause hair fall and hair loss.
Eating only 30 gm of spinach provides all the needed factors to your hair and supports red blood cells, as iron deficiency also causes poor hair growth.
Vegan-friendly people must add spinach to their diet, and we suggest using fresh spinach than canned or packed one.
3. Carrots
Carrots look lovely and taste delicious and include vitamin A, calcium, vitamin C, vitamin B-6, magnesium, and other minerals. These all ingredients create the whole, healthy package for your hairs, skin, and overall body.
We needn't tell how to use carrots as there are countless ways to consume carrots, so add them to the diet if you want thick long, strong hairs.
4. Avocado
Avocado is a super fruit and delicious and healthy, loaded with vitamin E and antioxidants, and highly beneficial for healthy hair. With that, avocado has fatty acids that are important for hair.
Vitamin E is a needed antioxidant that reduces oxidative stress, makes the scalp healthy, and removes the harmful factors affecting the hair's health. It promotes hair growth makes them thick, shiny, and healthy.
Add avocado to the diet with a salad or make a smoothie or any sweet dish.
5. Chia Seeds
The popularity of Chia is increasing day by day, and why not as they are rich in antioxidants and omega-3 fatty acids, and people who don't like fish must add these tiny seeds to their diet.
You can take soaked Chia seeds or add them to a pudding, a smoothie, milk, or cereals.
6. Sweet Potato
Sweet potatoes are also a fantastic food that can speed up hair growth. Sweet potatoes are rich in vitamin A and beta-carotene that are linked with healthy hairs.
The studies also agreed that only a small-sized sweet potato has enough vitamin A than other veggies that enhance sebum levels related to hair growth and health.
Sweet potatoes also contain fiber and antioxidants and are far better than other types of potatoes, and you can do many experiments and must add them to your diet.
Be sure to read: Fenugreek Oil for Hair
7. Fatty fish (salmon)
Fatty fishes like salmon, tuna, sardines, herring are good protein sources, vitamin D3, omega-3 fatty acids, selenium, and other required nutrients. These are components that provoke hair growth and support hair's health.
Salmon affects the overall health by reducing inflammation and fulfills needed minerals that we can't get from other food items. Eating salmon can make hair follicles thick and healthy that results in healthy and thick hair.
Several studies on women with thin hair also proved positive results in eating omega-3 fatty acid supplements for a few weeks.
8. Greek Yogurt
Unsweetened Greek yogurt is a powerhouse of minerals, protein, good bacteria, and calcium and works as a protected building block around the hair and keeps them healthy, and reduces hair loss and other hair disorders.
You can eat Greek yogurt or add some fresh berries rich in vitamin C or some grapes and consume them at breakfast or whenever you want.
9. Asparagus
Vitamin B is a component that is linked to hair health and follicles. It is also related to genes synthesis, breaks the protein, and maintains a thick layer around hair follicles. Asparagus is an excellent veggie that has this component called vitamin B folate.
You can add asparagus to the salad, pasta, soup, or stew.
10. Chickpeas, Lentils, Beans, and Peas
These all are counted in the pulse category that contains enough protein, fiber, folic acid, vitamin B, and other unique nutrients and vitamins.
Eating chickpeas, lentils, beans, and peas can be eaten regularly, and one can do various experiments with them. Now you can have many items in the market that are pulse-based.
If you have trouble with increased uric acid, make sure to ask an expert before eating pulses.
11. Bell peppers
Though there are other sources of vitamin C, bell peppers still have vitamin C and contain selenium, iron, vitamin A, zinc, and folate, and all are hair-friendly components.
Be sure to read: Coconut Oil Benefits for Hair Growth and Scalp
In Closing
Foods have a crucial role in our health, adding skin and hair. You need not spend money on harmful products that can worsen the situation.
Nature has provided many superfoods; only we have no idea which one is the best for us. We hope this information on food for hair growth and thickness in women would be worthy for you, and please share your reviews and experience with us and if you have any queries ask us anytime.
Don't miss
Trusted Sources
Diet and hair loss: effects of nutrient deficiency and supplement use[1]
Evidence for supplemental treatments in androgenetic alopecia[2]
Oxidative stress in ageing of hair[3]
Iron plays a certain role in patterned hair loss[4]
Endogenous retinoids in the hair follicle and sebaceous gland[5]
Effect of a nutritional supplement on hair loss in women[6]
Effects of tocotrienol supplementation on hair growth in human volunteers[7]