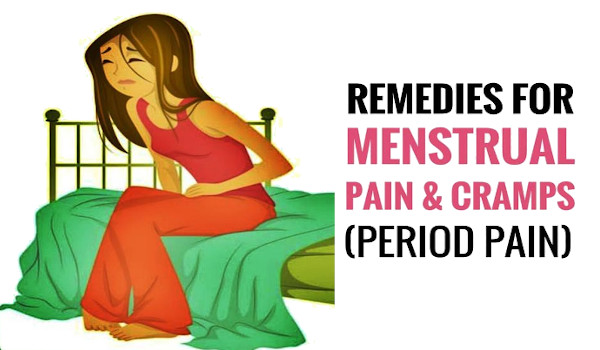 How to Stop Period Pain Immediately: How to reduce stomach pain during periods instantly? The Menstrual cycle is a major part of every woman's life and when it starts you feels weird and not good at all. Sometimes it comes with an ease but sometimes it can ruin your whole day because the numbers of women face menstrual cramps during their periods.
Menstrual cramps affect your regular life and work. The pain affects your lower abdomen area, thighs and your back. Excess pain does not allow leaving your bed and leading you through taking pills that can cause harmful impacts on your body.
Lack of exercise, smoking, excess bleeding, poor lifestyle, excess alcohol consumption, and drugs are the major cause of menstrual cramps. Cramps can appear before your periods and lasts for 2 to 3 days of the periods.
If you are looking for a natural way to reduce menstrual cramps without yielding any adverse effects on your body then this article can help you in the better way.
Here we are going to mention some simple home remedies to menstrual cramps, so let's take a closer look at that:-
1. Hot Compress:
Applying heat is one of the old and easiest ways to get rid of menstrual cramps and it has zero side effect on your body. The heat helps to relax the contracted muscles of your lower abdomen and thighs.
You just need to heat some water and put it into a heating pad and apply to the affected area until you feel better and calm. The cramps would be also disappeared or reduced soon.
If the heat pad is not available then you can use a plastic bottle filled with warm water or you can simply use a medium size towel. Dip it into warm water, squeeze the extra water and then apply on your lower abdomen. Repeat this thrice or more than that. Isn't that is far better than taking a painkiller?
[Also Read: Consume 6 Roasted Garlic Cloves and Watch what Happens to your Body in 24 Hours? ]
2. Ginger:
Ginger is also a powerful ingredient of nature that is beneficial to cure many health issues so as it is a great remedy to reduce menstrual cramps. Ginger also decreases the tiredness and mood swings during the menstrual cycle.
Consuming ginger on the regular basis can regulate your imbalanced periods. You just need to take some fresh ginger and grate it well. Now boil it into 1 cup of water for 5 to 7 minutes then off the flame and sieve it into a cup and add some honey or lime and drink slowly.
You can take this ginger tea twice in a day and soon you feel that the cramps are gone so as the pain and discomfort of periods. Also, try to add ginger to your regular meal as well.
[Also Read: 8 Health Problems You Can Cure With Lemon Juice Instead of Pills
3. Basil Leaves:
Basil is a popular ingredient to enhance the food quality and the taste. But many of us are not aware that basil has such components that ease the menstrual pain and improves your digestive system and bowel management.
You just need to add a handful of fresh basil leaves into 1 cup of boiling water. Off the flame and cover it well for 5 minutes then let it cool for a minute and drinks it firmly.
Repeat the same procedure thrice in a day. The acidic property of basil will reduce the menstrual cramps. Try to add basil leaves in your daily meal.
4. Cinnamon:
If you do not like ginger, then cinnamon can become a good option for you to treat menstrual cramps. Cinnamon has such ability to soothe the abdomen discomfort and contractions. It also eliminates blood clots and makes the consistency of your menstrual period.
You just need to take a ¼ tablespoon of cinnamon powder, which is easily available or you can make it at home. Add it into 1 cup of boiling water and let it steep for 2 to 3 minutes. let it cool down and add some honey to it.
Drink this amazing cinnamon tea thrice in a day and get the perfect results and pain-free periods.
Also Read: How to Cure High Blood Pressure Quickly in 7 Days
5. Fennel:
Fennel contains antispasmodic and anti-inflammatory properties that goes well with reducing your menstrual cramps and improves irregular periods. Fennel helps to relax up the tight abdomen and uterus and makes you feel relieved.
The procedure is also simple to make fennel drink. Add 1 tablespoon of fennel seeds into 1 cup of boiling water and let it boil for 5 to 7 minutes on the low flame. Sieve it into a cup and add 1 tablespoon of honey and mix well.
Drink this tea twice just before starting your periods and consume it during your periods. Drink it hot and slowly and keep on repeating until you feel the ultimate relief from the pain and cramps.
6. Papaya:
Papaya is a great fruit with lots of beneficial components. Papaya has an anti-inflammatory quality that helps to ease your menstrual cramps and pain. You just need to eat papaya in your daily routine. You can also have papaya shake or smoothie.
Make sure that papaya should be well-ripped and without any harmful chemicals. Cut it into small pieces and add some honey and eat simply. Its vibrant color and taste will please you and the health benefits reduce your trouble for sure.
Be sure to read: Reason Why Period is Late and not Coming
7. Blackstrap Molasses:
It is also useful to lessen menstrual cramps and pain. You just need to add 1 tablespoon of blackstrap molasses into 1 cup of milk and drink it whenever you feel that you are having cramps or pain in your lower abdomen during the periods.
Conclusion:
The described remedies are quite effective and very simple to use. All the ingredients are easily available in your kitchen. A woman needs such care and attention so if your dear one having trouble regarding her menstrual time then help her with these home remedies.
We hope that this information will surely help you and next time you would be able to get painless and happy periods and it won't interrupt your routine and your work.
Next time meet you with new information and a new remedy till then stay healthy and blessed.