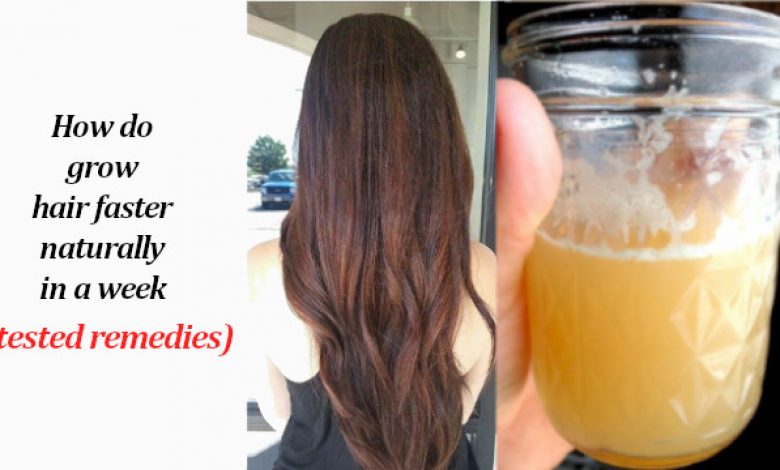 Did you know how to grow hair faster naturally in a week? A woman with a bouncy long hair is indeed an appealing view. Though hair styling varies culture-wise, still long is something that is counted as the owner's pride. Though, all of us born with hair, but more or less hair growth, colour, and texture depend a lot on family history or genes.
In fact, genetics can only determine the span of time a hair can grow strands can grow, so we can say our hair length is not at all guided by gene or heredity.
Scientifically our hair grows a half-inch every month, but there are several ways by which you can boost up the hair growth rate in a few weeks. So to find out how to grow hair faster naturally in a week, follow our hair journey.
In This Article
How Fast Does Natural Hair grow?
To start our hair journey, let us clear the facts about average hair growth. We are born with 5 million hair follicles in our body, among which head scalp holds 100,000 follicles.
What are the 3 stages of hair growth?
During lifetime each hair follicles on head grow by following three phases:
Anagen—it's called the growing stage. The stage lasts for 3 to 5 years.
Catagen: – It's called the intermediate stage. In this stage hair follicles stops growing and prepare themselves to go to the next phase, which is the resting phase. It lasts for 1 to 2 weeks.
Telogen: – It's called the resting or shedding stage of hair follicles. In this period the oil hair follicles began to fall, and the new hair follicles come out. It lasts for 3 to 4 months.
So, now as we have come to know that hair grows naturally at an average speed of half an inch per month, it takes quite a long time to reach the desired length.
But if we have the patience to follow some routine care regime and bring some changes in our lifestyle and food habit, it is possible to boost up the speed of hair growth in a week.
How to grow hair faster in a week
Let us check how to grow hair faster in a week home remedies with some hair care tips.
1. Change your Diet Plan
There is nothing new in these new in this concept, and we know it well that a healthy diet can help in hair growth, as it promotes our physical growth.
But do we follow? No, as junk and spicy food occupy most of the space in our diet plan, and there is little space left for green and leafy vegetables and fruits.
As hair is considered as the second category growing cell, so it needs appropriate support from the nutrients to grow. Thus any form of deficiency of protein, vitamins, and minerals can hair-growth.
So the first step anyone should take to increase the rate of hair growth is to maintain a perfect diet chart combining all types of nutrients like carbohydrate, fat, vitamin, minerals and especially protein.
It would help if you kept in mind that protein is the key ingredient of hair, and any form of protein deficiency can lead to severe hair fall. So don't overlook your diet. Your healthy and balanced diet chart must have:
Almond/Walnut/peanut.
Eggs.
Milk and dairy products.
Avocado.
Broccoli.
Salmon fish.
Fruits and green vegetables.
2. Use Chemical Free Shampoo
Hair needs a daily wash to avoid dust and pollution. But if you are washing your hair daily with harsh chemical-based shampoo, you are making a grave mistake.
Daily shampooing makes your hair dry and brittle; absorb all the essential moisturizer from your scalp, which directly increases hair fall.
So always try to use a sulfate-free shampoo to lock the moisture so your hair would not get dry.
ALSO READ: The Best ways Castor oil uses for Hair Growth Fast
3. Massage your Scalp to Stimulate Hair Growth
The massaging scalp is the best possible way to enhance the blood flow to the hair roots. Thus it stimulates hair follicles to grow. Also, oil massage keeps your hair hydrated and strengthens the hair strands.
You can use virgin coconut or olive oil for massaging your scalp. It is better to keep the oil overnight.
The massage using your fingertips could help to increase the anagen phase of the hair follicles and make it grow.
ALSO READ: Best Home Remedies to Prevent for Hair Loss
4. Hot Oil Treatment with Coconut Oil
Coconut oil is believed to be a very beneficial ingredient to grow hair faster in a healthy way. The presence of essential fatty acids which are suitable for hair health and natural vitamins gives the hair follicles nourishment and prevent overproduction of sebum.
To treat your hair with hot oil massage is a useful trick for hair growth.
Ingredients:
Virgin coconut oil.
One small glass bowl.
One dropper or small spoon.
One towel.
A comb.
Steps:
First, comb your hair so that it's free of knots and tangle.
Take coconut oil in the bowl as you require according to your hair length.
Make the oil warm in a micro oven, or you can take another big container with hot water and place the bowl with coconut oil on it.
Once the oil gets melted, gently massage it onto the scalp.
Make sure all your hair follicles get the oil and also apply lengthwise.
Use the towel to wrap your hair entirely and keep it overnight.
In the morning, wash your hair.
ALSO READ: 10 Benefits of Coconut Oil For Hair Growth
5. Trim your Hair After Regular Interval
It's not just a myth that regular trimming boosts up hair growth. As hair strands grow long, it tends to break in branches, which we called split ends. If the tip of any strand breaks, it cannot expands further.
However, trimming the hair ends to make it grow again. So don't forget to trim your hair after a regular interval to avoid split ends and quick hair growth. But be careful trimming hair means to cut off just an inch, after two months.
RELATED: How to Get Rid of Split Ends and Frizzy Hair
6. Take Some Protein Supplement
Keratin, which is a fibrous protein, is the key constituent of hair follicles structure. So including protein-packed food is a natural way to get Keratin. Vegetables like broccoli, onions, garlic are few sources of Keratin.
Otherwise, anyone can take the right protein supplements to encourage hair growth. Besides this, try to take foods that contain omega-3 fatty acids and biotin. Taking protein helps to overcome the hair fall problem.
7. Treat your Hair with Natural Hair Packs
Natural hair packs are the best sources of nutrients that hair needs to grow and shine.
There are many kinds of hair spa, and hair treatments one can avail at the hair salon, but to avoid the use of chemicals and expenses, anyone should try the remedies to grow hair faster.
These packs are helpful to make hair strands stronger and healthier. To names such packs:
a). Avocado and Coconut Milk Hair Mask
Make a mixture with smashed one ripe avocado, two tablespoons of coconut milk, one tablespoon of olive oil. Blend all ingredients evenly and apply on the scalp.
To get the best result, keep it for half an hour and then wash off. Coconut milk is enriched with protein and avocado contains vitamins like A, B and E.
This pack also helps to increase collagen production that encourages hair growth.
b). Yoghurt, Honey and Banana Hair Pack
Take one ripe banana, two tablespoon of honey and two tablespoons of yoghurt. Blend them well and apply on the scalp.
Yoghurt is a good conditioner and banana is enriched with the amino acid. So both work well to repair the damaged hair and meet up protein deficiency.
c). Amla Juice and Onion Hair Pack with Aloe vera
Smash one Amla to extract the juice and mix it with two tablespoons of onion paste and two tablespoons of aloe vera gel. Apply on the scalp and hair to boost up hair growth.
8. Grow your Hair with Egg Yolk and Olive Oil
Applying egg yolk for hair growth gives you the positive result as this remedy works effectively to minimize the hair damage due to split end and roughness.
Also, this pack adds volume to your hair and helps to make it more shiner and lustrous. Moreover, the protein content in egg enhances the hair growth rate.
Ingredients:
Two eggs.
Two to three tablespoons of olive oil.
Lemon juice (optional)
Steps:
Break the eggshell and take the yolks in a bowl.
Add the olive oil and add 1 tbsp of lime juice, blend it well.
Apply with your fingertips on the scalp evenly.
Allow the pack to stay for 45 minutes and then wash off with cold water. You can use shampoo.
This remedy is helpful to grow hair overnight.
ALSO READ: Onion and potato juice for hair
9. Choose the Right Brush
There is a myth that 100 times brushing every day helps hair to grow faster. More or less, this is partially true as brushing helps the moisture and oils to flow to each hair shaft and stimulate them.
It enhances the blood circulation also. So it's good to brush your hair at least two or three times a day to avoid knot formation. A soft brush with a round bristle is suitable for this purpose.
10. Don't Use Hair Styling Tools Frequently
Modern hairstyle demands using modern hair styling tool like hairdryer, hair straightener, hair spray, hair colour etc.
The excessive heat treatment and chemical effect make hair rough and frizzy. So as a result hair damage is a natural side effect of using a modern hair styling kit.
So, In conclusion, I would say that growing long hair depends on lots of factors; one of them is patience and care.
So try any of this formula and find out the best method to get your desired hair length.
So, friends, we hope that after going through the above, how to grow hair faster will surely help you. So please don't delay to take the benefits of it.