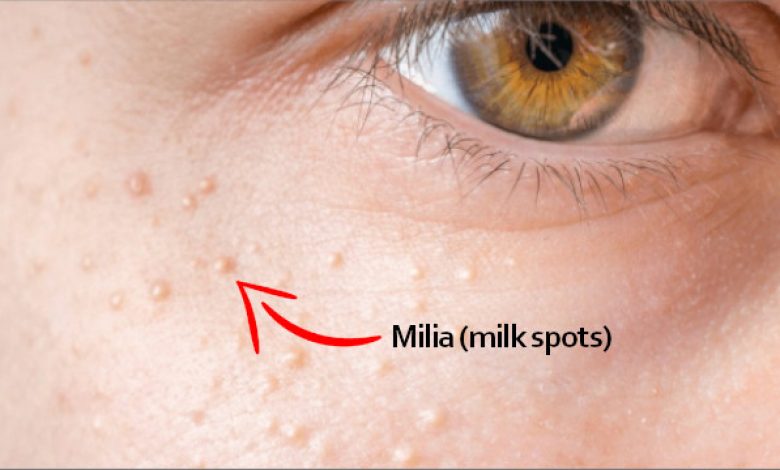 Looking for how to get rid of milia on face with home remedies? Milia, also called milk spots, are little white or yellowish bumps that commonly appear around and under the eyes. They can also appear on the nose, cheeks, forehead, and chest. Basically, milia bumps on face are keratin-filled cysts that are considered unsightly but harmless.
They are quite common in newborn babies and often disappear within a few weeks, but can affect people of all ages. In adults, the condition may persist for months, even years. The problem occurs when the skin cannot remove dead skin cells, thereby causing clogged pores.
It can be caused by factors like the use of heavy, pore-clogging skin care products, sun damage, blistering injuries, and long-term use of steroid creams.
In this Article
what causes milia on face
Milia on face is a common skin condition. It occurs when the sebaceous glands in the skin produce too much oil and clog pores, causing acne-like bumps to form. This can happen on the face, chest, back, or shoulders.
The cause of milia on face varies from person to person, but most cases are genetic and occur during adolescence. Other factors that can lead to milia include excessive use of topical corticosteroids, exposure to ultraviolet light (e.g., tanning beds), certain types of birth control pills, hormonal changes associated with pregnancy or menopause, medication (such as diuretics), emotional stress, or infection such as tuberculosis.
How to Get Rid of Milia on Face Home Remedies
Though milia cysts are generally neither itchy nor painful, they tend to mar your beauty. Be with us to know how to get rid of milia with home remedies.
1. Facial Sauna
A facial sauna is useful in treating milia and unclogging pores as it helps loosen and remove dead skin cells and debris.
Simple Steps:
Soak a clean towel in hot water and wring out the excess water.
Place the towel on your face for a few minutes and then remove it.
Repeat a couple of times.
Do this daily for about a week or a little more.
Alternatively, you can steam your face for 10 to 15 minutes daily until the condition clears.
You can apply apple cider vinegar or castor oil after this steam treatment.
2. Honey
Honey helps treat milia due to its antioxidant and humectant properties (retains moisture and avoids dryness). It also can be combined with other ingredients to make a facial scrub to exfoliate your skin and reduce milia.
Simple steps:
Simply spread honey, preferably raw honey, on your face.
Leave it on for 15 minutes and then rinse it off.
Do this daily until you see improvement.
Alternatively, mix two tablespoons of honey and one tablespoon of jojoba oil.
Apply it on your face and wash it off after 15 to 20 minutes.
Repeat daily or three or four times a week until you see improvement.
You can also add one tablespoon of granulated sugar and three tablespoons of oatmeal to the above mixture to make a facial scrub.
Use it to gently scrub your skin for several minutes and then rinse it off.
Repeat once or twice a week, until the bumps are gone.
3. Sandalwood and Rose Water
A combination of sandalwood and rose water helps get rid of excess oil and removes dead skin cells, thereby reducing milia as well.
Simple Steps:
Mix two tablespoons of sandalwood powder with sufficient rose water to make a smooth paste.
Spread this paste evenly on your skin and leave it on for about 15 minutes.
Wash it off with cool water and then pat dry your face.
Do this daily for a few weeks.
ALSO READ: How to Remove Wrinkles on Face
4. Pomegranate
Peel using roasted pomegranate, peel powder is another popular home remedy for milia due to its antioxidant and exfoliating properties.
Being rich in vitamin C, it is also good for your skin. It will also help soothe acne and pimples.
Simple Steps:
Roast some pomegranate peels until they become dark brown and brittle, and then crush them into a powder.
Add a little lemon juice or rose water to two tablespoons of the powder to make a paste.
Gently rub it on your face.
Leave it on for 15 to 20 minutes before rinsing it off.
Follow this remedy a few times a week until the bumps disappear.
5. Castor Oil for Milia
Castor oil has natural healing and antibacterial properties and also helps control oil production, thereby curing a number of skin problems including acne and milia.
Simple Steps:
Simply apply one-half teaspoon of castor oil on your face and leave it on until it is completely absorbed in the skin.
Do this daily for several months.
You can also use a mixture of equal parts of castor oil and olive oil in the same way.
Alternatively, you can apply a paste of one teaspoon of castor oil and enough baking soda on the affected area.
Leave it on for a few hours and then wash it off.
Repeat daily for about two weeks.
ALSO READ: How to Remove Dark Circles in 2 Days
6. Sugar Scrub
Using a simple sugar scrub can prove highly beneficial in getting rid of milia as it exfoliates the skin. Furthermore, this recipe includes lemon juice and olive oil that makes your skin softer and brighter.
Simple steps:
Squeeze out the juice from one-quarter to one-half piece of lemon and mix it with two tablespoons of granulated sugar and one teaspoon of olive oil.
Gently scrub this mixture onto your skin for a few minutes.
Leave it on for 20 minutes and then rinse it off.
Do this twice a week for a few months.
So these were the top six home remedies for milia. I hope this will help you.
How to Prevent milia on face
First of all, it is important to know that a milia is not a wart. It's actually a cyst filled with keratin.
Milia on face can be prevented by following some simple tips:
Avoid touching your face for long periods of time (this includes your hands and hair)
Use a moisturizer every day
Keep your skin clean by washing it twice daily
Wear sunscreen during the summer months to prevent sunburns
Try using an oil-free facial cleanser
References
Milia: a review and classification – PubMed
Milia may originate from the outermost layers of the hair bulge of the outer root sheath: A case report