Home Remedies
Homemade Coconut Oil Toothpaste Recipe to Whiten Teeth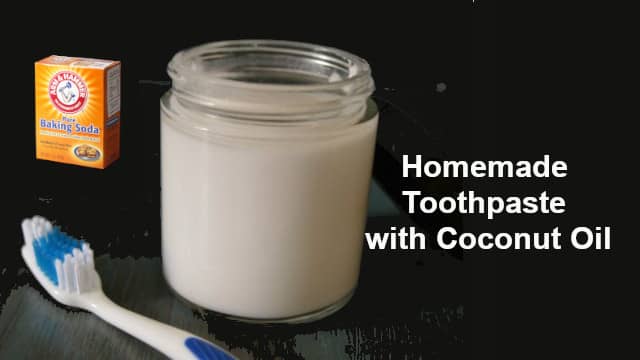 Looking for coconut oil toothpaste recipe? When it comes to oral health, you must accept goo dental care that prevents your teeth from plaque build-up and keeps your teeth healthy and shiny so you can smile freely. Have you ever thought about using coconut oil for dental care? Well, many of us maybe never noticed that. People spend many bucks for the sake of their teeth and dazzling smile, but sometimes they ignore common natural ingredients that work without any side effects.
Coconut oil contains antibacterial properties with healing components that go well with dental care.
Here we are mentioning some unique home-made DIY ideas of making coconut toothpaste that can be beneficial for your teeth so let's take a closer look at that:-
Coconut oil Toothpaste Recipe
1. Coconut oil Baking soda Sea salt Toothpaste
It is the best homemade toothpaste for sensitive teeth-
What do you need?
1 tbsp. virgin coconut oil
Method and usage
Add all the ingredients to a bowl and mix all the things finely and make a paste.
Apply some of the mixtures to the toothbrush as you apply regular toothpaste and brush your teeth gently.
Repeat once a day.
2. Coconut oil Magnesium Powder Toothpaste
What do you need?
5 tbsp. of magnesium powder
A few drops of stevia sweetener
Method and usage
Mix all the ingredients well and make a fine paste, and put it in a container.
Brush your teeth twice a week and store the paste in a cool place.
3. Coconut oil Charcoal Toothpaste
Nowadays, charcoal is becoming a popular beauty product that naturally cleanses the skin and teeth as well. Now you can easily make charcoal toothpaste by using simple ingredients and get a healthy smile. It is the most simple homemade toothpaste recipe-
What do you need?
Half tbsp. activated charcoal
2 tbsp. virgin coconut oil
1 drop essential oil (optional)
Method and usage
Heat the coconut oil in a pan and off the flame, add other ingredients, and mix well for a while.
Put the mixture in a container, and whenever you want to brush, apply it to the toothbrush and brush gently.
Charcoal can be a little messy, so repeat the process twice a week.
4. Coconut oil Baking soda Toothpaste recipe
Baking soda helps in teeth whitening, removing plaque and cavity, and mixed with coconut oil, make it a perfect combination.
What do you need?
A few drops of essential oil of your choice
Method and usage
Melt the coconut oil, then add all other ingredients and mix well.
Put the mixture in a jar and brush your teeth once a day.
You can also perform the oil-pulling method by swishing the coconut oil in your mouth for a few minutes then spit it out.
5. Coconut oil Hydrogen peroxide Toothpaste
If you don't like or have any allergy to hydrogen peroxide, then don't perform this method; otherwise, this can also help you immensely.
What do you need?
¾ tbsp. of hydrogen peroxide
A few drops of essential oil (optional)
Method and usage
Mix all the ingredients well in a bowl and make a fine paste. If you found the mixture quite thick, add some more coconut oil and if the mixture feels watery, add little baking soda.
Now, put the paste in a container, store it in a cool place, and keep it away from direct sunlight.
Brush your teeth with this paste twice a week for healthy and cavity-free teeth and gums.
You may find this interesting: How to Remove Plaque from Teeth
Why Use Coconut Oil Toothpaste
1. Better than any Chemical
Most toothpaste contains chemicals that affect oral health and may weaken your teeth.
Good quality toothpaste is expensive, and many people can't afford them, so making coconut oil toothpaste is a great option that includes no chemicals and does no harm to your gums and teeth.
2. Remove Cavity and Bacteria
Coconut oil works as an excellent cleanser, kill all the bacteria and cavity of your mouth and provides a germ-free and healthy smile.
When you use the oil pulling method, it also removes bacteria and germs that destroy your teeth.
3. Cheaper
Making coconut toothpaste is a cheaper idea, and the ingredients you use while preparing are also more affordable. Even some of them you can find at your home.
4. Good for Pets
Everybody hates the smell of your dog or cats breathe, and you are not alone. You can also use this coconut toothpaste for your pets and can get rid of that nasty smell.
5. Easy to make and use
Making coconut toothpaste is very easy. As you noticed that collect some of the ingredients and mix them well, and that's it.
6. Maintains Sensation
You may have noticed that you may feel a bitter taste when you brush your teeth and eat or drink just after that. It happens due to certain chemicals like surfactants.
On the other side, when you use coconut oil toothpaste, the taste buds can't get affected, and it maintains oral health better.
Read Also: Coconut Oil and Baking Soda for Face wash
Side effects of coconut oil toothpaste
When we make coconut oil toothpaste at home, we can't add fluoride essential for teeth' health to make them strong.
Using coconut oil toothpaste doesn't work like magic, so don't just depend on it, and we will recommend that you also use your regular toothpaste once a day.
In Closing
Coconut oil is not only used for external applications and cooking purposes. Now you know many other benefits of coconut oil regarding oral care.
We hope this information would be helpful for you, and please follow all the steps as we mentioned here.
If you have any queries or questions related to this article, please feel free to ask and share this with your friends. Please share your reviews and experience with us as well.