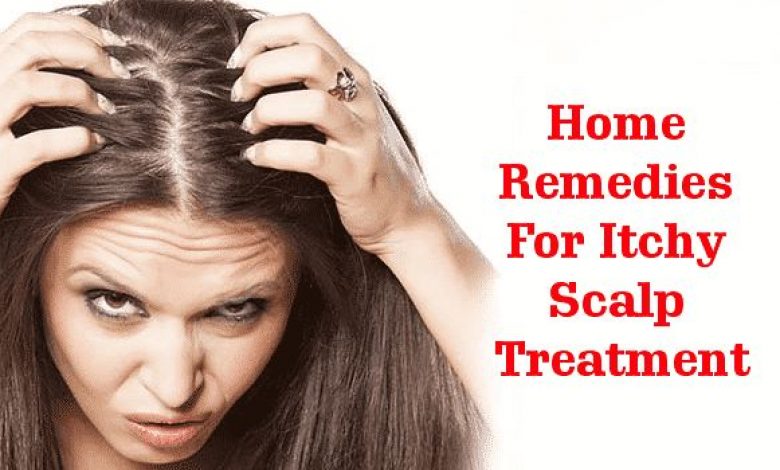 Looking for home remedies for scalp itching and dandruff? An itchy scalp is an awkward, embarrassing, and annoying condition. You always have an urge to scratch the head, but you cannot resist.
Scratching to counter the itchy scalp can make you feel glorious instantly; it is not a remedy. Many times, it replaces itchiness with mild pain and irritation. It takes away the itchiness temporarily. You should find solutions to get rid of the itchy scalp.
In This Article
What Causes Itchy Scalp?
Many factors lead to the itchy scalp from dryness, poor hair care, dermatitis, dandruff, fungal infection, etc. Using medical shampoos or anti-dandruff shampoos can give you instant relief. Yet, the chemical-laden shampoos aren't good for your scalp and hair.
You can resort to natural remedies to treat itchy scalp at home. These natural remedies are safe, have no side effects, provide permanent relief, and address the root cause of the itchy scalp.
Home Remedies for Scalp Itching and Dandruff
1. Warm Head Oil Massage
An oil massage and bath is a bi-weekly or weekly ritual in many cultures. Oil massage has profound benefits to hair and the body. The fast-paced life pushed away the goodness of taking an oil bath. Develop the practice of oil bath at least once a week or fortnight. It prevents dryness, nourishes the scalp, improves circulation, and treats itchiness.
Head massage for itchy scalp
Take any choice of oil you prefer – coconut oil, sesame oil, or a mix of these two, almond oil, or olive oil.
Choose the quantity you require
Warm it using a double boiler – place a broad vessel filled with water; when the water boils, place a small vessel filled with oil.
Remove from flame after 10 to 15 minutes.
Apply the oil to the scalp and hair when the oil is warm
Use different massage strokes to massage the head with oil.
Rest for 30 minutes after applying oil
Take a bath in warm water.
You can repeat it whenever possible.
2. Tea Tree Oil
Tea tree oil is a powerful essential oil. It contains antibacterial and antifungal properties. It also has nourishing and moisturizing elements. Tea tree oil is good for dry scalp, dandruff, and scalp infections.
Tea tree Oil for Itchy Scalp
Take 5 to 10 drops of tea tree oil
Add a carrier oil or liquid –any other essential oil
Mix both the oil and apply to the scalp
Leave it overnight. (Or, if you are not comfortable, let it rest for an hour or two)
Rinse the hair
Repeat this procedure twice a week
Tea tree oil is potent that you cannot use it directly without a carrier. Tea tree oil also addresses the scalp conditions like dermatitis, and scalp psoriasis, which triggers itchiness.
3. Apple Cider Vinegar
Apple cider vinegar ACV is an astringent which cleanses the scalp and removes all dead cells. Accumulation of the dead cells is a major cause of itchy scalp. It also maintains the pH balance of the scalp.
Apple Cider Vinegar for itchy Scalp
Take 1 part of apple cider vinegar
Mix with 4 parts of water
Apply to scalp and gently massage
Rinse your hair after 30 minutes
Repeat this once a week
Do not apply ACV directly on hair or scalp.
4. Aloe Vera
In a majority of people, dryness and dandruff are the two major causes of itchy scalp. Aloe vera is a miraculous solution to these problems. It also supports healthy and lustrous hair growth.
It is a potent moisturizer with soothing properties to ease itchiness. The antioxidants strengthen the root and aid in hair growth.
Aloe vera for itchy Scalp
Take fresh aloe vera leaves
Extract the gel from the leaves
Rub the inner rind of the leaves on the scalp
Apply the gel to the scalp and do a gentle massage
Rest for 20 to 30 minutes
Wash the hair with lukewarm water
Repeat it twice a week
If you don't get fresh aloe gel, you can use the aloe available in stores.
5. Neem Leaves
Neem is one of the potent medicinal plants. It can be used for both internal and external conditions. It is rich in antimicrobial properties.
Neem has a long history of clearing infections, severe skin conditions, etc. It makes the best natural remedy for chronic itchy scalp.
Neem Leaves for itchy Scalp
Take the fresh neem leaves. Make sure the leaves are tender and not matured.
Grind the fresh leaves, adding a few drops of water
Make it into a fine paste
Apply the neem leaves paste on the scalp
Rest it for 20 to 30 minutes
Wash the hair with lukewarm water
Repeat twice or thrice a month
If you don't get neem leaves, you can replace them with neem powder, which is available in stores. Alternatively, you can also use neem oil to treat itchy scalp at home
6. Lemon Juice
Lemon is a versatile fruit that is loaded with medicinal and healing properties. It is a natural antiseptic and clears away the infection. If you have scaly, itchy skin, lemon juice makes the best remedy.
Lemon Juice for itchy Scalp
Take two or three fresh ripened lemons and extract the juice
Or, if you have short hair, you can squeeze the lemon on the scalp
Apply the juice to the scalp and massage for a few minutes
Rest it for 5 to 10 minutes
Wash your hair with mild shampoo and rinse thoroughly
Repeat once a week
Do not go out in the sun when you use lemon on your skin. It can lighten your hair. If you are skeptical about using lemon on hair, mix lemon juice with curd and apply.
7. Baking soda for Itching Scalp
Baking soda is a versatile ingredient to use on skin and hair, other than in culinary usage. It is an excellent exfoliating agent. If you suffer from severe itchiness or dandruff, use baking soda to curb the itchiness. It also controls fungal infection.
Baking Soda for Itchy Scalp
Mix three to four teaspoons of baking soda in water and make a paste
Apply the paste to the scalp
Let it rest for 15 to 20 minutes
Rinse well with lukewarm water
Repeat it once a week
You can also apply coconut oil or olive oil before using baking soda on the scalp.
8. Banana for Dandruff
Most of you love bananas but are unaware of using them as a hair care ingredient. The nutrient-rich fruit is the best solution for hair and scalp problems.
The moisturizing and nourishing properties of bananas ease away the itchiness. It also reduces dandruff, acts as a conditioner, and supports hair growth.
Bananas to Treat Itchy Scalp
Take two or three fully ripe bananas and mash them without any lumps
Optional – add a choice of essential oil or honey to the banana mixture and mix well
Apply this mixture to the scalp and gently massage it
Rest it for 30 to 45 minutes
Wash and rinse thoroughly in warm water
Repeat it once a week
9. Onion Juice
Onion juice and onion paste have been used for ages for lustrous hair growth. It has antimicrobial properties, which clears the infection—the rich antioxidants aid in cleansing the scalp and hair growth.
Onion juice for itchy scalp
Take two or three big-sized onions
Peel the skin and grate the onions
Squeeze the juice
Dip a cotton ball and apply it to the scalp
Gently massage the scalp
Stay put for 20 to 30 minutes
Wash thoroughly with a mild shampoo
Repeat twice a month
Applying onions can be smelly. So, make sure you rinse off with shampoo to remove the odor.
10. Jojoba Oil
Jojoba oil not only has a pleasant aroma but also has excellent moisturizing properties. You can use it as a natural remedy to get rid of the itchy scalp.
Jojoba oil carries a molecular structure resembling the body's sebum (oil). It has rejuvenating and nourishing properties on both skin and hair.
Jojoba oil for itchy scalp
Take a few drops of jojoba oil and apply to the scalp
Gently massage the scalp
Let it stay overnight (it has a pleasant smell)
Wash the hair with a mild shampoo the next morning
Repeat it once or twice a week
Conclusion
These are the home remedies for scalp itching and dandruff. In most cases, itchiness relieves in two or three washes with any of these remedies. Apart from these, a few chronic conditions like atopic dermatitis, scalp psoriasis, etc., leads to an itchy scalp.
Natural remedies reduce the itchiness to a great extent in these conditions, but it is not a permanent solution. If you don't find any dramatic improvement, visit a dermatologist.
However, in maximum cases, to get the best results, follow any of these best natural remedies to treat itchy scalp at home regularly.
Be sure to read: How to use Black Seed Oil for Hair Growth
References