Home Remedies
Fenugreek Oil for Hair: Double Hair Growth and Stop Hair fall in 7 days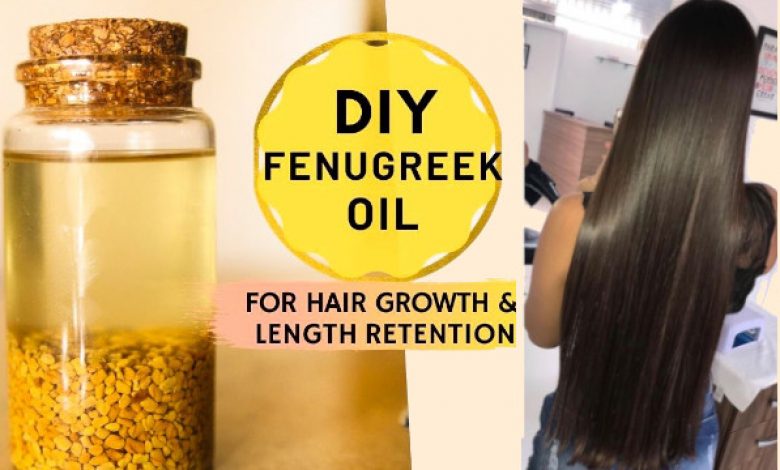 Fenugreek Oil for Hair: Long thick and shiny hairs are a dream of every boy and girl and we do every possible try to make our hair strong and healthy. You must have heard of fenugreek seeds that we often use to make vegetables pickles etc but have you ever heard about the amazing benefits of fenugreek seeds regarding your hairs.
Fenugreek seeds have been used in many cuisines especially in India. Many people do not like the taste of fenugreek seeds but it has a great aroma and can change the quality of your food and contains multiple components that are good for our all over health.
If you are also tired of doing efforts to make your hairs thick but all failed then read this article till the end and you would be surprised to know that this common kitchen ingredient is an excellent home remedy that will thick your hairs in 1 week so let's see the fenugreek oil for hair and how to prepare it.
Fenugreek for Hair Fall and Dandruff:
Take a handful of fenugreek seeds and soak them into any utensil for overnight.
Next day, the seeds would become soft and blend them well and make a fine paste and use the same water while blending.
You can also add some lime juice in this mixture and apply this to your hairs from root to tip as a hair mask and leave it for an hour.
Now wash your hairs with a mild shampoo. This mask works as a deep conditioner and makes your hairs stronger and healthier.
It helps to remove dandruff and other scalp impurities that are a barrier in your hair's growth. Repeat this natural hair mask twice in a week and you will get excellent hairs quality soon.
Related: how to get rid of dandruff fast
Fenugreek seeds pack for Dry and Rough Hairs:
Make a fine paste of soaked fenugreek seeds and mix it with some curd and lime juice and apply on your hairs from tip to the roots.
Leave it for an hour and wash your hairs with normal water with our without shampoo. Repeat this remedy thrice or twice in a week for dry and damaged hairs.
You can also add some coconut oil or olive oil into the mixture for better results.
Fenugreek seeds for Premature Grey Hairs: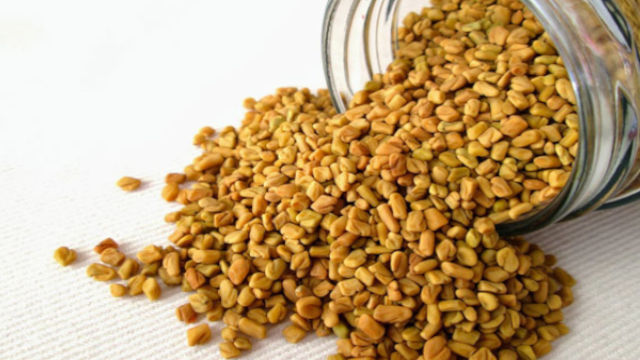 For that, you have to take fenugreek seeds and some curry leaves that are easily available and we use them to make food items.
Grind both ingredients in a grinder and make a fine powder. Now, you can apply this mixture in two ways one is, you can mix it with some coconut oil and apply into your hairs and wash after an hour.
The other way is, you can add this mixture with some curd and apply to the hairs and leave it for some time and wash your hairs using a mild shampoo.
Repeat this method twice in a week for better results.
Also Read: How to grow hair faster with garlic oil
Fenugreek seeds for Glossy and Providing volume to your Hairs:
For that, you have to soak 6 to 7 tablespoons of fenugreek seeds overnight in a bowl.
Next day, make a fine paste of fenugreek seeds and add some honey, lime juice, some curd, and coconut oil. Mix all the ingredients well and apply to your hairs from tip to root and massage for 5 minutes and leave it for an hour.
After an hour, wash your hairs using a mild shampoo. Repeat this remedy thrice in a week and you will get natural volume in your hairs with an adorable shine and glossiness.
Fenugreek Seeds for Curls:
If your curly hairs bothering you and you are depressed and looking for a genuine method that can really help then again fenugreek seeds won't disappoint you.
Soak fenugreek seeds for the whole night into one glass of water. next day, sieve the seeds and use the thick gelatinous Methi seeds water and apply to your hairs from tip to root and massage in a straight way as you are opening the curls.
Leave this on your hairs for half an hour and wash your hairs with normal tap water.
Read Also: how to grow hair faster naturally in a week at home
Fenugreek Seeds for Overall Hair Health:
Soak 1 tablespoon of fenugreek seeds into one cup of water for overnight. Next day, sieve this water into another cup and drink it an empty stomach slowly.
You can also eat fenugreek seeds if you like and it will enhance the benefits of drinking fenugreek seeds.
This water will not only increase your hair's beauty but also remove all the toxins from your body and make your skin healthy and acne-free and pimple free.
This water purifies the blood and makes your hairs shiny, strong, frizz-free, and healthy.
How to Make Fenugreek Oil for Hair:
Take a handful of fenugreek seeds and two cups of coconut oil or olive oil. Add the oil into a pan and heat it well and add the fenugreek seeds as well.
Let it boil for a few minutes until the seeds change color. then off the flame and let it cool down.
Massage this oil once in a day and within a few weeks, you will see the miraculous changes in your hairs.
It will stop the unnecessary hair fall, improve the frizzy and dull hairs, and make your hair strong and shiny and active the hair growth.
Summary:
Maybe there are thousands of people available who are still unaware of these tremendous ingredients. These tiny seeds are very beneficial and far better than using those harmful products on our hairs that only contains chemicals.
Boys and girls both spend a lot of money on those expensive therapies and treatments to make their hairs glossy and healthy. We will suggest you avoid all of them because they will only provide artificial health to your hairs.
Follow these remedies and any of them you can choose. Share this article with your friends and tell them about your experience and also share your personal perception with us as well.