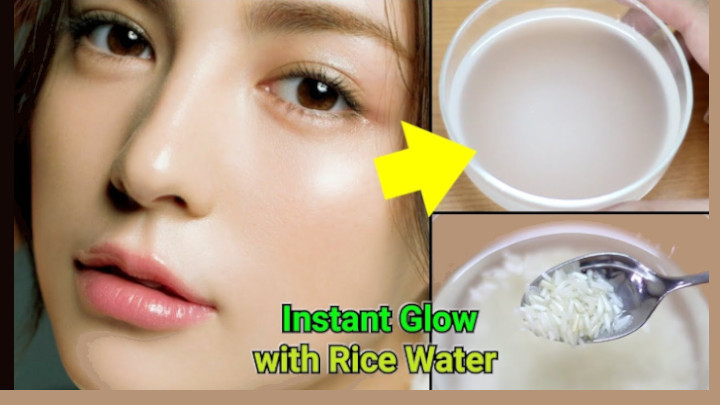 Nowadays, rice water for face has been becoming one of the perfect home remedies to repair skin and provide the younger brighter look. Rice water usage for skin repairing is one of the well-known ancient methods more than 1000 years old derived from Japan.
Using rice water is an inexpensive and effective way to soothe and tone up your skin naturally and without any side effects. Rice water increases skin collagen that prevents wrinkles and makes your skin tight and younger than before.
There are many experiments that have been done of rice water on the skin and the results were positive.
You may have noticed many times that Japanese people have a gorgeous and flawless skin tone and they hardly have rough or dull skin tone especially ladies and maybe rice water is their secret.
In this article, we are mentioning rice water face mask and DIY homemade cream made of rice that will help you look 10 years younger from your age and remove skin disorders like pimples, acne, acne scars, pigmentation, wrinkles, dull skin tine, whiteheads, blackheads, dead skin cells, etc.
Rice Water for Face
So let us tell you the traditional and ancient method of rice water face mask and face cream:
Method-1
Japanese women using rice water for centuries as they are aware of its benefits as rice has many helping minerals and components that are skin-friendly.
What you need–
How to prepare–
First of all, take rice and wash it well with plain water and then put rice into a pan and boil them until they become soft and tender.
When boiled properly, off the flame and sieve them into another bowl and gently press them so the whole water can be squeezed and keep aside the water for later use.
Now add 2 tablespoons of milk in the cooked rice it can be raw or simple milk and 1 tablespoon of honey and mix well and make a paste.
Wash your face with plain water and dry it and apply this face mask with the help of a brush or simply use your hands. Cover the whole face and neck area well.
Leave this mask for 30 to 40 minutes and wash off.
Now, take remaining rice water and apply this to your face with the help of cotton ball and store the remaining rice water into the fridge for next day use.
One can also freeze it into cubes for making it n easy procedure.
Repeat this remedy thrice in a week.
Special note:
You can only store rice water for 24 hours so don't use more than that.
ALSO READ: How to Get Glass Skin in 7 Days!
Method-2
Rice contains vitamin B and rich with antioxidants and a favorable formula to get radiant, spotless skin tone experimented by thousands of Korean women.
What you need
2 tablespoons of white rice
Half tablespoon of fresh lemon juice
Half tsp of vitamin E oil
How to prepare
Wash the rice well and boil them into 2 or 3 cups of water into a pan until cooked well and become soft and thick.
Now, sieve cooked rice into a utensil and squeeze water that would be thick like a paste form.
Add lemon juice into the rice mixture corn flour and vitamin E oil and mix well until you get a smooth thick paste.
One can also use vitamin E capsules and all-purpose flour, if corn flour is not available.
Now put this mixture into a small tight container and rice anti-aging natural skin radiant cream is ready for use.
You can store it for 7 to 10 days and apply to your face in a circular motion and massage gently for 2 minutes and leave it.
Apply this facial cream twice in a day for best results and it can be used as a sunscreen cream.
The remaining rice can be used as a rice mask for one-time usage.
ALSO READ: How to Make Rice Water for Hair Growth
Benefits of Rice for Face
Rice is 100% natural ingredient that is quite useful to treat skin disorders.
It repairs skin cells and removes dead skin and makes your skin soft and superb.
Using lemon juice makes it more effective as lemon contains antibacterial property and vitamin C that reduces skin impurities and work as natural bleach.
Rice water and rice face mask provide a younger skin tone without any spots and side effects and far better than expensive skin products that are harmful to your skin.
Rice water removes skin blemishes, tanning, pigmentation, scars, spots, pimples, and wrinkles, etc.
Rice face mask makes your skin tighten and lighter and raise skin elasticity.
You can simply prepare it at home by using a few ingredients and will get expected results within a few days.
You may find this interesting: How to Remove Body Odor Naturally
Conclusion
We are not saying to eat those unwanted and tasteless things to get a brighter skin or gulp any bitter juices to get soft young skin.
All you have to do a little effort to get younger brighter and flawless skin tone as you always wanted. You need not go anywhere to any expensive salons or parlors.
Do not apply any harmful heavy facial masks to your skin. Just plain white rice and a few ingredients will work like as great panacea for your skin.
Getting a beautiful and healthy skin is like a dream for every man and woman. We assure you this remedy works great and never disappoint you. Still, you feel any allergy or any reaction then better to avoid it.