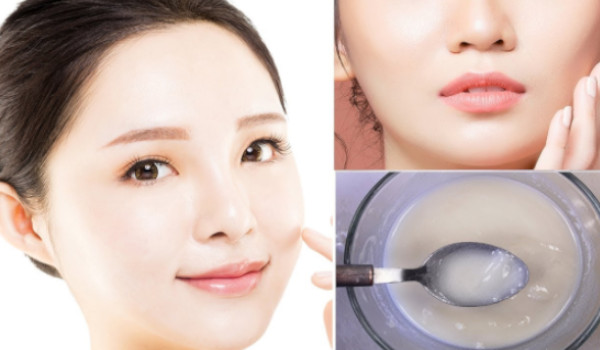 Korean Glass Skin: Healthy flawless skin is the dream of every woman and man, looking attractive is becoming like a tough competition especially in the glamour world.
You must have healthy skin and stay healthy from inside that's matters. People spend a lot of money to get glowing skin and sometimes these artificial products can harm your skin.
Poor eating habits, wrong lifestyle, applying poor products on your skin, any disease, and excess makeup can spoil your skin health and cause many skin disorders like pigmentation, pimples, wrinkles, spots, and aging effects, etc.
You may have noticed sometimes that Korean people have flawless skin that looks amazing and we have brought some wonderful methods that are very effective and natural. You can get Korean glass skin naturally at home. So let's have a look at these home remedies:-
1. Aloe-Vera:
Aloe Vera contains anti-bacterial and anti-inflammatory properties that nourish our skin. Aloe vera works as a perfect moisturizer and its anti-aging components help in skin rejuvenation and you look younger and brighter than before.
How to use:
You need to cut some parts of the aloe vera plant with its transparent gel.
Extract the gel out and apply it on your face and neck and massage for 10 minutes and leave it for an hour.
Wash your face with normal water and repeat the process once in a day.
You can easily grow this plant at your home or store the leaf in the fridge for a week.
You can also buy original organic aloe vera gel available in the market if a fresh plant is unavailable.
If you feel any irritation or allergy after using aloe vera better to avoid it.
2. Coconut Oil:
Coconut oil is also a great moisturizer that contains anti-bacterial, anti-inflammatory, and anti-microbial properties with antioxidants and other helping nutrients that goes well with our skin tone.
How to use:
Wash your face with normal water and pat it dry.
Take some organic coconut oil at the palm and apply it to your face and massage gently for 10 to 15 minutes.
Do it at night time and leave it for the whole night.
You can also add coconut oil drops into your moisturizing lotion or cream and massage well on the face.
Repeat daily once in the night.
ALSO READ: How to Get rid of cellulite
3. Rice Water:
Rice water contains special factors that help to tone up the skin and tightens it. Using rice water on a regular basis can make you feel younger and provide miraculous skin rejuvenation.
How to use:
Take half a cup of water and wash it once with plain water and soak in one cup of water for half an hour.
Squeeze rice in the water so the water looks cloudy because we have to use this rice water.
Strain this water in a bottle and wait for one day.
After one day, apply this water on your face and massage for 5 minutes and wash it with plain water.
Repeat this method once in a day.
RELATED: How to Make Rice Water for Hair Growth
4. Rose Water:
Rosewater tones the skin well and provides freshness. It cleans up with dust and dirt and fights with acne and pimples. You can add some lime juice with rose water or olive oil if you have dry skin tone.
How to use:
Take 2 tablespoons of fresh organic rose water and add some lime juice and mix well and apply to the whole face and let it rest for 20 minutes.
Wash the face and repeat this once in a day.
5. Sugar Scrub:
Scrubbing sugar on your face can remove dead skin cells and improves blood circulation that makes the skin healthy and glowing. You can use both brown r white sugars as a scrub.
How to use:
Add some drops of water in the 2 tablespoons of sugar and apply to the face and gently massage for 10 minutes.
Wash with normal water and repeat the process once a week.
6. Papaya:
Papaya is a rich source of antioxidants and contains special enzymes like papain and loaded with minerals and vitamins. Eating papaya is beneficial for our overall health and applying on the face is also a good idea.
It works as exfoliate, removes dead skin cells, reduces acne and pimples, and rejuvenate our skin naturally.
How to use:
Take well-ripped papaya and cut 3 to 4 slices and mash it well with the help of hands or a fork.
Apply this mixture on the face and you can also add some rose water for extra hydrating your skin.
Wash after 15 minutes of massage and repeat this procedure once in a week.
ALSO READ: How to Get Rid of Milia on Face
7. Milk Ice cube Massage:
Milk contains many healthy components like lactic acid and it nourishes well. Applying milk on the face is also a fine option getting flawless Korean glass skin and it is an ancient formula that can help you for sure.
One can use raw milk or boiled milk but raw milk would be better for applying.
How to use:
Pour milk in a small ice cube tray and let it freeze for some hours.
Extract one cube and apply it to the whole face and massage well.
Leave it for 20 to 25 minutes on your face then wash it off and repeat this process once at the night before sleeping.
Next morning you will get a radiant healthy skin tone.
Conclusion:
With these home remedies, add a healthy diet in your routine. Eat more salad and fruits and drink plenty of water. Save your skin with direct UV rays because it can be harmful to your skin.
Always use a good quality sunscreen lotion and moisturizer. Never do excess experiments with your skin and follow these methods will certainly help you to get a perfect glowing flawless Korean glass skin without any side effects.
If you have any questions or doubts, feel free to ask and stay connected with us for more remedies like this. Also, share your views and experience with us.
You might be interested in: How to Remove Blackheads and Whiteheads