Health & Wellness
105 Year Old Japanese Doctor Reveals the Secret of Long And Healthy Life!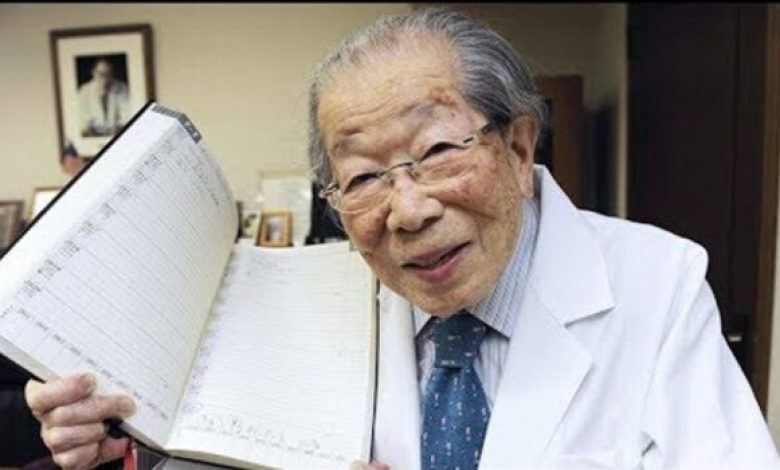 105 Year Old Japanese Doctor Reveals the Secret of Long And Healthy Life: Considered as one of Japan's national treasures, Dr. Shigeaki Hinohara is 105 years old. Born in 1911, Dr. Shigeaki Hinohara has written more than 150 books and has many best sellers.
He lives a very active life in Japan and is a role model for many people across the globe. In his books, Dr. Shigeaki Hinohara has shared many secrets for a long, healthy, happy and prosperous life.
He has established a well renowned hospital-St. Luke's International Hospital and a top college-St. Luke's College of Nursing in Tokyo, Japan. Both his organizations have been listed as the top two in Japan.
He is also the founded of "New Elderly Movement" and his best seller "Living Long, Living Good" is a must read for everyone. In this post, we will discuss Dr. Shigeaki Hinohara's 14 pieces of advice on how to live a healthier life.
1. Eat to Live Don't Live to Eat:
Every morning, Dr. Shigeaki Hinohara used to have 1 drink of coffee, a glass of milk and orange juice with some olive oil in it. He says olive oil keeps the skin healthy and also keeps arthritis at bay.
For lunch, he used to have milk and cookies, that too when he was free to have lunch. And for dinner, it was just few vegetables, rice, fish and a little meat twice a week.

Dr. Shigeaki Hinohara says that it is very important to stay fit and physically active all the time. You should eat moderately and exercise regularly.
2. Do Not Believe Everything That Your Doctor Says:
As per Dr. Shigeaki Hinohara, who is himself a doctor, you should never follow a doctor's advice blindly without exploring something by yourself.
You should read and educate yourself with things that you are curious about.
[Also Read: 9 Reasons You Should Drink Ginger Juice in the Morning]
3. Think Twice Before You Go Under the Knife:
If you are going through some ailment and your doctor suggests some sort of surgery, don't go for it before thinking and researching about it.
There can be other solutions, try to find out alternatives before you go under the knife.
4. Take the Stairs and Carry your Stuff on your Own:
Well, you might have heard it already a lot of times, that you should take stairs instead of using a lift. Now, coming from a 105
years old doctor, it sounds even more promising.
Taking stairs will fulfil your daily need of physical activity to an extent and when you carry on your belongings, it's just a cherry on top. Dr. Shigeaki Hinohara himself climbs two steps at a time, if he can do it, then you can as well!
[Also Read: 11 Reasons why you should Drink Beetroot Everyday!]
5. Do not be Overweight:
Dr. Shigeaki Hinohara has himself found in his researches that people who have lived longer were not overweight. Maintain a healthy diet is really important for a longer life.
Obesity brings various health issues, from an early stage in life. Make sure to eat healthy and exercise enough.
6. Pain can be Mysterious:
Dr. Shigeaki Hinohara says that rather than turning off your family with constant complaints of pain and discomfort or looking for relied in heavy medications; try to emulate a child who just forgets about his toothache when he is busy playing.
What he means to deliver is that by continuously thinking of your pain, you are increasing its density further. At times when you experience slight pain, try to make yourself busy somewhere, because this diversion will make you forget about the pain and it may go away eventually.
[Also Read: 10 Warning Signs of Cervical Cancer You Should Not Ignore]
7. Pick a Role Model:
You should definitely have a role model in your life to be inspired and successful. Dr. Hinohara, himself followed his father who introduces him to his favorite poem and took him across the work in order to get him enrolled in Duke University.
Having a role model, makes your life simpler because whenever you are stuck in some dilemma, you can think what your role model would have done in your place.
8. Share your Knowledge:
Dr. Hinohara gives more than 150 lectures annually in schools, colleges and business communities. He shares his knowledge on war and peace. He believes that the later years in life should be devoted to serve the society in whatever way possible.
Even at his 105 year old age, he stands for almost an hour long lecture and re tells his stories and experiences. Isn't that amazing?
9. You do not Need to Retire:
If your mental and physical condition is good, then you do not have to retire. You can work as long as you want if you are passionate about it.
There is no particular age to retire if you are happy with whatever you are doing. Dr. Hinohara continues to work almost 18 hours per day, all seven days a week and he loves every minute of it.
[Also Read: 7 Excellent Benefits of Jeera water (Cumin water)]
10. Plan Ahead Always:
It is very important to keep things planned on time. Dr. Hinohara makes sure that his schedule is always booked with lectures and his usual hospital work.
Make sure that your calendar is organised and vigorously plotted.
11. Science can not cure People Alone:
Dr.Hinohara is a firm believer that you can cure yourself with good thoughts and science cannot be the answer to all your problems. Illness varies from person to person and different people may need different treatments based on their emotional state.
To find the cure, people need to explore more of visual and liberal arts instead of depending just in pills.
12. Energy is Derived from Positive Thoughts:

You will be happier and more energises if you monitor your thoughts. You should behave like children and have fun in life. If you remember as a child you were always so busy in playing that you used to forget about eating or sleeping.
By having thoughts of gratitude and looking at life with a positive attitude, you will also generate positive energy.
13. Do not Run After Money:
You cannot take money with you to the next place when your times come. Dr. Hinohara says that you should enjoy every small thing in life and live every moment when it is there.
Instead of worrying about collecting materialistic things, be happy with what you have because chasing money all your life won't get you anywhere.
[Also Read: Indian Remedies to Lose Weight at Home Without Exercise]
14. Life is always unpredictable, so don't worry about things that you cannot control:
There is no pint of tiring yourself with too many worries about your future. You cannot control all the future events, so worrying about them will not change anything.
Dr.Hinohara was 59 when he was hijacked by the Soviet Army and was handcuffed to a chair for four years in 40 degrees heat all the time. But, he survived everything and was amazed by his body's ability to adapt to such severe conditions.
We, hope Dr.Hinohara and his perspective on life has made some sort of positive influence on you.