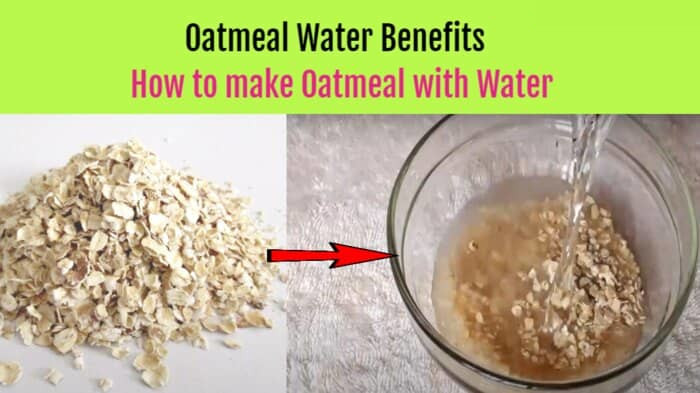 Did you know what are the benefits of drinking oatmeal water? Oatmeal has always been a healthy breakfast concoction champion among diet-conscious people, especially those aiming for a speedy weight loss technique.
But the concept of oatmeal water as a healthy breakfast diet is lost on most of them. Until recent times, oatmeal water did not appear in the dietician's minds as a recipe, and the wonder of this particular drink is yet to be famous.
Does oatmeal water has any extra nutritional value than the oatmeal itself? No. Oatmeal water has almost the same nutritional value as oatmeal. But when you can double the oatmeal effect in your diet by not throwing away the oatmeal water, why not do it? You can use oatmeal water to lose weight or cure acid reflux and never worry about scratching your head over a good breakfast drink ever.
As a cherry on top, oatmeal water tastes super yummy and can be even better if you can add some secret ingredients to it. Let's have a look.
In this Article
What is Oatmeal Water
Oatmeal water is nothing but the water that is left behind after boiling the oatmeal. The leftover nutrition that most people throw away in the sink, but in reality, oatmeal water proves to be a lot healthier than any orange juice or other fruit smoothies that people like to consume on their breakfast tables.
The higher level of minerals and nutrients in oatmeal water can help purify your body and clear out the toxicity.
Oatmeal water calories and Nutrition Facts
Oatmeal water has no added sugars or sweeteners and there are no artificial ingredients.
Serving Size- 1 cup
Calories- 147
Total Fat- 2 gm
Cholesterol- 0mg
Sodium- 2mg
Total Carbohydrate- 25 gm
Fiber- 4g
Protein- 6 gm
Sugars- 0.5 g
Oatmeal Water Benefits
Amazing Oatmeal Water Benefits that why you should add to your diet-
1. Helps in Weight Loss
Weight loss is one of the most excellent benefits of taking oatmeal water as your morning drink. Anyone can count on oatmeal water for weight loss blindly.
It has several minerals and vitamins, fiber, and oligo-elements that help keep your body fit without costing you any extra weight gain.
Also, oatmeal water is low in calories, unlike other drinks, which is another way to keep you healthy and light.
2. Oatmeal water Benefits for Cholesterol
Just like oatmeal, the extracted water from boiled oatmeal also keeps your cholesterol in check.
You can rely on oatmeal water for cholesterol level if you can chug it in the morning on an empty stomach.
Oatmeal water also contains good fats such as linoleic acid and omega 6 oils, which help keep your heart excellent and healthy. Also, oatmeal water reduces the level of bad cholesterol.
3. Aids in Detoxification
Detoxification is another aspect that the benefits of oatmeal water have covered. Oatmeal water contains Amino Acid in massive proportions, and it helps in producing lecithin in the liver.
This helps in cleaning your arterial walls and detoxifies your whole body. The fats accumulated in your arterial walls are washed by lecithin, and thus taking oatmeal water on an empty stomach can do wonders for you.
4. Ultimate Cure to Diabetes
In recent times, almost everyone across the world has a high level of diabetes which also develops at an early stage. Like oatmeal itself, the proportionate oatmeal water ratio on an empty stomach improves the digestion of carbohydrates and starch.
Oatmeal water also contains lots of useful fibers that help in digestion as well, which keeps the level of diabetes in our blood under control.
5. Prevention Against Cancer
Although this might not have the ultimate proof, oatmeal water does contain many anti-carcinogenic characteristics that help prevent cancerous cells' growth in our body.
Oatmeal water has many rare fibers and magnesium, zinc, Vit. B9, B6, and B1 detect cancerous cells very early in the body and help a great deal in preventing the same.
4. Strengthen the Bones
It is not a surprise that oatmeal water is full of calcium, just like oatmeal, and thus it helps a great deal in keeping the bones healthy.
It strengthens our bones and prevents many bone-related problems such as osteoporosis. The high calcium of oatmeal water also keeps your bones healthy and gives you added energy to your body.
5. Development of New Tissues
The development of new tissues is one of the most significant positive effects of oatmeal water, as oatmeal water is rich in proteins.
Keeping oatmeal water as your breakfast drink can boost your body tissues and build other elements of your body.
6. Solution to Digestion Problems
The digestion problem is one of the common issues throughout the whole world.
However, with the rare fibers present in the oatmeal water, you can say goodbye to your digestion problem with oatmeal water intake every day quite easily.
Because of oatmeal water, the carbohydrates are absorbed slowly in your body, and thus benefits of drinking oatmeal water helps in preventing constipation as well.
7. Makes your Immunity Stronger
Oatmeal water is another word for your immunity system as well. Due to the presence of antioxidants, oatmeal waters boost your immunity system to a notch and help improve your overall health system.
8. Helps in Mental Health
As gut health equals mental health, oatmeal water helps a great deal in improving your mental health by keeping your digestive system better.
Also, oatmeal water contains Vit. B9, B12, and magnesium help improve memory, concentration, and ticks off your anxiety naturally.
Read also: Health Benefits of Oats that will Surprise you
How to Make Oatmeal with Water
Oatmeal water does have a sharp taste as it is the extraction after the boiling of the oatmeal.
However, if you plan on taking oatmeal water as your breakfast drink, you can experiment a little bit with a few recipes that can prove to be very handy. Let us have a look.
1. Oatmeal with Water Recipe
While the general recipes ask you to take the oatmeal in a bowl, add water to it, boil it and extract it, in this recipe, we will make it in a way so that it does not taste blunt for your breakfast drink.
After taking the oatmeal in a bowl and adding sufficient water to it add a cinnamon stick.
Do not boil the oatmeal; let it soak for an hour or so. This will make the oatmeal spongy as the water will get absorbed in the oatmeal.
Take the moist oatmeal out and pour it into a blender along with evaporated milk and vanilla extract. This will give you the desired taste of oatmeal water.
Once you have blended the mixture well, strain the mixture and add sugar to the oatmeal water according to your taste.
And your tasty oatmeal water is ready.
You can store this oatmeal water in the refrigerator for up to two weeks. However, if you plan on losing weight by drinking oatmeal water, it is best to skip the milk. Also, to get the best result, you should drink oatmeal water as a super beverage twice a day.
2. Oatmeal Water Recipe for Weight Loss
If you are exclusively using oatmeal water for weight loss, you will need the right recipe for that purpose accordingly.
Take a cup of oatmeal and 2 liters of water.
Take a bowl and pour in the dry oatmeals. Therefore, slowly cover the oatmeals with water; however, do not completely drown the oatmeal in water. Also, you can use a grinder to crush the oatmeal first if you do not like lumps in your oatmeal water.
When the grinding is done, take a pot or a saucepan. Pour the crushed oatmeal along with the rest of the water and put everything to boil properly.
Boil it properly and when it is done, leave the mixture to cool off for about five to ten minutes.
Before straining the mixture, you can add cinnamon or honey to it for a sweet flavor. But if you are using oatmeal water for weight loss, it is strictly advised to avoid using milk in your oatmeal water.
Let the mixture cool a little bit and strain it. And you perfect oatmeal water for weight loss or oatmeal water for acid reflux is prepared and ready to be devoured. Also, if your taste permits, you can add ginger to the mixture as well.
Don't miss: Raisin Water Benefits and Side Effects
In Closing
Oatmeal water is the ultimate magic solution to your confused breakfast diet. When in a hurry, it is hard to make a drink every day, which has to be healthy and easy to make, and oatmeal water carefully covers all the criteria here.
You can store oatmeal water for easier access, and it is one added benefit of having oatmeal water as your breakfast meal and various other health issues.
Although the concept of oatmeal water is relatively new in the regime of the everyday diet, it will take its place soon when everybody has a glass of oatmeal water at their breakfast table.
Read Next
References