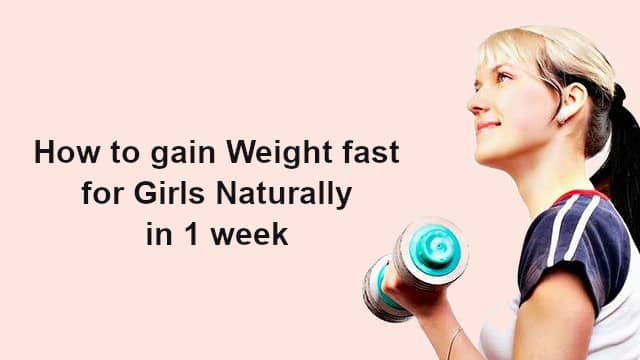 Are you an underweight person? Read about how to gain weight fast for girls naturally in 1 week. Being too thin or underweight never looks excellent as you can't wear your favourite attire, and it also provokes various health issues.
WHO study has stated that more than 400 million people are underweight in the whole world. We all know about being overweight and its complications, but being lean is also a trouble.
Gaining weight naturally can be a massive struggle for those who are underweight. An underweight person may face malnutrition, infertility, growth issues, week immunity, and many other things.
Causes of Being Underweight
1. High Level of Metabolism
People with high metabolism are thin and lean even if they take food in large portions or eat a fatty diet.
2. Heredity
Family history is also responsible for less weight. If you belong to such a family like that naturally, you'll be underweight.
3. Excess Work out
People who are workout alcoholic are also underweight as their metabolism always stable at high, and they never gain weight due to workout, running, jogging, or swimming.
4. Depression and Stress
People who always look depressed and take excess stress are underweight as they lose appetite and always stay worried.
5. Medical Condition
Severe medical conditions or any long-term disease like cancer, TB, diabetes, the thyroid can also cause a lean and thin body.
This article will discuss how to gain weight fast for girls naturally and you can check your appropriate weight ratio by BMI. If you are also looking for such ways to increase body weight, check out this information till the end:-
How to gain Weight fast for Girls Naturally
1. Milk and Protein Shake
Milk is a rich source of protein, vitamins, calcium, and carbohydrates. Many researchers have found that people looking for weight gain must drink milk every day and suggest `take full-fat milk.
Drinking milk helps in muscle building and makes you strong and fat as well. So protein shakes are very popular nowadays for gaining body weight. Try to avoid packaged shakes as you can prepare fresh ones at home.
2. Eggs
The other vital tip to gain weight are eggs, and mostly all people want to make their muscles fast and instantly put on an egg diet.
Add eggs to your regular meal, and you can do many experiments with eggs like crumbling, boiling, making shakes, poaching them.
3. Red Meat and Rice
A bowl full of rice contains sufficient calories that you need to increase weight. You can also add veggies and meat to the rice bowl to make it healthier and effective for instant weight gain.
Red meat also plays a significant role to gain weight fast. Red meat includes creatinine, leucine, and other needed components that provoke body weight, and studies favour that fact.
4. Whole Wheat Bread and Pasta
Whole-grain bread is also famous with much starch and carbohydrates that you need to gain weight within a few weeks.
Pasta is also responsible for weight gain, but we will still suggest avoiding bleached ones and buying whole-grain pasta that is readily available, and they look plentiful and delicious. You can become a little chef while making them with new techniques.
5. Yoga for Weight Gain
Don't be stunned? Many types of yoga and exercise available to reduce weight; similarly, various yoga methods can reverse the effects and helps in weight gain.
You can take the help of a yoga expert who will help you or watch videos and try with a few minutes, then slowly increase the time.
You might also like: How to Get Skinny Fast at Home
6. Nuts and Dry Fruits
Nuts are a great source of energy and nutrients and are considered an excellent snack. A person who consumes nuts regularly looks healthier physically than others. You can have almonds, cashews, raisins, walnut, etc.
Dry fruits are also rich in calories and minerals. You can choose blackberries, dried pineapple, apricots, dried cranberries, etc.
7. Starchy Food
Our kitchen is full of starchy food, and you can get starch from many things like potatoes, corns, oats, lentils, beans, sweet potato, white bread, rice, and many more items that contain starch.
Including starch in the diet helps in muscle development and provoke weight gain.
8. Supplements
Most athletes and bodybuilders depend on protein supplements, and they work pretty rapidly than any other way. If any natural remedy is not working for you or you want instant changes, then you can go with this option.
You can have these supplements online or at any medical store.
9. Yogurt and Cheese
Yogurt and cheese both are effective options for protein, calcium, and vitamins. You must add both to your diet. You can make smoothies using some yogurt and fruits or eat them.
10. Avoid smoking
Smokers can rarely gain weight as smoking directly attack the respiratory system and then affect overall health. You must avoid smoking strictly if you want to gain weight fast.
11. Drink Enough water
Keeping yourself hydrated is a wise decision that you must take for your health, especially if you want to gain weight. However, drinking plenty of water in a day reduces several health issues and flush out the toxins that can be harmful.
12. Take Enough Sleep
This is an old saying that a healthy mind is the key to a healthy body. Lack of sleep or a stressed mind can block muscle growth and make you lean.
Take enough sleep and try to reduce stress, and music, workout, yoga, and meditation can help to improve your sleep quality and make your mind relaxed and calm.
13. Eat Big Portions
Well, we can give a secret that will force you to eat naturally more. You must eat with your friends and family, and when we eat in a group, we often eat more than usual.
14. Take More Calories
As we said before that adding more calories to the diet will help you to gain weight fast. Always choose a carbs-rich diet and drink enough dairy beverages that will provide 400-500 calories in a day, and you can see results within a few weeks.
15. Dark Chocolate and Bars
Dark chocolate and cereal bars are also liked and counted as energy booster snacks. Eat them whenever you want, or make a shake or a smoothie using a bar of dark chocolate.
You can have bars added to many nuts and dry fruits and always keep them with you to have sufficient calories.
Read Also: How to Eat Chia Seeds for Weight Loss
Dos and Don't
Dos
Foods to weight gain fast always work like magic for lean people, so correctly follow the steps.
Change your routine and make a diet chart by an expert, and without joining a gym, you can gain weight naturally at home.
Avocados are superb fruit loaded with calories and also add bananas to the diet.
If you like eating fish, then you must add salmon to the diet.
Don'ts
Always avoid fasting like people often do.
Avoid smoking and stress.
Never be on an empty stomach and eat within a few hours.
If you still feel nothing is happening, then taking an expert suggestion can help you out.
In Closing
Gaining weight is not a one-day task, especially if you are going with natural methods. Keep patience and follow the steps as we described here.
We hope this information on how to gain weight fast for girls naturally would help you. If you have any questions or queries, feel free to ask and share this article more and more.
Don't miss