Home Remedies
Eye Bags Causes: How to Remove Eye Bags Permanently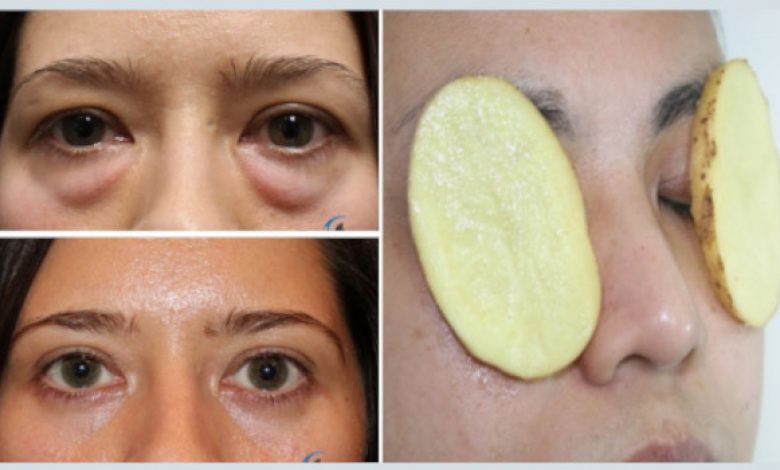 Looking for how to remove eye bags permanently? Have you ever thought about what the best part of your look is? Indeed, it's your sparkling bright eyes! You are lucky enough if you get a perfect eye without under-eye bags and dark circles. But the thing does not go right all the time.
Suppose on a fine morning you notice that fluffy under the eye. Your mind immediately started seeking remedies as under-eye bags or puffiness is considered the symbol of sick health and an unhealthy lifestyle.
No one can get a fresh look with tired and droopy eyes. But as we all know, this is a problem that we can't solve overnight, so friends, we must take care of our eyes so that we don't have to face such an incident.
Here, we are coming with the effective solution on how to remove eye bags permanently-
What are Puffy Eyes?
Under the eye, bags appear when the under-eye tissue started swelling. Commonly with growing age, the tissue around our eyes becomes weak, and the fat cell that is used to supports the eye moves to the lower eyelid, and due to this, the eyelids develop a puffy look.
But apart from aging, under-eye bags can be formed due to chronic diseases like hypothyroid, Kidney failure, or liver problems.
The tissues around the eye become loose and form balloon-like small bags under the eyes. One should keep in mind that under-eye bags and puffy eyes are not in the same condition.
Most of the time, we develop puffy eyes due to lack of sleep. In taking excess salted food, any infection in the eye, crying for a long time, etc. whereas under-eye bags is permanent and may be the underlying cause of many serious diseases.
Eye Bags Causes
Under-eye bags or puffiness can develop for many reasons, among which health issues, genetics, overstrain, chronic disease like thyroid, drinking habits are most common. Let us explain the causes pointwise.
1. Infection or Allergies
Any types of allergy or infection indulge our body to secrete histamine, and this chemical makes our eyes swell.
2. Genetics
Puffy eyes are a characteristic that DNA carries over. So anyone could inherit it from their parents and grandparents.
3. Excess Alcohol Consumption
Those who get the habit of drinking alcohol may develop puffy eyes as due to drinking, our blood gets extra fluid, and it lowers the Anti-diuretic hormone.
4. Lack of Sleep
We need a minimum of 7 to 8 hours of sound sleep. If anyone lacking sleep for an extended period may grow puffy eyes due to sleeplessness, our body could not flush out the toxins, and they started to deposit under the eye.
5. Age
Age is one of the common factors to grow puffy eyes or under-eye bags. As we are growing old, the elasticity of the fat tissues reduced, and it becomes loose.
With aging the process the collagen tissue lost its activeness due to hormonal function in the youth. So the skins around the eyes sag down and create under-eye bags.
6. Removing Eye Make up in a Wrong Way
Before going to sleep, it is necessary to remove eye makeup with a gentle hand. If not done correctly, harsh chemical-based makeup can increase the chance of dark circles and under-eye bags.
ALSO READ: Top 10 Bad Habits that Ruin Your Eyesight
7. Lifestyle
An undisciplined lifestyle is the root of all evils in our life, and under an eye, the bag is no exception.
Those who are habituated by late-night parties consuming junk foods, excess salty foods may develop this slowly.
How to Remove Eye Bags Permanently
To treat the swelling or inflammation due to excess fluid retention in the under-eye area, it is necessary to take immediate action as soon as it begins to appear.
After a proper diagnosis that it is not linked with any chronic disease, one should follow the remedies. Let us explain the most recommended remedies.
1. Tea Bag Compress
This is an ancient method to treat under-eye bags. Whether it's green tea or black tea, it does not matter. Tea contains antioxidants and caffeine that help to reduce the excess fluid deposition under the eye.
How to use
Take the leftover tea leaves after staining the liqueur.
Take a clean piece of a soft cloth. Keep the warm tea leaves inside the cloth and knot it to make a bag.
Compress the under-eye area with these warm tea bags for at least 20 minutes. Do it twice daily.
You can use readymade tea bags.
2. Use of Coffee with Coconut Oil
Coffee contains caffeine which reduced inflammation due to excess fluid. Coconut oil has moisturizing properties that help to rejuvenate the under-eye skin.
How to use
Take one teaspoonful of coffee powder. Mix one drop of coconut oil to it.
Stir it well to form a paste.
Cover the under-eye area with it very carefully. Please wait for 30 minutes and wipe it with a wet cotton ball. Do it daily unless you solve your puffy eye problem.
RELATED: Top 10 Benefits of Coconut Oil For Hair Growth
3. Massage with Almond Oil and Honey
Almond oil is anti-inflammatory, and it contains vitamin k, which improves under-eye clotting. The palmitic acid and retinol help to moisturize under-eye skin. Honey is also a natural ingredient and skin-friendly.
How to use
Thoroughly wash your face and under-eye area with a gentle splash.
Take almond oil and add two drops of organic honey very well. Take the mixture on your fingertips and gently massage the affected eye area.
Leave it overnight for a better result.
Wash with cold water in the morning.
Try to include a few almonds in your diet.
4. Use Banana Peel
Unlike the banana, its peel is also beneficial for treating different skin problems.
Banana peels are enriched with vitamins like k, B6, B12 and minerals like magnesium and potassium. All these nutrients work to reduce puffiness.
How to remove eye bags permanently with banana peel
At first, it washes your face.
Cut the banana peel in a semicircle shape.
Put the white side of the peel on the under-eye bags.
Keep it for 25 minutes. Wash the area after removing it.
A smashed banana will give you the same result.
RELATED: 10 Health Benefits of Banana Peels Will Surprise You
5. Castor Oil and Alovera Gel
To dilute thick castor oil, it's better to mix aloe vera gel for treating under-eye puffiness. Castor oil has Ricinoleic acid that reduces redness and swallowing.
It also softens the under-eye skin. Alovera gel, too, is a high source of antioxidants, and both work very well locally to solve the under-eye bag problem.
How to use
Take one teaspoonful of Castor oil.
Extract aloe vera gel from freshly cut aloe vera leaves.
Mix well the two ingredients to make a semi-solid paste.
Apply with a cotton ball under the eye.
After 30 minutes, wash it off.
6. Use of Essential Oils
To treat puffy eyes use of essential oils are an effective solution. Make an essential oil with Lavender oil, Chamomile oil, and lemon oil in equal proportion.
Both lavender oil and lemon oil moisturize the under-eye skin and help to get back the normal skin tone.
Chamomile oil is full of antioxidants that work to reduce as an anti-inflammatory agent.
How to use
Take one drop of each oil in a small bowl.
Add two drops of water into it.
Mix it well and apply it under the eye with a fingertip. After 20 minutes, rinse it off with cold water.
7. Cold Spoon Compress
This is a well-known way to get rid of under-eye bags. The cooling effect of a steel spoon helps to boost the blood flow and reduce swelling.
How to use
All you need is 3 to 4 medium-size steel spoons.
Please keep them in the refrigerator for one hour so that they become cold.
Compress the under-eye area with the backside of the spoon. Hold it for 30 minutes. Do it twice a day to get the best results.
8. Petroleum Jelly
Petroleum jelly is an excellent storehouse of an anhydrous component that can hydrate the under-eye skin. It also reduces soreness and inflammation.
How to remove eye bags permanently with Petroleum jelly
Take a small quantity of white petroleum jelly on your fingertips.
Massage it gently for 15 to 20 minutes. You can leave it overnight. Wash it off in the morning.
9. Cucumber Juice
Cucumber is a natural home remedy for treating puffy eyes. It is a natural toner and reduces irritation. Chilled cucumber juice helps to reduce swelling with a cooling effect.
How to use
You have to take one cucumber and cut it into pieces.
Keep the pieces in the fridge for half an hour.
Cover the eye with the chilled piece and wait for 15 to 20 minutes.
You can also use cucumber juice in the same way.
Do it twice a day.
RELATED: Top 10 Surprising Health Benefits of Eating Cucumbers
10. Mask made with Egg white, Lemon juice, and Milk
All three ingredients are pure and natural and give the best result when applying locally. Egg white helps the loose tissues around the skin to become tight.
Lemon juice is a natural resource of vitamin C, and it is anti-inflammatory. Milk hydrates the skin.
How to use
Take one egg and separate the white part in a bowl.
Add two teaspoonful of lemon juice and one teaspoonful of cold Milk into it.
Mix them well.
Cover the under-eye area with this mixture using a soft brush and keep it for 30 minutes.
Wash it off with lukewarm water. Do it twice a week.
Other Additional Tips
To prevent under-eye bags, make sure that you sleep at least 8 hours at night.
Limit your alcohol consumption.
Includes green vegetables and fruits in your diet.
Take proper care of the under-eye area with under-eye cream every day.
Stay hydrated.
Be sure to read: Eyelid Piercing Dangers and Risks
In conclusion, we can say that no one likes an appearance with raccoon eyes or balloon-like bags under the eye. It not only spoils the looks but also makes you feel embarrassed at every step.
But as we all know that under-eye bags need a little time to vanish, so you need to keep faith in the remedies to get the result. Patience is a big thing here to follow the steps and to solve your problem.