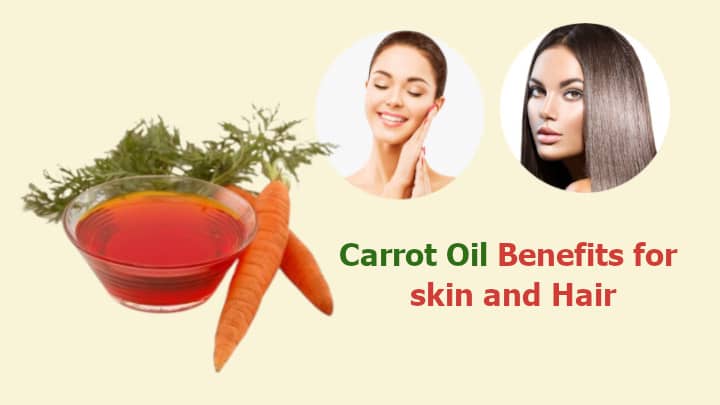 Looking for carrot oil benefits for skin and hair? Don't feel stunned, as many people hear about carrot oil for the first time. Carrots are loaded with numerous nutrients, minerals, beta carotene, vitamins, and fiber and are good to eat.
Nowadays, carrot oil is in trend and known as a famous one to add to skin creams, lotions, and hair products.
Carrot oil moisturizes the skin, prevent early aging, repairs skin tissues, and makes your hair healthier and shinier.
Carrot oil has many benefits that you may know by reading this article so let's start without any delay.
In this Article
Carrot Oil Benefits for Skin and Hair
There are many benefits of carrot oil for skin and hair. Carrot oil is a good source of Vitamin A, essential for keeping your skin healthy and elastic. It can also help reduce wrinkles and age spots, repair sun damage, and improve the look and texture of the skin.
Carrot oil is a natural treatment that has been used for centuries to improve the hair health. It is packed full of antioxidants, vitamins, minerals, and other nutrients that are essential for healthy hair.
Carrot Oil Benefits for Skin
Due to its antioxidants property with multiple vitamins and minerals and beta-carotene, it is a wonderful remedy to prevent aging signs, skin blemishes, and other skin issues. The benefits of carrot oil for skin
The regular application of carrot oil rejuvenates skin and provides a youthful look and glow that you will love.
It provokes new cell production, repairs skin quality, and makes it smooth and healthy.
Applying carrot oil before sleeping and leaving it overnight enhances the effects and benefits.
It works as an excellent moisturizer, and you can also mix carrot oil with your regular face cream or lotion.
It tightens the pores, improves skin elasticity, and makes your skin breathe and bouncy.
Mixing with lemon juice offers skin lightning effects by removing the dark skin layer causes pollution and UV rays.
It reduces the stubborn stretch marks.
How to use Carrot oil for Skin Lightening
One can simply massage carrot oil on the skin before sleeping as your skin absorbs it, and it is an excellent natural moisturizer for your skin.
You can make a carrot bathing bar at home by mixing carrot oil, milk, and honey and bathe with this soap by applying it to the whole body.
You can add a few drops of carrot oil to your regular moisturizer or skin lotion and apply it well to the overall body before sleeping.
Side Effects of Carrot oil on the Skin
Nevertheless, carrot oil is a powerhouse of undoubted benefits and advantages that your hair, face, and skin need the most. Still, we can't ignore the other aspects that you must check carefully.
Pregnant women must avoid carrot oil usage.
Over-usage of carrot oil can give you nausea and headache as some people never like the earthy smell.
Always prepare carrot oil by adding any carrier oil of your choice, as using only carrot oil can harm your skin.
Carrot oil never protects from sun exposure or UV rays, as we will suggest avoiding sun exposure while applying. That's why night application has been recommended.
If you can't prepare this at home, you can buy this online from a genuine site.
Carrot oil Benefits for face
Carrot oil stipulates an extensive face care routine that every person must include in the routine; the fantastic benefits of carrot oil for face are:
Carrot oil act as a tremendous moisturizer and is far better than other harmful face products. It gives an immediate shine and glows on your face.
It deeply nourishes the skin as vitamin A and E perform a significant role in skin repairers and provide a new youth, young glow, and charm to your face.
The antioxidants and vitamins regenerate the new cells and prevent skin damage. It also reduces other issues like acne, eczema, scars, and sounds that you most hate.
How to use carrot oil for face
Carrot oil for skin tightening mask
Take 1 tbsp. of carrot oil, add some organic honey and some yogurt, massage this mask on your face and neck for 5-10 minutes, leave it for another 10 minutes, and then wash off.
Repeat this twice a week.
Carrot oil for Skin Tanning
Mix 1 tbsp. of carrot oil with some mashed papaya, lemon juice, and a pinch of turmeric powder, and make a paste and apply this to your face and leave it for 20-25 minutes, then wash off.
Repeat twice or thrice a week.
Carrot oil for Skin Repair
Take enough red face clay, add some carrot oil drops and 1-2 drops of chamomile oil, mix well, and apply gradually to the overall face; leave it for 15-20 minutes and wash with cold water.
Repeat once a week.
Carrot Oil Benefits for Hair
Carrots are rich in vitamin and E and antioxidants that your hair needs the most, and the other benefits of carrot oil are:-
Provoke hair growth and make them strong
Make your hair thicker, softer, and shiner
Regulate the blood circulation
Fix the environmental hair damage
Remove hair impurities and moisturize the scalp
How to Make Carrot oil for Fast Hair Growth
What you need
1 carrot
2-3 cups of almond oil/olive oil/coconut oil
Any essential oil of your choice
Preparation
Wash and peel the carrot, then grate it well. Now heat the olive oil in a pan, add grated carrots, and let it cook on slow flame for 30-35 minutes.
Don't overcook the carrots. They can burn.
Off the flame, and you'll notice the changed color of the oil now; let it cool down, add essential oil, and strain in a jar.
Carrot oil is ready for usage and can be preserved for 3-4 months.
How to use
The best way how to use carrot for hair growth is to lukewarm some carrot oil and simply apply and massage well for a few minutes and leave for 2 hours, then wash off, or you can also keep it overnight and wash the next morning.
The other way to use a carrot oil mask for hair growth is:-
Mash a banana and 2 tbsp. of carrot oil, and some curd and mix well and apply this hair mask properly on hair and massage well and leave it for 30-35 minutes, then wash off by using a mild shampoo.
Carrot Hair Conditioner
Take half a cup of carrot oil and heat it slightly, or you can also microwave it. Now apply and massage with this oil properly and now apply the good quality hair conditioner to your hair and wear a shower cap.
Leave this for 20-25 minutes, then wash off your hair using herbal shampoo.
How to make Carrot oil at home
Ingredients for making carrot oil
1 medium carrot
2-3 cups of any carrier oil of your choice
Few drops of any essential oil
Preparation Method
Take the carrot, wash it, grate it well, and leave for sundry for 5-6 hours. Now, take a glass jar, put the olive oil or almond oil, and add dried carrot and essential oil drops.
Seal the jar and place at average room temperature for 4-5 weeks, and daily give a shake so it can infuse properly.
You can also place the jar in direct sunlight as some experts believe sunlight can enhance the advantages.
After time completion, open the jar and strain it into another jar, and store it in the fridge as it can be stored for 3-4 months.
In Closing
Carrot oil benefits for skin and hair is a harmless formula loved by many people, and we hope you'll also like it. If you ever used carrot oil, please share how it was and if you still didn't, prepare it today by following the steps; we hope this information will be worthy for you.
Read Next: