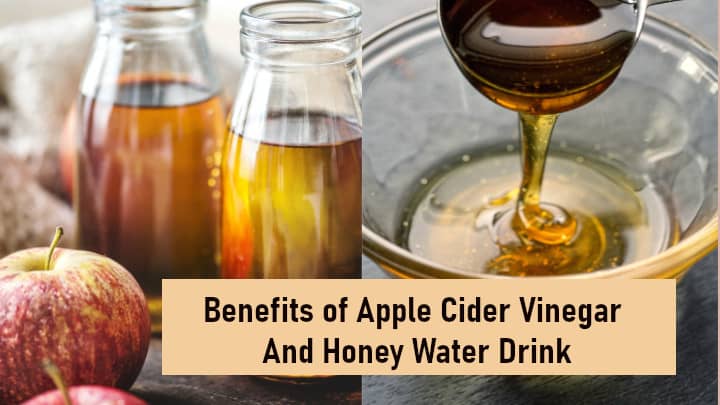 Looking for benefits of apple cider Vinegar And Honey? Apple cider vinegar and honey are natural ingredients that contain many nutritional components and are beneficial for your precious health and wellness.
Drinking apple cider vinegar and honey every morning can provide several benefits regarding inflammation, digestion, muscle pain, joint pain, and detoxify your body.
An unhealthy lifestyle, poor eating habits, lack of exercise, consuming alcohol or drugs can spoil your health and make it acidic. The unbalanced PH level of your body makes you feel energy-less, nausea, muscle pain, lack of appetite, and inflammation.
Luckily, we have found an ultimate solution for this problem: a drink made of apple cider vinegar and organic honey.
Apple cider vinegar contains vitamin C, vitamin B12, vitamin B6, potassium, magnesium, folic acid, biotin, niacin, pectin, iron, and citric acid.
The second ingredient, honey, contains various components like calcium, vitamin C, iron, magnesium, copper, pantothenic acid, riboflavin, vitamin B6, etc.
Benefits of Apple Cider Vinegar And Honey
Here we are listing several health benefits of apple cider vinegar and honey water drink so let's have a look at that:-
1. Detox Your Body
The combination of apple cider vinegar and honey is a perfect solution to detoxify your body.
In today's busy schedule, most people like to eat junk food or canned food because they have no time to cook healthy food.
These types of food can produce many harmful toxins in your body that should be treated. All you have to do is drink apple cider vinegar and honey on an empty stomach, and you can eliminate toxin levels in a few days.
2. Treats Inflammation and Heartburn
Apple cider vinegar has an acidic property, and it contains more alkaline nutrients that are anti-inflammatory and can treat inflammation and heartburn naturally.
Heartburn and inflammation in the stomach are prevalent issues, and numbers of people face this trouble whenever they eat something.
Some people eat medicines or syrups to treat heartburn, but we will always suggest a natural cure without any adverse effects.
So if you also feel these two issues, start drinking apple cider vinegar and honey early morning, and you will surely get the expected results in a few days.
With that, if you consume excess cups of tea and coffee, avoid it now, or the inflammation and heartburning will never leave you.
3. Improve Digestive Health and Constipation
Is apple cider vinegar good for IBS constipation? The acidic property of apple cider vinegar and vitamin C is helpful to cure digestive-related issues, and it also cures constipation.
Now the constipation is also a more significant health problem for millions of people. A sedentary lifestyle and fast foods are responsible for constipation.
Citric acid helps in food digestion and eliminates constipation too. Only drinking one cup of apple cider vinegar and honey can solve the issue, and you needn't gulp any powder or tablets to cure constipation.
Also Read: Cure Constipation Quickly and Naturally
4. Help in Weight Loss
You have heard hundreds of times to drink honey water on an empty stomach if you want a shaped body well; now it is the time to add one excellent ingredient with Apple Cider Vinegar that will increase its advantages.
If you want to reduce your weight without doing any heavy exercise, then drink this beverage regularly.
Honey and apple cider both can kill excess body fat, and it provides a fine shape to your body without harming your stamina.
5. Lowers the Cholesterol and Blood Pressure
The increased cholesterol level can be a danger to your heart health and can be a significant cause of hypertension. Eating oily food and junk food includes harmful oil that directly triggers your heart.
Drinking apple cider vinegar and honey can improve heart health and also be effective in blood pressure.
6. Increases the Energy Level and Cure Insomnia
The mixture of apple cider vinegar and honey is one of the best energy drinks as a morning drink. If you often feel a lack of energy and nausea just after waking up, this remedy will help you treat the issue.
Only one cup of apple cider vinegar and honey will work because both ingredients have active components that provide enough energy to your body.
This drink is a valuable home remedy if you have sleeping disorders. It treats insomnia and helps in better sleep.
7. Helpful in Bad Breath
Thousands of people have been looking for a one-time solution for bad breath. They buy expensive solutions, mouth fresheners and always keep on changing their toothpaste, but no expected results they get.
You will be happy to know that apple cider vinegar and honey can cure bad breath.
Both items have an anti-bacterial property that kills the bacteria in your mouth and provokes good breath.
Also Read: Cure Bad Breath Naturally in 5 minutes
How to make Apple cider vinegar and Honey Drink
Ingredients you need for
1 tablespoon raw and organic apple cider vinegar
1 tablespoon organic honey
1 cup of water
Preparation
Put all the ingredients in a glass, mix well for a minute, and drink it slowly, sip by sip.
Always drink this remedy 20 to 25 minutes before breakfast, and do not eat anything for 20 minutes after drinking this.
NOTE: Apple cider vinegar has a strong odor and citric flavor, so if you feel any difficulty while drinking, then you can add a little more water.
Conclusion
We have elaborated on these incredible benefits of apple cider vinegar. Both ingredients are readily available in the market and significantly cheaper. The preparation is also easy, and repeats this procedure for weeks, and you will get specific and visible results.
We hope that this information will help you to maintain your health. If you have any suggestions or any questions in your mind, then ask us without any hesitation because we are always ready for your help.