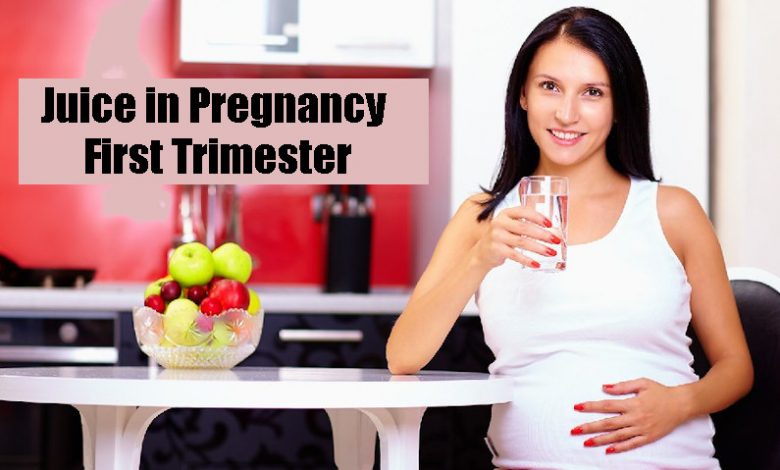 Juice in Pregnancy First Trimester: Pregnancy is the most beautiful period in a woman's life and it is extremely crucial for them to take proper care of themselves and the baby. There are so many restrictions on what to eat and what not to eat during the first trimester of pregnancy.
As an expecting mother, you might be getting a lot of tips and suggestions already. It gets important to monitor what you are eating and drinking for a healthy physical and mental state.
Here is our list of 5 best Juice in Pregnancy First Trimester and their benefits:
One great addition to a pregnant woman's life can be some freshly extracted fruit juices. We understand that expecting mothers have a lot of cravings and get picky when it comes to food.
Fruit juices provide the essential nutrients and are easy on the stomach too. A single glass of juice can fill you up for a while and add a stunning glow to your face.
Juice in Pregnancy First Trimester:
1. Orange Juice:
Orange juice is a refreshing morning beverage and a great snacking option during pregnancy. This juice is great for keep an expecting mother hydrated and healthy.
Benefits:
Immune system booster- The powerful antioxidants in orange juice strengthen the immunity of the body.
It comes with high fiber content which is helpful for regular bowel movement and cholesterol levels.
The citric acid in orange juice reduces the risk of kidney stones.
Oranges have a high count of folate which is important to create DNA and new red blood cells.
It helps in reducing inflammation and protects the hearts from cardiovascular issues.
It also aids in regulating blood pressure.
Having orange juice every day will help in controlling cholesterol in the body.
The antioxidants and vitamin C in orange juice promote glowing and youthful skin by fighting free radicals and stimulating the production of collagen.
How to Make Orange Juice:
Instructions:
Take 2-3 fresh oranges
Peel and slice them
Now add them in a blender
If it is dry, then add a little distilled water
Now once blended, strain the juice
You can add a little honey for sweetness but that is completely optional
Drink the juice fresh
2. Apple Juice:
Apple juice is one of the tastiest juices, packed with many vitamins, calcium, magnesium and other nutrients.
Benefits:
The super anti-oxidants in apples keep the heart-healthy.
Apple juice is also beneficial in reducing the bad cholesterol from the body.
The iron, vitamin C and other amazing nutrients in apple juice make your bone structure healthier.
Sorbitol in apple juice assists in relieving constipation
Vitamin C in apples also provide the necessary boost to your immune system
The juice is beneficial for keep skin-related issues such has itching, wrinkles and inflammation at bay.
The vitamin A in apple juice promotes healthy eyesight.
How to Make Apple Juice:
Instructions:
Take two organic apples and wash them thoroughly.
Now cut them into quarters and discard the seeds
Take a blender and put the sliced apple in it
Add a little water t make the consistency thin
After blending, strain the juice into a glass
You can add a dash of black salt for better taste
Make sure that you don't peel the fruit as the peel itself contains many nutrients and minerals.
3. Guava Juice:
Guava juice not only tastes awesome but is also loaded with a plethora of health benefits, few of which are:
Guava juice is the richest source of vitamin C which improves immunity and protects you from many infections.
It also prevents the development of diabetes
Guava juice maintains the potassium and sodium balance in the system which results in regulated blood pressure.
As guavas are rich in fiber, fresh guava juice can relieve constipation and other stomach issues.
Folic acid in guava juice can help in developing the nervous system of the baby.
Guava juice is an incredible stress buster as the magnesium present in this fruit has calming effects on the nerves and muscles in the body.
How to Make Guava Juice:
Instructions:
Wash, peel and slice guava into small pieces
Add them to a blender with some cold water
Once blended, strain the juice.
You can add a little sugar and few drops of lemon to enhance the taste
Have the juice fresh.
4. Pineapple Juice:
Pineapples are tropical fruits which are mouth-watering and come with an assortment of health benefits:
The manganese in pineapples is beneficial to build stronger bones
Pineapple juice can help in lowering the bad cholesterol in the body and normalize the blood pressure.
A glass of fresh pineapple juice is filled with various nutrients that can keep your energy levels up all day.
The iron in pineapple juice can prevent anemia.
How to make Pineapple Juice:
Instructions:
Peel the pineapple carefully and chop it into small pieces.
Add all the pieces in a blender and add some sugar
You can add some water and once blended, strain the juice
Add a pinch of black salt or normal salt
Consume the juice immediately.
5. Pomegranate Juice:
The juice of pomegranate has more than a hundred phytochemicals. This juice is considered as a superfood for good skin, hair and overall health.
Benefits:
It improves the health of the heart by keeping the arteries flexible and reducing inflammation in blood vessels.
It can help in controlling diabetes.
It acts as a blood thinner which allows proper flow of blood throughout the body.
The juice soothes urinary tract infection and aids in the flow of urine
For the treatment of diarrhea, this juice is the best remedy.
How to Make Pomegranate Juice:
Instructions:
Peel of pomegranate and remove the arils
Add the arils in a blender with some water
Strain the juice into a glass and have it fresh
Wrapping up:
Ensure that you have these juices freshly extracted instead of refrigerating them. Also, we will advise not to add too many sweeteners in the juices.
So, friends, we hope that after going through the above Fruit Juice in Pregnancy First Trimester will surely help you.