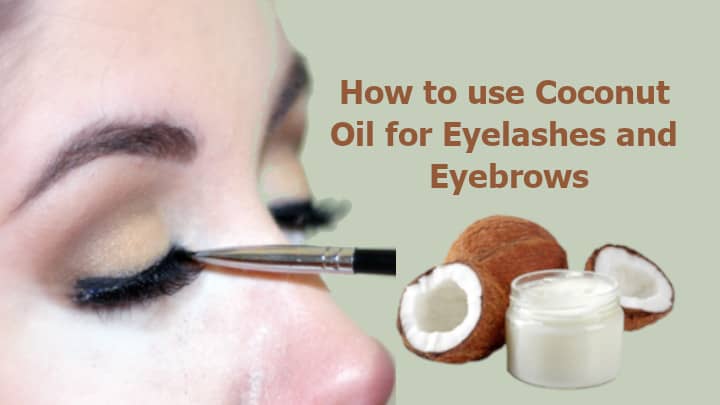 There is no doubt that coconut oil is a superb ingredient used in different aspects of health and beauty. Including anti-bacterial and healing agents, it moisturizes the skin and is also beneficial to enhance eyelashes and eyebrows. Nowadays, Coconut oil for eyelashes and eyebrows is becoming trendy.
Using such harmful products for eyelashes and eyebrows can be brittle and thin, and using a natural ingredient can be a good idea. All you need to know is the proper way so let's check out more details on coconut oil for eyelashes and eyebrows.
In this Article
How to use Coconut oil for Eyelashes and Eyebrows
First of all, make sure all the makeup has been removed, wash your face with clean water, and clean well.
Now take some coconut oil and simply apply it to the eyelashes and eyebrows, and massage for a while. One can also use a cotton swab for application.
Lift the eyelashes with your fingers while massaging and leave it overnight.
You can also use cotton pads with coconut oil and simply place them on eyelashes. Repeat regularly for a few weeks.
You can also use a mascara brush to apply it to the lashes to make sure the brush must be clean.
Coconut Oil Benefits for Eyelashes and Eyebrows
1. Loaded with Fatty acids and Protein
Coconut oil is loaded with fatty acids and protein that works as a shield and protects your hair and skin, and locks the moisturizer inside the skin. It provokes the natural beauty of eyelashes and eyebrows and strengthens them.
2. Fix Hair Damage
Excess eye products like liner, mascara, or combing eyebrows make them weak and cause hair breakage. Coconut oil recovers the damage and gives your eyebrows and eyelashes a new life.
3. Treats Dryness
Coconut oil has anti-bacterial and anti-microbial properties that remove all the impurities and roughness. Combining with vitamin E creates a perfect skin lotion to treat damage and scaly skin.
Coconut oil Eyelashes side effects
People can have an allergic reaction to coconut oil, and while applying it on eyelashes, it can irritate the eyes s you need to alert while applying it to eyelashes.
Extra virgin coconut oil is a much safer option than using other oils. If you have sensitive skin or allergic reactions, you must avoid using it.
Choose the best coconut oil for your skin, or it can give you rashes or acne. After applying, wash the eyes frequently with plain water if you feel any irritation.
Does Coconut oil help Eyelashes Grow back faster?
Yes, coconut oil help grow eyelashes. We can know by this theory that our hairs need protein and fatty acid to grow and stay healthy always, and coconut oil is full of such components. 
Coconut oil stimulates the natural growth of eyelashes and makes your eyebrows thick and shiny that you will love. It is a far better option than those expensive creams, lotions, and serums that contains multiple chemicals.
According to a study, coconut oil has lauric acid that protects the hair of eyelashes and eyebrows as it easily gets absorbed in the skin.
Compared to other oils and products, it maintains the beauty of the hair and provides long-lasting protection and care.
Applying coconut oil for growing eyelashes would be a great decision as it strengthens hair follicles and prevents fallout.
Coconut oil Vs Castor oil for Eyelashes
Castor oil is also now in trend used to grow hair and make them strong and healthy, and you'll get enough reviews about both that are enough to make you confused.
According to various studies, the experts stated that coconut oil is much better and safer for the skin than castor oil. A few people got allergic reactions and skin allergies when using undiluted castor oil.
Castor oil can also be worthy when mixed with some other oils. However, coconut oil is always the priority.
Can I put Coconut oil on my Eyelashes?
Yes, the area around the eyes is highly delicate compared with the whole face, and if you want to put anything here, you must be careful.
Applying coconut oil around the eyes and eyelashes gives volume to the lashes and treats skin problems.
It can be one of the best alternatives to any eye cream or serum. You just need to apply some virgin coconut oil to a cotton swab and apply it to the eyelashes as you use mascara, and leave overnight.
How to Apply vitamin E Capsule on Eyelashes
We all know that vitamin E is highly beneficial to provoke hair growth and provides amazing effects. Combining with coconut oil, double up the results and effects.
Simply add a few drops of vitamin E capsule in some coconut oil and mix well and gently apply by using a cotton swab to the eyelid and lashes and leave for overnight and repeat regularly before sleeping.
Vitamin E moisturizes the skin and prevents eyelashes from falling. It also fixes oxidative damage and promotes healthy lashes and skin around the eyes.
How Long does Coconut oil take to Grow Eyelashes?
Well, you must be thankful for the wonderful quality of coconut oil. Using beauty products on your eyelashes and curling them or putting false lashes affects the natural beauty and strength of the lashes, and some people have very thin small lashes from the day they were born.
We must say that applying coconut oil rarely grows the length of the lashes, but yes, that's true that they will promote the thickness of the lashes and volume.
It may take a few weeks or 1-2 months to get the expected results. However, there is nothing harmful if you perform this remedy every day.
Is coconut oil good for your eyelashes?
Yes, coconut oil good for eyelashes. Coconut oil stimulates the natural growth of eyelashes and makes your eyebrows thick and shiny that you will love.
In Closing
Coconut oil is the cheapest and harm-free way to get fuller eyelashes with moisturized skin. Avoid the daytime application as it attracts excess dust, especially if you are going out.
Now you know well how to use coconut oil and dilute this with other ingredients. We hope this article will be helpful for you, so please don't forget to share your precious reviews with us.
References
Effect of mineral oil, sunflower oil, and coconut oil on prevention of hair damage– Pubmed.ncbi.nlm.nih.gov/
(PDF) Evaluating hair growth potential of some traditional herbs– Researchgate.net/