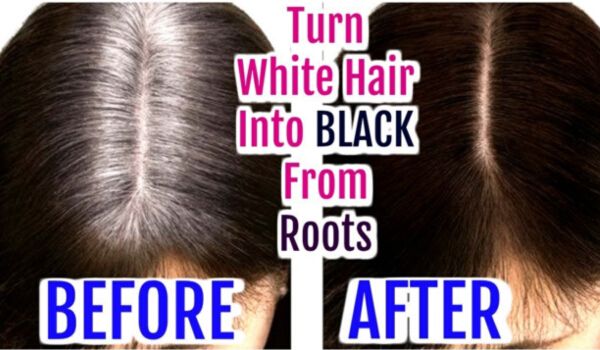 Grey hair at an early age is becoming a common problem nowadays. It is one of the huge concerns of youngsters because of grey hair spoils the whole beauty and appearance of a young man or woman.
Gone are those days when grey hairs were the symbol of maturity and age factor, now you can see grey hairs in quite young people as well.
Hormonal imbalance, pollution, usage of harsh hair products, lack of proper nutrition, smoking, stress, irregular lifestyle and genetic disorders are the major causes of premature grey hairs.
There are plenty of hair products available in the market like hair color, hair dye, hair oil, etc, who claims to solve the grey hair problem but are they really worth it?
Well, here we are going to mention some effective and simple home remedies for grey hair, why to choose artificial products, which makes your hairs rough and dead, let's take a closer look of some great home remedies to prevent premature graying of hair :
How to Stop Grey Hairs Naturally
1. Amla or Indian Gooseberry:
Amla or Indian Gooseberry is one of the perfect remedies for several hair problems like dull hairs, split hairs, thin hairs or grey hairs. Amla contains anti-oxidants and vitamin C, which is quite effective for a healthy scalp.
You can use fresh Amla or can also use dried Amla powder. One can easily find this at any superstore, or you can also dry fresh Amla at your home naturally.
How to use:
Take some coconut oil and heat it into a pan for a few minutes.
Add 1 tsp of Amla powder and mix well for 5 minutes, then off the flame and let the mixture cool down.
Apply this oil gently on your scalp and hairs and massage well.
Rest it for a whole night, and in the morning wash with simple water, repeat this remedy twice in a week.
You can also mix some Amla pulp or juice with some lime and almond oil, and then apply this on your hairs for 2 to 3 hours.
2. Curry Leaf:
Curry leaves also work as a great hair remedy, especially for grey hairs. You can use curry leaves or curry leaves powder as well, whatever suits you.
Melanin is an important factor for your hairs that restores the natural color of hairs, and curry leaves have such power to keep safe this factor so that your hairs won't grey soon.
Make sure that before using any of remedy, first test it on your skin, especially if you have a sensitive skin tone.
How to use:
Take 10 to 12 curry leaves and boil them with some coconut oil until the leaves get soft.
Now let it cool and strain into a jar, gently massage this oil in your hairs and scalp and leave it for an hour, then wash f off.
Repeat this process once a week.
Be Sure to read: Best Food for Hair Growth and Thickness in Women
3. Henna:
Henna powder is also a magical remedy for getting healthy and black hair. You can grind dried Henna leaves at home for making fine powder or you can buy Henna powder from the market.
How to use:
Mix some Henna powder with some Amla powder, and add some lime juice and curd, now apply this mixture on your hairs for 2 to 3 hours then wash it off.
You can also add some coffee powder to the mixture.
You can also boil some Henna leaves, use this water for washing your hairs or grind the boiled Henna leaves, make a fine paste then apply this on your hairs.
4. Blackstrap Molasses:
This is one of the effective and simple remedies for treating grey hair. Blackstrap Molasses contain copper, iron, magnesium and other prior minerals that suit your hair quality and fulfill the lack of such nutrition of hairs.
You can easily have at any store, take 1 tbsp of Blackstrap Molasses for 2 months and get the expecting result.
5. Black Tea Water:
Black tea is also an excellent source for premature hairs, as well as it works great with your hairs. It gives life to your dead and rough hair; also this is quite a simple remedy.
How to use:
Take 2 tablespoons of black tea and mix one cup of water, and boil the mixture until the tea gets mixed well and the water looks black.
Keep aside and let the mixture cool down for a few minutes, then apply the mixture on your hairs gently with the help of your hands or a brush.
Leave the mixture for 1 or 2 hours then wash it off with normal water, it would be great if you won't use any shampoo.
Repeat this remedy once or twice a week.
Whenever you find grey hair, you can use this remedy simply at home. You can also add black tea water into your Henna pack; it will increase the effect of Henna and your hair will look more shiny and soft and of course naturally black.
6. Coffee powder:
Coffee powder is also a fine home remedy for grey hair or premature hair. Many people are not aware of that coffee powder used for making your hair naturally black and shiny.
Is it true that coffee powder remedy is not a permanent remedy, but for temporary use, it is the best?
How to use:
Boil one tablespoon of coffee powder into 1 cup of water at low flame.
Keep the mixture aside, let it cool down, then simply apply it on your hairs gently and massage well into your scalp and hair's tip.
Leave it for half an hour then wash with normal water, it would be great if you won't use any shampoo.
Repeat this remedy one time in a week; you can also add coffee water or coffee powder into Henna mixture, instead of water.
ALSO READ: Impressive Health Benefits of Coffee
7. Black Pepper:
Black pepper has been used as a hair remedy from old times. It is also included in the finest remedy's list for premature hairs.
Black pepper helps to reserve the Melanin level and make your hairs look healthy, shiny and black.
How to use:
Take 1 gram black pepper and grind it well and make the fine powder, now mix this powder with some curd, and mix well and make a fine paste.
You can also add some lime juice and Amla powder into the mixture, now apply this mixture gently into your hairs and massage well for 10 to 15 minutes, you can also wear gloves for safety.
Leave it for 1 or 2 hours or until dries a little then wash it off with normal water. You can also use soft shampoo.
The other option is, take some black pepper powder and boil it with some coconut water for 10 to 15 minutes, let the mixture cool down, then strain it and pour it into any jar or bottle. Gently massage this on your hairs twice or thrice in a week, then wash your hairs with normal water.
Conclusion:
All the home remedies are quite best for premature hairs. We will suggest that except using harsh products on your hairs you must use these simple remedies, that are very simple and all the ingredients are easily available around you.
Don't get panic or disappointed with your grey hair because where the problem raises the solution is also there, you just need the right guidance and sources.
So, friends, we hope that after going through the above how to stop grey hairs naturally will surely help you.