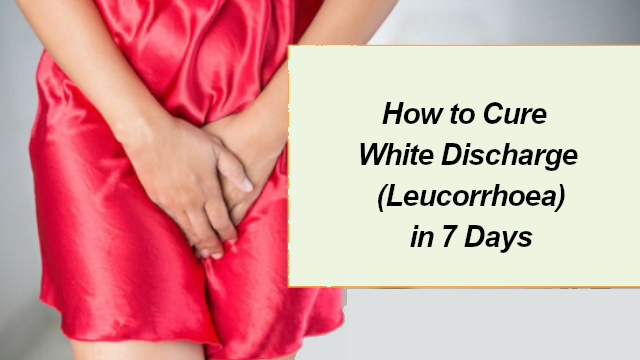 Leucorrhoea (white discharge) is a woman's health issue that causes a white or yellowish watery discharge from their vagina due to increased estrogen hormone.
Some women may feel it before or after the menstrual cycle that is quite natural and a little lubrication is needed to keep the area hydrated but excess discharge that you suffer every single day is dangerous.
Most women consider it a common problem but sometimes excess discharge can lead you many diseases and weaknesses in the body.
In this Article
Leucorrhoea causes
Excess consumption of dairy products and sugary products
Leucorrhoea Signs and Symptoms
Vaginal discharge colored in white or light yellow
Pain in the lower abdomen and lower back area
White Discharge (Leucorrhoea) Home remedies
Lets see Leucorrhoea home remedies in detailed-
1. Gond katira and Mishri :
Leucorrhea can make women's life worsen and most women hesitate to talk about that. The regular discharge can make your body highly fragile and weak so the proper treatment is necessary.
Here we are mentioning a most effective remedy that can help you out and the ingredients are also very simple so let's have a look at that:-
Ingredients you need:
Preparation:
Blend both ingredients well and make a fine powder.
Put the mixture into an air-tight container.
Add 1 tablespoon of mixture in 1 glass of warm milk and drink it in the morning time before breakfast and repeat regularly.
Consume this remedy for 30 days, In the first one week, you will see the difference.
2. Fenugreek Seeds:
Fenugreek seeds include special components that help in maintaining the estrogen level and Ph balance of a vaginal area. Regular use can treat various troubles like constipation, skin disorders, and leucorrhea as well.
Take 1 tablespoon of fenugreek seeds and soak in some water for overnight and next morning strain the water and drink it empty stomach. One can also add some honey.
3. Banana:
Banana is a superfood that can help in leucorrhea as it contains potassium, manganese, and other minerals and nutrients. Eat 1 or two well-ripped banana regularly that has brown spots.
You can also prepare banana milkshake as both are well-known sources.
4. Pomegranate:
Pomegranate fruit and pomegranate leave both are helpful to cure leucorrhea. You must drink 1 or 2 glass of fresh pomegranate juice regularly.
Pomegranate is a good source of calcium, iron, vitamin C, vitamin A, and other required minerals and components. It is also rich in antioxidants and regular consumption can treat various health problems.
You can make a fine paste of pomegranate leaves and take it with some water regularly.
5. Cranberry Juice:
Cranberry juice is rich with antioxidants and has anti-bacterial property and one of the best natural beverages to cure leucorrhea. Drink 1 or 2 glass of cranberry juice without adding sugar regularly.
Always remember that if you are facing leucorrhea then decrease the sugar intake. You can also eat a handful of fresh cranberries.
6. Apple Cider Vinegar:
Apple cider vinegar is anti-inflammatory and anti-bacterial properties that are able to maintain vaginal health and the Ph level of the vaginal area.
Take some apple cider vinegar and add some water and wash the area to reduce the infection and perform it twice in a day.
7. Indian Gooseberry:
Indian gooseberry or amla is a powerhouse of vitamin C and other needed minerals and a superb fruit to treat vaginal disorders. You can take it in many ways.
You can take dried amla powder with some honey regularly that is an effective remedy to reduce leucorrhea symptoms. You can also drink amla juice with some carrot juice or cranberry juice as you want.
8. Lady's Finger:
Many researchers have proved that lady's finger can reduce the mucus amount from the body and helps to enhance the vaginal health. Women must add lady's finger in their diet.
To treating leucorrhea you must soak 2 or 3 lady's fingers in 1 cup of water overnight.
Next morning, strain the water and drink it simply or add some honey and repeat this remedy regularly and you will get the expected results within a few weeks.
9. Proper Hygiene:
Keep the vaginal area clean and wash it with simple water or you can also use the Ph balanced vaginal wash. Always wear comfortable and soft undergarments.
Never wear synthetic panties because it can increase the trouble. You can also use an anti-bacterial soap for cleaning the area.
10. Coriander Seeds:
Coriander seeds are also beneficial to cure lady problems. Add more dried coriander in your regular meal like soup, stew, and main courses.
Soak 1 tablespoon of coriander seeds into 1 cup of water overnight.
Next day, strain the water and drink it slowly. If you want it instantly then boil coriander seeds into some water let it cool down for a while and strain it add some honey and drink it.
Repeat this procedure regularly.
ALSO READ: Cure Thyroid Forever with Coriander Seeds in just 8 days
11. Roasted Grams and Coconut:
Eat roasted chickpeas or grams and eat coconut as much as you can for enhancing calcium and other nutrition's amount in the body.
Women or girls after the age of twelve must eat roasted chickpeas as they have calcium good for bone's health and coconut is also a famous ingredient that can help in unnecessary vaginal discharge.
Do's and Don'ts:
Dos:
Eat healthy food and add more green vegetables and salad in your diet.
Drink enough water and maintain proper hygiene.
Drinking rice water can be also helpful.
Add some light exercises in the routine and stretches.
If you feel much discomfort consults with an expert and take antibiotics.
Don'ts:
Avoid all the sugary products like ice-cream, pastry, cold drinks, and others.
Do not eat junk food and fried food.
Be sure to read: Vaginal Yeast Infection Home Remedies
Conclusion:
Leucorrhea can be treated easily all you need to be aware of regarding it don't take it lightly.
We hope that these remedies can be helpful for you and you will change your routine and follow all the steps.
You can ask any of your queries or questions here and share this information with your friends. Talk about it with your friends because hiding it can provoke it more.