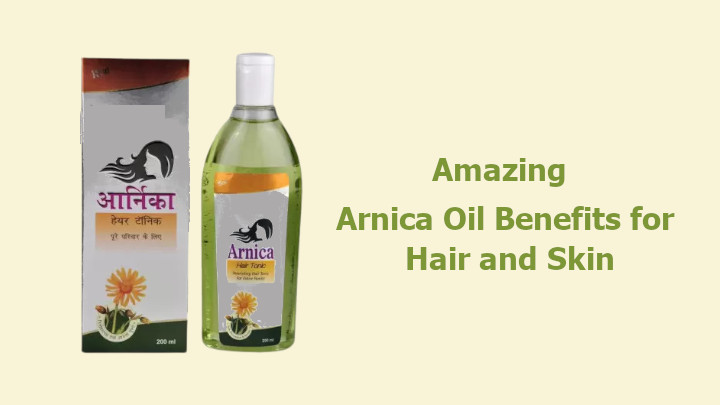 Most of what we understand about how arnica oil heals and benefits your hair looks shiny is anecdotal. Please keep reading to find out what we know about the arnica oil benefits for hair and skin
Derived from the flowers and roots of the arnica plant, this oil is a well-respected traditional medicine. The arnica plant is part of the same family of flowers as the daisy and is native to parts of Europe and Siberia. In North America, it is also cultivated in mountainous areas at an altitude of more than 3,000 feet above sea level. The species commonly used to produce oils and herbal medicines is Arnica Montana.
In This Article
What is Arnica?
Arnica oil is a type of herbal supplement that has been used for centuries as a natural remedy for a variety of skin problems. It is commonly used to relieve pain and inflammation, and it is also known to help speed the healing process. Arnica oil is available in various forms, including topical applications such as creams and ointments.
The refined extract of Arnica is dangerous to ingest, but when Arnica is diminished or applied topically, it may work for a range of health conditions.
Two types of oils are prevalent in homeopathy. One is Arnica Hair Oil, and the other is Jaborandi. Today we will talk about the benefits of Arnica Oil.
Arnica is a type of medicine that is used extensively in homeopathy. Its oil is extracted and used in many ways. When we talk about Arnica, everyone remembers hair oil. It is beneficial for hair, along it has many other benefits.
You cannot eat this oil, but it can be used externally. It is antibacterial, which reduces inflammation and irritation. It is also antiseptic and anti-inflammatory, which soothes Arthritis and neuralgia.
Arnica Oil Benefits for Hair
Arnica oil is available in many brands. Mostly SBL or still Wheezel is popular.
A). Prevents hair fall: Arnica Oil for hair regrowth
The strands of hair that you can glimpse on your head are mainly compilations of dead cells. You can expand the life of your hair by enhancing the proteins in your hair strands and boosting the health of the hair follicle itself.
Topical arnica oil application may help eliminate sebum oil and other chaos on your scalp that can obstruct hair follicles. It may also lower inflammation, resulting in itching and irritation and causing hair loss.
If you have hair fall, then apply Arnica oil twice a week. You will get many benefits from this if you take any homeopathic medicine. So it is advisable to use arnica oil along with it. It makes hair beautiful and thick.
B). Prevents Graying of Hair: Arnica Oil for gray hair
Now people's hair is turning white at the early age of 20. There are many causes behind premature gray hairs. If your hair is also turning white, you must give it a try with arnica oil, due to which your hair will be naturally black.
Prematurely graying hair is hard to prevent. The timing of your hair turning gray is mainly based on genetic and environmental aspects.
However, maintaining the overall health of your hair and enhancing your hair follicles can expand the lifecycle of your hair strands.
Does Arnica Hair Oil Work?
Due to its anti-inflammatory and antibacterial properties, arnica oil cleans up built-up oil excess on the scalp and eases many hair and scalp-related situations. However, one must first reduce it before application.
One thing to remember, the advantages mentioned are anecdotal and more analysis is needed to ensure its efficacy.
How to Use Arnica Oil for Hair?
Arnica oil can be used topically as a medication for hair and scalp conditions. Arnica can be utilized as an ingredient in shampoos, conditioners, and leave-in medications. Diffusing arnica oil isn't beneficial for treating hair.
You can purchase arnica oil and prepare for your leave-in hair treatment or hair mask or purchase products that comprise the ingredient. To schedule your own, you have to mix arnica oil with a carrier oil, such as coconut oil or almond oil.
You can blend two to three drops of arnica oil with every 8 to 10 drops of carrier oil to make a mixture to coat your scalp. You need to leave this hair mask on for 15 minutes before washing thoroughly with lukewarm water.
You may also need to maintain some of the mixtures on hand for when you style your hair. You can run the oil through the complete lines of your hair to change split ends.
You should apply this to your hair twice a week. If you consider it for any other problem, you can also talk with a homeopathic doctor.
Arnica Oil Benefits for Skin
Some of the benefits of using arnica oil include the following:
Some of the beneficial compounds in Arnica are lactones, carbonic acid, volatile oils, etc. These are very friendly to the skin and give nourishment.
Arnica oil can be used as a general treatment for skin irritation and redness.
Arnica oil can be helpful in treating moderate to severe burns.
Arnica oil can be used to treat cuts and wounds.

Arnica oil can be helpful in treating psoriasis and other forms of dermatitis.

Arnica oil can help speed up the healing process by promote the production of new skin cells.

Arnica has antibacterial, anti-inflammatory, and antiseptic properties that may protect the skin from burns, sun damage, itchiness, illnesses, vaginitis, frostbites, chilblains, eczema, etc.
Arnica is also very helpful in decreasing the appearance of stretch marks.
Arnica Oil Other Benefits
It is beneficial for hair and skin, along it has many other benefits on body.
1. Arnica Oil for Arthritis
Arnica oil also relieves the pain of Arthritis. In 2002, research done on 79 people revealed that Arnica gel is very beneficial in reducing the pain and stiffness of Arthritis. If arnica gel is used twice a day, it gives benefits.
2. Arnica Oil as a pain killer
If you have had any surgery you want to get rid of the pain, you should apply Arnica oil. Arnica also reduces the discomfort of the tonsils. Scientists have also found that if you are dealing with the pain of surgery, you should apply Arnica oil; it also makes a recovery faster.
3. Antibacterial
Arnica Oil Being antibacterial, it is also beneficial for your skin. You should also use it on your skin if irritated or chapped, but that arnica oil should be pure.
4. Arnica Oil for Muscle Pain
Arnica oil can also reduce muscle inflammation if your muscles are swollen.
5. Arnica Oil for Dandruff
If you are worried about dandruff in your hair, then Arnica oil can also be applied to eradicate dandruff from the root. Hair is a big part of our physical beauty, so we should take care of it, and then for this, you can apply Arnica Hair Oil. It thickens your hair and also prevents dandruff.
Arnica Hair Oil Side Effects
Excessive use of arnica hair oil without a doctor's advice can lead to some side effects, which boosts the chances of those people having sensitive hair.
Using arnica oil for hair loss can cause allergic reactions.
Some common side effects reported with arnica oil include skin rash, redness, and itching
Conclusion
Arnica oil contains antibacterial and anti-inflammatory properties. Benefits of arnica oil is effective as a medication for dandruff, and a means to make your hair look and feel healthier. There isn't much exploration to support these claims.
Arnica oil is a very beneficial ingredient for most people, but you should check it on your scalp before applying it to your entire head. You should never consume arnica oil.
Be sure to Read:
References
Neuro-pharmacological and analgesic effects of Arnica montana extract– Researchgate.net/
Essential Oil from Arnica Montana L. Achenes: Chemical Characteristics and Anticancer Activity– Ncbi.nlm.nih.gov
Effectiveness and Safety of Arnica montana in Post-Surgical Setting, Pain and Inflammation– Pubmed