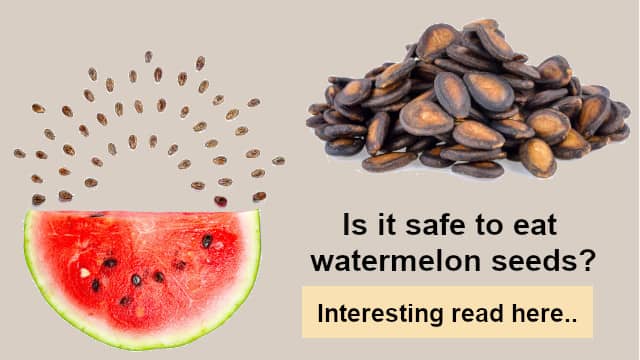 Looking for are watermelon seeds good for you? Spitting watermelon seeds while eating them was no doubt a crazy game to play because no one likes to swallow the tiny black seeds. Perhaps the myth that the fruit will grow inside the stomach if you consume the seed works as a reason behind this act.
Most of us have the myth instilled in us until we come to know the vast health potential of watermelon seed and realize that the concept of spiting the seed was illogical. Yes, the time has come to value these brownish tiny watermelon seeds for their immense beneficial characteristic.
Very few people know about the benefits of watermelon seed, we are here with an article to give you all the information you need to know about this seed. After reading this article, I hope you will be equally crazy to include the seeds into your dishes. So stay with us.
In this Article
Are watermelon Seeds good for you?
Watermelon is a vine-like flowering plant under the species Cucurbitaceae, which is native to West Africa. It is a large annual plant. The fruit is succulent, and the flesh is sweet and a good source of water. It is also known as a berry type of fruit with a hard rind and a juicy red-colored fleshy center. The seeds are tiny, black, or brown. There can be 300-600 seeds inside a watermelon, depending on the size of the fruit. The watermelon seeds are-
Therefore, there are several good reasons to evaluate the benefits of this seed right now. So that you can think twice before spilling out, removing, or throwing away watermelon seeds, let us check the nutrient factors of these black seeds.
Dried Watermelon Seeds Nutrition Facts
Watermelon seeds have high nutritional value in comparison with other snacks. It has several essential nutrients that our body need to live healthy lives. There are minerals like iron, potassium, copper and zinc. Also, the seeds contain monounsaturated and polyunsaturated fatty acids, which are suitable for health.
The number of nutrients in 100 gm servings—
Calories— 557
Fat— 47gm
Sodium— 99mg
Carbohydrate— 15gm
Protein— 28gm
Calcium— 54mg
Iron— 7mg
Potassium— 648mg
Watermelon Seeds Benefits and Side Effects
Watermelon is a fruit that needs no introduction. It is widely popular on summer days. But the health value of watermelon seeds may make your mind realize their effects and not throw them anymore after you know the health benefits.
The health benefits cover various physical aspects such as heart health, controlling blood sugar, strengthening immunity, healthy and glowing skin, etc. Here we explain some of the health benefits in short and how to include them in our diet.
1. Prevent Heart Disease
Watermelon seeds are equally healthy, just like the delicious juicy pulp. Being loaded with magnesium, copper, zinc, and vitamin B, they are packed with massive nutritional value to keep a heart away from cardiovascular problems.
The contribution of magnesium in watermelon seed to keep the heart beating properly is worth mentioning. It is the central element to maintain the heart's rhythm correctly because magnesium helps to transport all the other electrolytes like calcium and potassium into the cells.
These micronutrients play an excellent part in the nerve signal and muscle contraction of a normal and healthy heartbeat. Thus magnesium is an essential factor for cardiovascular stability, which we can get by consuming watermelon seed. One cup of watermelon seeds serves 139% of magnesium to our body as per daily requirements.
2. Strengthen Immunity Power
a strong immunity is much needed to stay fit and keep away seasonal illnesses like cold and flu. Roasted watermelon seeds can help you build up a secure immunity system, and you can easily fight many common diseases before they impact you.
From watermelon seeds, we can get a moderate quantity of iron and vitamin B, which enhance our overall immunity power.
To explain more, magnesium also takes a protective role to fight allergies infection and sustain a suitable defense mechanism. Besides this, the antioxidants reduce oxidative stress and keep us safe from chronic diseases.
3. It Prevents Osteoporosis
Osteoporosis is a severe condition of bones, and it occurs when our body loses bones or the bones get pores. The bones become feeble due to osteoporosis. Due to this condition, the bones may break following any minor fall.
As watermelon seeds are an incredible source of essential minerals that build up healthy bones, it may increase the bone strength if we consume them in the right amount.
These seeds also help increase the volume of bone minerals, which will help us prevent osteoporosis at an early stage.
4. Improve Male Fertility
This is considered one of the specific health benefits of watermelon seeds as it can boost up the male fertility and sperm count. These tiny brownish watermelon seeds are loaded with mineral-like zinc, which is responsible for increasing the sperm quantity among males.
Zinc also helps develop new tissues, and cells and amino acids actively boost sexual activity.
Apart from zinc, the seeds have micronutrients like magnesium and a significant amount of lysine, glutamic acid, and arginine, which can boost up the sex drive in infertile women. Moreover, there are some carotenoids found in watermelon seeds that increase sperm production.
5. Control Blood Sugar
To reduce insulin resistance is another significant benefit of a watermelon seed. These tiny brownish can control the sugar level in the blood; hence, they are a perfect snack option for people with diabetes.
Several studies have shown that watermelon seed consumption may help lower insulin sensitivity, and in this way, they can reduce the strain on the pancreas.
The magnesium slows down the metabolism of carbohydrates and thus reduces the pace of the release of glucose into the body.
6. Enhance Brainpower
Use of Watermelon seeds can be helpful for you if you lack memory nowadays. Yes, consuming these seeds can boost up your brainpower. A considerable amount of magnesium in the seed works efficiently and helps you achieve better memory.
Lack of magnesium could lead to Alzheimer's disease. Consuming these seeds in a moderate amount may help to fight memory loss problems in old age. Apart from this, the seeds contain zinc and niacin, which play a significant role in treating various brain ailments.
7. Improve your Skin Texture
Watermelon seed has antioxidants which are very active to fight free radicals, which are responsible for premature aging and forming the wrinkle.
The antioxidants also help in skin firming and skin rejuvenating. Therefore consumption of these seeds may help you to glow. Due to this property, watermelon seed oil is widely used in cosmetics. The fatty acid also works to nourish the skin and reduce dryness.
Above all, the magnesium in the watermelon seed helps to lower cortical level and maintain the skin's ph level. Thus it reduces the chance of developing acne, pimple, or other skin rashes.
8. Improves Hair Quality
Watermelon seeds are filled with protein and iron, which are the key elements to improve hair growth and texture. The presence of magnesium helps to stop hair breakage and split end problems, and it also increases hair growth.
9. Boosts Energy Levels
Watermelon seeds are high n healthy fatty acids, arginine, and lysine. The fatty acids and two amino acids are essential for our body to function correctly.
Arginine helps to improve metabolism, and lysine helps calcium absorption for stronger bones and tissues. So one cup of watermelon tissue can give you all the nourishment you require to stay fit and energetic.
10. Growth & Development
Body growth on protein, so in growing age, we need it most. Proteins are made of amino acids, which we need to produce cells and tissues in the body.
Besides this, watermelon seeds are an excellent source of multivitamins. It contains the right amount of B vitamin, folate, niacin, and many other essential nutrients we need for overall growth and physical development.
Watermelon Seeds Side Effects
Some people may be concerned about the side effects of eating watermelon seeds. Here is a list of potential side effects that may occur from eating watermelon seeds:
Constipation
Gas and bloating
Diarrhea
Irritability
Nausea and vomiting
Pregnant women: It is generally advised not to take watermelon seeds during pregnancy due to the lack of sufficient information on the safety of these supplements during pregnancy. If you are pregnant and are considering taking watermelon seed supplements, it is best to speak with a doctor first.
Gastrointestinal problems – While there is no evidence that watermelon seeds cause gastrointestinal problems.
Acne – Some people believe that watermelon seeds may worsen acne symptoms. If you are suffering from acne, it is best to consult with a doctor before using watermelon seeds supplements.
How to Eat Watermelon Seeds safely?
Is it safe to eat watermelon seeds? Yes, Watermelon seeds are non-poisonous and healthy. Therefore there is no doubt that we can include them in our daily food habits. The seeds need to be sprouted and shelled, and dried to get the maximum benefits out of them.
1. Make Perfect snack with roasted Watermelon Seeds
Roasted watermelon seeds are delicious, and they will remind you of the taste of popcorn, and the inside kernel taste like caramel.
Ingredients
Two cups of raw and black watermelon seeds.
STEPS
· At first clean the seeds in a colander under running water to remove the residues of the watermelon pulp.
· Spread the seeds on a flat metal tray and let them dry completely.
· Put a metal pan on gas, place all the seeds on the frying pan, and roast the seeds in medium to high flame. Turn the seeds.
· Now pour one cup of water into the pan and a tiny amount of salt. Let the water boil and stir it occasionally. Cook until the water gets evaporated.
· Turn off the gas and cool the seeds.
· You can also add one teaspoon of olive oil to it.
· Add lime juice and cinnamon juice with the grain to make a perfect snack.
2. Watermelon seeds Tea
Ingredients
One-third cups of fresh, black watermelon seeds.
One and half cups of new watermelon pieces.
STEPS
· After washing the watermelon seed, grind them in a mixer and make a smooth paste.
· Boil one liter of water.
· Add the seed paste into the boiling water and cook it for half an hour.
· Now turn off the flame and let the seed paste steep into the water for one hour more to cool.
· Now strain the liquid and store it in the fridge,
· Drink this on an empty stomach with a fresh watermelon piece on the top.
· It is suitable for health as it works as a detox drink.
You may find this interesting: Surprising Benefits of Papaya Seeds
3. Watermelon Seed Bars
Ingredients
One cup of a watermelon seed.
Half cup of water and a half cup of sugar.
One teaspoon of butter or olive oil.
STEPS
· First, toast the watermelon seed in a metal pan in low flame until it becomes reddish. Keep aside.
· Boil the water and add the sugar into it. Boil it to make a thick syrup.
· Now pour all the roasted seeds into the sugar syrup and mix well.
· Brush little butter on a metal plate and pour the mixture evenly.
· Let it cool and cut into pieces.
Be sure to Read: Raisin water making process
4. Pasta with Watermelon Seeds
Ingredients
Three cloves of chopped garlic.
One cup of a roasted watermelon seed.
One teaspoon of lemon juice.
Half cup of chopped coriander leaves.
Two tablespoons of olive oil or any cooking oil.
STEPS
· Boil the pasta in water. Keep aside.
· Now, take a pan and heat olive oil. Add the garlic, tomatoes, and sauté for minutes.
· Now add the pasta and add salt to taste.
· Tossed the pasta well and now add the pre-roasted watermelon seeds.
· Add lime juice, coriander, and black pepper powder to add extra taste.
Therefore, now as you have come to know all the health benefits of watermelon seeds and the recipes, you must not throw or spit them anymore. Just try the recipes and get the benefits.
We hope that after going through the above are watermelon seeds good for you and Benefits will help you. So grab the watermelon seeds and enjoy a healthy life.
Read Next
References
Characterisation and functional properties of watermelon (Citrullus lanatus) seed proteins– Pubmed.gov
Watermelon lycopene and allied health claims– www.ncbi.nlm.nih.gov