Home Remedies
7 Easy Tips to Get Red Lips Naturally Without Using Red Lipstick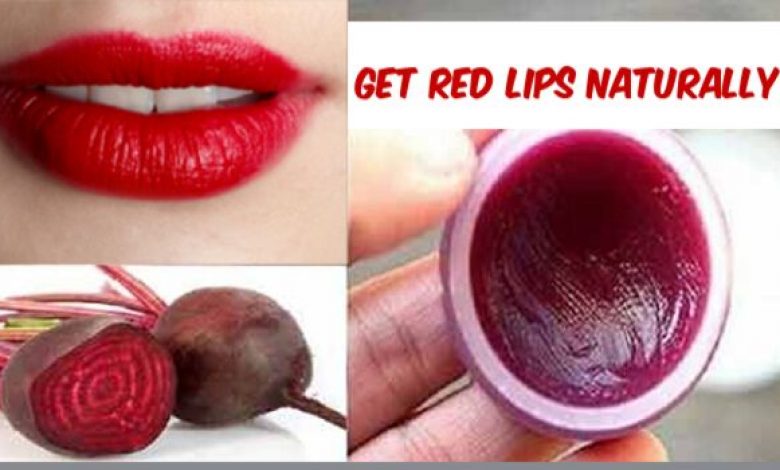 Are you suffering from dull and dark lips? Are embarrassed to face people? Today in this post, we are bringing you some natural homemade remedies to get pink and glossy lips.
The best thing about this is, you can get red lips without using red lipstick.
How to Get Red lips Naturally at Home
There are some right home remedy that you can use to permanently turn your lips red and pink.
A mixture of Sugar Lemon and Honey
Lemon and honey are natural skin whiteners that help treat skin patches and spots. Lemon's bleaching properties work great in brightening the dark complexion of your lips. Sugar is an exfoliating agent that helps in removing dead skin cells.
How to make lips red
1.Take a bowl and add sugar honey and lemon in it.
2.Apply this mixture directly to your lips before going ton the bed.
3.Wash your lips when you wake up in the morning.
4.Repeat this process for one month for the best positive results.
2. Natural Moisturizer
Moisture is essential for then proper health if your lips. Since your lips can become dull and black due to the lack of moisture is very important and beneficial.
Well, we are talking about a natural moisturizer, so you don't need to rush to the market to buy one. We will prepare a natural moisturizer at home.
Requirements
1.Bee wax (1 tbsp)
2.Coconut oil (3 tbsp)
3.The essential oil can be castor oil.
How to use
Bee wax is a natural wax produced from the bees. Take a bowl and add bee wax and coconut oil.
Mix this properly now add essential oil to the mixture. Stir well until a paste is made.
Store this paste in a small container and wait till it hardens. When the paste hardens take it on a finger and apply it directly to the lips.
3. Brushing With a Toothbrush
Take a clean or new toothbrush and brush your dull or black lips, brushing your lips with a toothbrush will remove the dead skin cells from the lips.
Take a soft toothbrush, and you can use a petroleum jelly-like Vaseline to make the process of brushing easier.
Brushing will make your lips pink naturally and make them ever glowing.
4. Beetroot Slices
How to make lips pink and red using beetroot slice? Beetroot is of the most inexpensive ways to get pink lips naturally.
The colouring pigment in the beetroot acts as antioxidants, and its anti-inflammatory properties help to lighten the dark complexion of your lips. , in turn, will give you a natural reddish-pink colour
How to use
Take a fresh beetroot and cut it into the slices and make it easier to apply it onto the lips.
Take the slices and rub them softly onto the lips, make sure to squeeze the beetroot slices so that the juices get released on the lips while rubbing.
Leave it dry and apply multiple layers to deep and deeper and longer staying pink complexion.
5. Pomegranate Scrub
Pomegranate scrub is very beneficial in lightening up the dull complexion of the lips. This is an ideal remedy for gaining red lips naturally.
It also works very effectively over dehydrated lips and helps to restore the natural colour of your lips that too without using lipstick.
How to use
Take a pomegranate and crush it, it water to it and make a scrub. Now use this paste to scrub your dull lips and wash with lukewarm water after the process of scrubbing.
For the best and positive results use this for scrubbing your lips for a period of one month regularly. This is best tips for red lips.
6. Avoid Smoking
Smoking is not only harmful to health; it can also cause serious damage to your lips, teeth, and gums.
The harmful smoke from the cigarette can cause the dullness in the lips complexion. If you want to keep your lips healthy, then avoid smoking as much as possible.
7. Drink Plenty of Water
It suggested drinking a substantial amount of water daily to keep your lips hydrated and pink.
The body is not consuming the required amount of water; then it will become dehydrated and lose the natural colour of lips.
You might be interested in: Beeswax Coconut Oil Lip Balm recipe
Tips to keep your Lips hydrated
Start your day with drinking a lot of water; it will keep you hydrated throughout the day.
2.Avoid beverages. They can cause the dryness on the lips.
3.Drink at least 2 litres of water daily, to keep your body hydrated.
So these were the 7 home remedies that I hope will help you in gaining pink and reddish lips and look wonderful throughout the day.