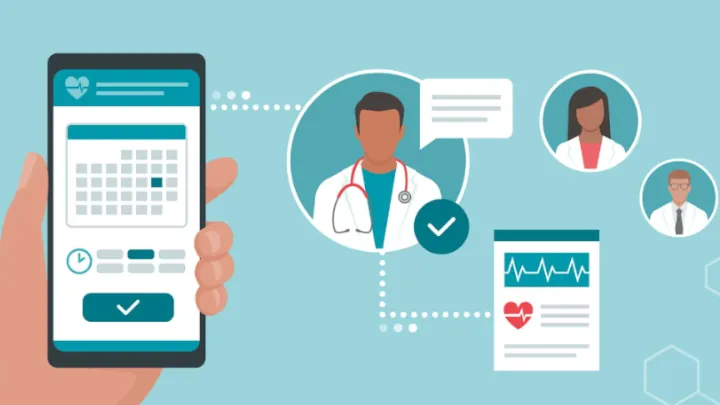 With time becoming an increasingly valuable resource for everyone, the need for simplified healthcare services has never been stronger. In response to this demand, patient scheduling software developers have created various convenient and flexible scheduling options for patients (please check the Topflight article).
In this in-depth blog, we will delve into what scheduling software is for healthcare and discuss the best patient scheduling software.
Patient Scheduling App Untangled
Appointment scheduling software streamlines the booking and management of appointments for healthcare providers, freeing up precious time. This digital solution assures that patients never miss their visits and removes the risk of losing important doctor's notes.
Integrating electronic health records (EHRs) and practice management software further streamlines the scheduling procedure in medical environments. This integration makes handling patient information, charging patients, and generating reports easier.
These systems include features such as text message or email reminders, room assignment tools, and appointment approval protocols to improve their functionality.
Reasons Why the Health Sector should invest in Patient Scheduling App
The best healthcare scheduling software systems provide the following benefits in the healthcare industry:
1. Better Patient Experience
The patient scheduling app improves patient experience by providing user-friendly appointment booking options. Patients can quickly book appointments online, eliminating the need for long phone calls or in-person visits.
The software can also send automated reminders, which helps maintain attendance rates and ensure people come prepared for their appointments.
2. Refined Hospital Management
Implementing a patient scheduling app simplifies the operational aspects of a healthcare center. It offers effective appointment scheduling, room assignment, and resource management.
Hospital managers can increase resource allocation and overall efficiency by optimizing employee scheduling. This improved management helps to create a more organized and productive healthcare environment.
3. Costs and Time-saving
Healthcare providers can save money and time by investing in patient scheduling apps. Appointment scheduling and reminders can be automated, lowering administrative labor and frees employees to focus on more important responsibilities.
It also reduces the amount of missed and wrongly scheduled appointments, saving money and making better use of available resources.
4. Real-Time updates
The patient scheduling app can view appointment availability and schedule changes in real-time. With instant access to the most up-to-date data, healthcare providers and staff can better organize patient appointments and allocate limited resources.
Real-time data also allow for quick adjustments to meet urgent situations or unforeseen changes in the schedule, increasing flexibility in healthcare operations.
Core Features of the Patient Scheduling App should contain
To develop the best medical scheduling software, use these core functionalities in your software:
1. Automated Dashboard system
The dashboard system in the patient scheduling app is fully automated, allowing for streamlined management of appointments. It improves efficiency in healthcare by facilitating easy access to patient records and scheduling information.
2. Patient/doctor Portal
In modern patient scheduling apps, the patient and doctor portals are intuitive and easy to use. Appointments can be made, viewed, or changed quickly, and patients have full access to their medical records.
Doctors and nurses can arrange their schedules, access patient information, and maintain open contact lines.
3. Appointment Tracking
Timely appointment reminders are a crucial feature of the patient scheduling app. In addition to minimizing scheduling conflicts and enabling prompt adjustments in emergencies or cancellations, this guarantees proper patient-provider matching and helps maintain an organized schedule.
4. Reminders and Notifications
One essential element of the patient scheduling app is its robust reminder and notification system. Appointment cancellations can be decreased by sending patients automated reminders via email, SMS, or app notifications.
Latest Trends in the Best Patient Scheduling software
The best medical appointment scheduling software would typically include the following features:
1. Payment Methods Integration
The incorporation of payment methods is a recent development in patient scheduling apps. This allows users to settle bills and co-payments directly within the platform, increasing ease and decreasing administrative work for healthcare providers.
2. AI and Chatbots
Modern patient scheduling apps use AI and chatbots to boost patient engagement and communication. These technologies simplify appointment scheduling, answer frequently asked questions, and provide tailored support, improving the patient experience.
3. Virtual Waiting Rooms
One rising trend is the use of virtual waiting rooms. Patients can check in digitally, saving time spent in physical waiting spaces. This encourages social distance, reduces interaction, and improves patient safety in hospital settings.
4. Real-Time Data insights
The most up-to-date patient scheduling app also provides access to data in near real-time. It offers valuable analytics and reporting to healthcare practitioners, enabling better decision-making, resource allocation, and overall practice optimization.
Wrapping Up!
In conclusion, the best patient scheduling software is now vital for modern health care. There are many advantages to using these tools, including better patient care, more efficient hospital administration, and cost savings. Adopting cutting-edge practices keeps healthcare organizations at the forefront of their respective fields.