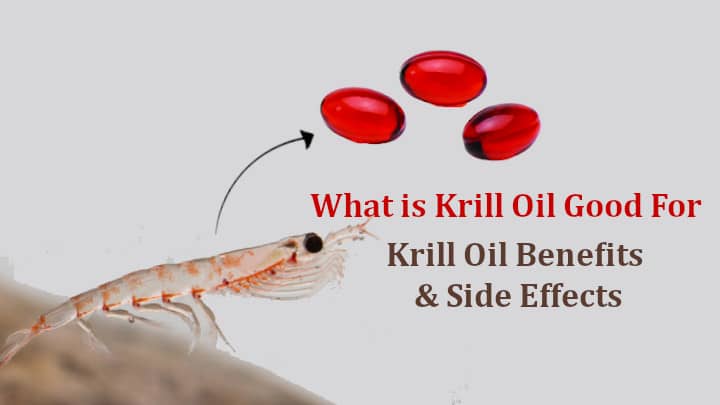 Did you know what are krill oil benefits and side effects? If you are a seafood lover, you would be glad to know that a fish named krill tastes delicious and quite healthy for your overall health and wellness. The oil extracted from this fish is called krill oil.
Krill is loaded in antioxidants with omega-3 fatty acids, DHA docosahexaenoic acid, EPA eicosapentaenoic acid, and various minerals.
This tiny crustacean is located in the cold water ocean and the food of other sea creatures.
Krill oil is highly beneficial for skin, hair, heart, and weight loss and gives your body a shape that you always dreamt of.
We're going to Read
Krill Oil Benefits and Side Effects
Here we mention krill oil benefits and side effects, how to take it, and many more, so keep reading on.
1. Krill oil benefits for Skin and Hair Care
Krill oil has been used to prepare multiple beauty products due to its fresh sea odor and quality of antioxidants and other minerals that slow down cell breakage.
Krill oil improves skin tone, treats acne and pimples, protects your skin from free radical damage, and makes it healthy and glowing. It is also suitable for hair health and makes them strong and thick.
2. Boosts Immunity
Krill oil includes astaxanthin, an antioxidant that is significant for boosting immunity and lower the chances of getting ill quickly, as we all know that a strong immune system can protect you well.
3. Reduce Inflammation
Inflammatory issues like gout and arthritis can be cured by consuming krill oil regularly because it has an excellent amount of anti-inflammatory factors and omega-3 fatty acids with DHA and EPA.
The studies favor krill oil as it works great to reduce inflammation of blood vessels and muscles.
4. Cure Depression Signs
Many researchers have proved that omega-3 fatty acids with DHA and EPA available in krill oil are amazingly beneficial for mental health.
It cures anxiety symptoms and improves mood swings, especially if you suffer from emotional trauma or any illness.
5. Provoke Cardiac Health
An omega-3 fatty acid is one of the best components that your heart needs, and krill oil is loaded with that in pure form. Krill oil prevents the buildup of HDL or bad cholesterol and stops it from developing in the arteries and veins.
It encourages the blood platelets and stimulates good cholesterol.
6. Better Digestive Health
Due to its anti-inflammatory properties, krill oil stimulates metabolism and relieves constipation, stomach disorders, hemorrhoids, etc.
7. Include Healthy Fats
Some of the researchers are agreed that krill oil fats are easy to be absorbed by the body than fish oil fat. Krill oil is a powerhouse of omega-3 fatty acid, EPA, and DHA with antioxidants and other nutrients, and all of these are pretty healthy fats that are rarely harmful.
8. Relieve PMS Symptoms
The PMS symptoms are very unpleasant for women during their menstrual cycle, and studies showed that women who consumed krill oil for a couple of weeks felt less anxiety and improved cramps and pain.
9. Krill oil has No Impurities
If we compare krill oil vs. fish oil, krill oil has proved to be much purer in omega-3 fatty acids and other minerals than fish oil. Krill leaves in the cold water and never consumes anything that can harm human health.
10. Good for Eyes
Krill oil is a nutrient-rich supplement that prevents muscular degeneration and makes your eyes hydrated. It also improves vision, and regular usage can do wonderful effects on your eyes.
11. Easy to add to your Diet
Krill oil can be readily available in the form of a supplement, and adding this into your diet can be more accessible. You can also buy it online or nearby store.
12. Weight Loss
Krill oil can be one of the best supplements to lose weight as it is a purer source of omega-3 fatty acids and helps maintain a fantastic diet.
13. Maintain Blood Sugar
The increased glucose level in the body makes it more difficult to break down the fat; consuming krill oil lowers the blood sugar level and allows the organs to observe the glucose level and utilize it well.
That results in the body burns much fat and makes it easy to lose weight.
14. Reduce Joint and Muscle Pain
Well, joint pain isn't directly linked with weight loss, but yes, it affects body movements and works out like a barrier in weight loss.
An omega-3 fatty acid is much helpful to decrease joint pain so that you can start the activity.
15. Improve Metabolism
Krill oil has L-carnitine the aids the fat burning procedure, and you can lose weight more efficiently and rapidly.
Krill oil side effects
People who are allergic to seafood mustn't advise taking krill oil.
If you have diabetes, you must notify your blood sugar level to lower the blood sugar level.
Krill oil disturbs the natural blood clotting process, so stop taking krill oil before two weeks if you have any surgery.
Avoid krill oil if you are pregnant or breastfeeding.
How much Krill oil to take per Day
There is more research needed to deciding the dosage of krill oil as it depends on person-to-person. Still, the expert will recommend the supplement form of krill oil, and only 1 capsule would be enough for a day.
If you have any seafood allergies or reactions, please avoid krill oil and search for other options of omega-3 fatty acids.
Some of the experts suggested to take a 1gm dosage of krill oil would be enough for an adult, but we recommend consulting your doctor before taking it.
In Closing
Krill oil has to gain popularity as it is a superb substitute for fish oil. Whenever something new things get highlighted, it takes time to notice the effects on the human body.
If you ever heard about krill oil's benefits or ever used it, please share your precious experience with us so others can also know more about that.
We hope this information will be helpful for you. Please share your thoughts and reviews with us, and stay tuned for more details like that.    
Trusted Sources