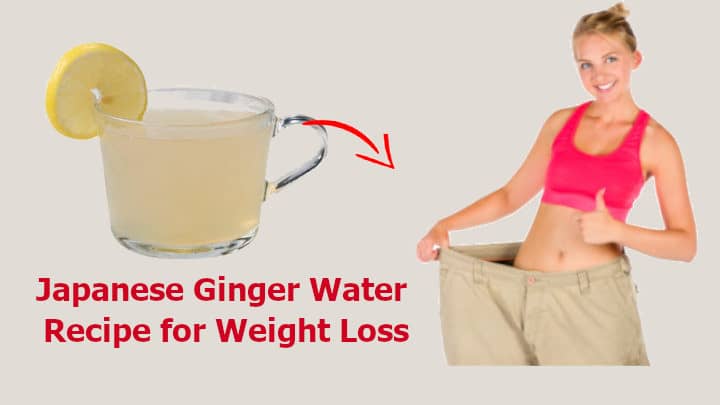 Are you getting frustrated with your excess body fat? Do you need a proper solution to burn your body fat, especially from the waist, back, and thighs? Well, you are so lucky that you are connected with us because we will introduce an amazing home remedy known as Japanese ginger water that directly targets your body fat and burns it naturally without any side effects.
No matter how many recipes you have tried, some are good, and some are a waste of time, but this remedy is highly effective and has magical results.
Ginger water has lots of advantages to your health; it cut down the body fat, makes you look younger than before, improves your digestive disorders, reduces the symptoms of cold and cough, and many more that we will describe in this article.
Ginger water is also known as Japanese water. After doing several studies in Japan, experts concluded that ginger water is quite beneficial for killing fat from the body and making you fit and slim.
In this Article
Japanese Ginger Water Recipe for Weight Loss
How to get skinny fast with Japanese ginger water recipe. One can easily prepare Ginger water at home, and you need only 2 or 3 ingredients to make it.
Japanese Water Recipe for weight loss
Freshly peeled sliced or grated ginger
1 glass of water
Some lime juice
Some organic honey (optional)
How to Prepare
Take a medium size pan and add water to it and bring it to a boil.
Now add ginger slices and let it boil for 5 to 10 minutes on the low flame.
Off the flame and sieve, the water into a glass, then adds some honey and lime juice. Honey and lime both are optional. If you don't like don't add them.
Drink it slowly and warm like you drink hot tea and coffee.
Repeat the process regularly once a day, and you will get wonderful results in a few days.
Drink this before your meal, and do not eat for half an hour.
Other Benefits of Ginger Water
The natural concoction is useful and carries many health benefits, have a closer look at that:-
1. Improves Digestive Health
Ginger water contains some special elements that help to stimulate the appetite and ungraded your digestive system. People, who feel nausea, bloating, and gas after eating or just like that must have this drink.
Regular consumption can eliminate all digestive and gastric issues. You feel more relaxed and light after having only half a cup of ginger water.
2. Fights With Cold and Cough
As you know, ginger is known for its precious components like anti-oxidants and anti-bacterial and includes healing properties that fight well with cold and cough.
Suppose you get affected by a cold constantly and have a chronic cough not to worry and start drinking ginger water. Soon all the cough will destroy. Make sure that the water should be Hot, not even warm, and drink it firmly.
3. Boost your Energy
Always use fresh ginger to make ginger water, and it would boost up your energy level within some seconds.
Whenever you drink it, you feel more active with a better mood, and when you are active state, you want to do exercise and perform better and do well, so the result would be that you can eliminate the more fat from your body.
4. Burn Stubborn Body Fat
There are thousands of home remedies, exercises, drinks, and other ways to burn stubborn fat like thighs, tummy, waist, etc. Only a fatty person can know the pain after doing all the effort and results.
Ginger water only targets the chubby fat that makes you look weird. Just follow the steps and strictly drink it regularly.
5. Promote Overall Health
You can get a healthy body and a relaxed mind after drinking ginger water. Several studies showed that after drinking ginger water for a month, people felt a lack of stress, reducing mood swings.
You can increase your overall health without spending anything as you can see, the ingredients are very ordinary, but the effects are extraordinary.
6. Regulates Blood Pressure
Ginger water is a boon for blood pressure patients. Consume it daily, and you don't need to take any pill to regulate your blood pressure.
It will also regulate blood circulation and help to open any clogged veins in your body.
ALSO READ: Instant Home Remedies for High Blood Pressure
7. Eliminate Bad Cholesterol
Ginger water helps to kill LDL or bad cholesterol levels, which can be dangerous for your health. It approaches good cholesterol and is good for your cardiac health too.
8. Fights with Infections
Ginger contains anti-bacterial and anti-fungal properties and is a great natural way to kill anybody infection.
It provokes your immune system and makes it strong so it can fight infections and allergies.
Your weak immunity can make you ill again and again, so if you want protection, use ginger water for sure. It works as a shield around your body and stops bacteria from affecting you and makes you ill.
Summary
You must note down the important tip that only uses 4 grams of ginger in a cup, not more than that. Sometimes ginger can cause inflammation or heart burning, so use it as described.
Do not perform any experiments and do not drink it warm or cold otherwise, you won't get any results. Drink it slowly. Do not just swallow it.
Many people are happy with the results of ginger water, and still, its other benefits are under study. We hope that via japanese water drink recipe you get skinny fast and of course when you look slim and fit you look younger and attractive.
Please share your experience with us. If you have any questions or any doubts in your mind, ask us here without any hesitation. After all, we have done a hard effort to collect this type of information for you. 
References
Water, Hydration and Health – PMC – NCBI