Health & Wellness
Drink Hibiscus Tea Every Day for Unbelievable Benefits you Must Know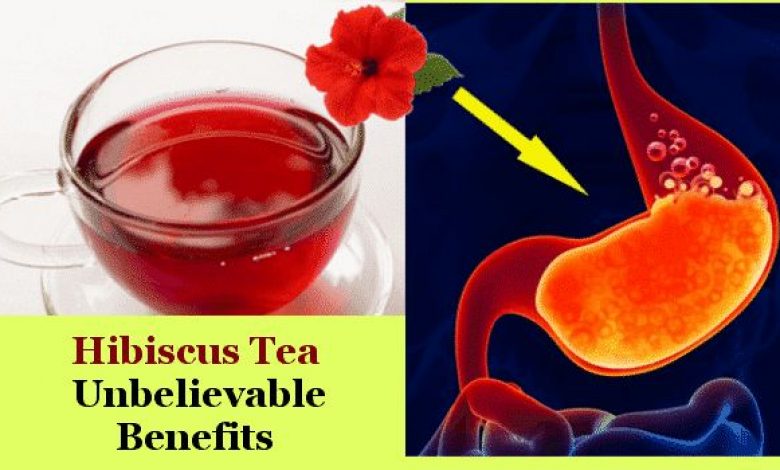 Drink Hibiscus Tea Every Day for Unbelievable Benefits: Hibiscus tea is said to be an herbal tea that is also being called Agua de Jamaica. The tea is made from hibiscus plant. Though there are varieties of hibiscus plants available in the world hibiscus tea only prepared of Hibiscus Sabdariffa, which is actually a flower.
Hibiscus tea includes lots of amazing health benefits because of its anti-inflammatory and anti-oxidant properties. It helps to provoke metabolism level of your body as well as help to reduce weight naturally.
Hibiscus tea is a well-known beverage that is liked by millions of people all over the world. You can drink it hot or cold form. The beautiful red color like cranberry juice and sour taste with numbers of advantages makes hibiscus tea more famous and suitable.
How to Make Hibiscus Tea:
The procedure is quite easy and can prepare hibiscus tea at their home. You just simply take 2 cup of water and boil some fresh hibiscus flower for 5 to 10 minutes on the low flame. Sieved it into a cup and add sugar or honey according to your taste, it will also make a balance between sourness and sweetness.
You can also add other spices like cloves, cardamom, nutmeg powder, ginger or lemon zest for enhancing the taste and making it more effective but it is optional. Hibiscus tea is a full beverage itself so need not any helping product.
Now let's have a close look at some surprising benefits of hibiscus tea:
1. Lower Cholesterol Level:
This is one of the effective benefits of hibiscus tea that it helps to lower the cholesterol level and help to eliminate LDL level or bad cholesterol in the body.
Bad cholesterol directly triggers your heart and builds a plaque around your heart which can cause a sudden heart failure and death. Hibiscus tea is a rich source of anti-oxidants which help to lower the bad cholesterol level and prevent you from heart diseases.
2. Control Blood Pressure:
American Heart Association conducted in a report in the year 2008, that, hibiscus tea is a boon for controlling blood pressure it helps to lower the blood pressure or also known as hypertension.
1/3 generation in America is being suffering of high blood pressure that leads them to heart attack and cardiac diseases. Hibiscus tea includes anti-inflammatory property that regulates blood circulation.
Consume hibiscus tea on the regular basis for a few weeks and get the expected results.
3. Help to Reduce Weight:
Hibiscus tea is an excellent remedy for those people who want to reduce their weight naturally. If you are eating much food that includes a carbohydrate that is responsible for weight gain then you will please to know that hibiscus tea eliminates the absorption of glucose and starch, which results in less weight gain.
Drink this daily and get a shaped and slim fit body in a few weeks.
4. Makes Liver Healthy:
Several studies announced that hibiscus tea is a good tonic for your liver's health. Anti-oxidants help to cure liver diseases and prevent from other major liver-related diseases.
Hibiscus tea has no caffeine content so it doesn't damage any organ of your body.
5. Good Conditioner for Hairs:
Hibiscus tea tastes a little sour and contains vitamin C and other effective minerals and nutrients. Drinking hibiscus tea can make you healthy and strong as well as you can apply it as a conditioner on your hairs.
It will make your hairs shiny, healthy and strong and you can get rid of hair fall and rough hair problem.
6. Prevents from Cancer:
Hibiscus tea contains anti-bacterial and anti-cancerous properties that help to protect your body from cancer. It has a special component named protocatechuic, which is known for its anti-tumor specialty.
A study proved that hibiscus tea slow down the cancerous cell development and at last kill the death cells totally and they will never grow again.
7. Stop Hair Loss:
Millions of people have been facing hair loss trouble and do plenty of efforts to overcome it. Wrong eating habits, depression and many major reasons are possible for hair loss but if you are eager to know the useful way then start drinking hibiscus tea twice in a day.
Its anti-oxidants and vitamin C and vitamin B1 B2 will stop your hair fall and make your hairs healthy and shiny.
8. Improves your Mood:
Hibiscus tea has such content like flavonoids which help to reduce depression and anxiety. It provides relaxation to your nervous system and makes you feel good. So whenever you feel tired and tensed then have a cup of hibiscus tea and see the instant results.
Some researchers done on individuals declared that the people who were having hibiscus tea regularly have low mood swings and anxiety.
9. Good for your Skin Health:
Hibiscus tea is a powerhouse of anti-oxidants and like everybody knows that antioxidants make your skin breathe. It clean-up your bowel system and reduces constipation. Your skin looks gorgeous in some weeks.
Vitamin c helps to reduce acne and pimples from your body and make it healthier. And when you feel relaxed by the body and mind then it affects the whole body.
10. Cure Digestive Disorders:
Hibiscus tea is liked and loved by those people who are suffering from digestive issues like constipation, bloating after eating something. If you are suffering from chronic constipation and bloating in the abdomen then start drinking hibiscus tea twice in a day and you will feel the positive results within a week.
Summary:
Hibiscus tea is one of the best remedies to cure many diseases and health issues. You can drink this hot in winters and chilled in summers and both forms are equally effective.
The other interesting thing is that you can easily make this at home. You can grow a hibiscus plant at your home or backside of your backyard. You can do experiments with that adding some spices.
Your health is our concern, stay connected with us for more remedies and information.