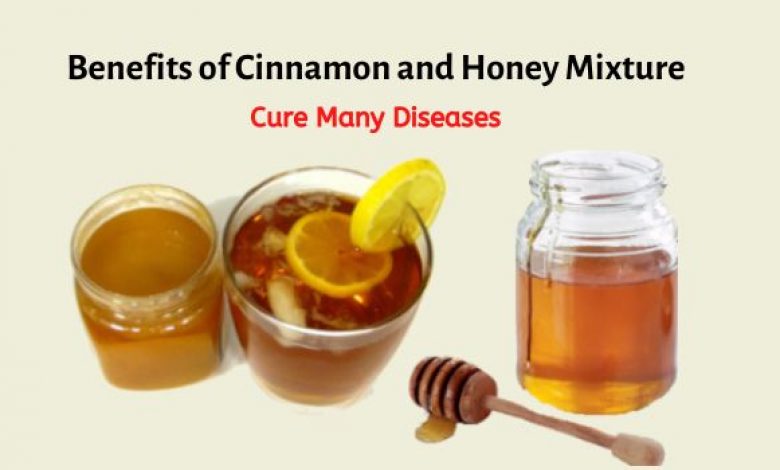 Benefits of Cinnamon and Honey Mixture: Honey and cinnamon have been traditionally used household items, that posses immense health benefits. You might have been using these ingredients individually, but when used in combination has an additive effect. Honey is available in raw or refined form. The refined form of honey is easily available in the market and has good nutritive value.
The other component, Cinnamon is available in two varieties cassia cinnamon and Ceylon cinnamon. Cassia cinnamon is easily available and is widely used than the other one.
Here are some of the amazing benefits cinnamon and honey mixture along with directions for preparation
1. Honey and Cinnamon for Weight loss:
Honey helps in preventing the deposition of fat in the body and cinnamon suppresses appetite. When the mixture is consumed along with the diet and exercise it has helped people to lose weight and be in good health. The combination also helps in removing belly fat.
Preparation:
Take one teaspoon of cinnamon powder, one tablespoon of honey and one cup of water.
In the hot water add the cinnamon powder and let it steep for 15 mins.
Once the mixture has reached room temperature add honey. Consume this mixture twice daily on empty stomach (morning and evening)
2. Honey and Cinnamon for Arthritis:
Studies support the use of cinnamon to prevent bone resorption. It acts on osteoclast cells and prevents bone damage.
Both cinnamon and honey possess anti-inflammatory properties that can help in preventing inflammation of joints, therefore relieving pain.
Cinnamon also improves blood circulation and hence can help reduce the joint swelling.
Preparation:
The mixture can is applied as a paste on the affected joints or can be used as a drink.
1 teaspoon of cinnamon powder and 1 tablespoon of honey in lukewarm is all you need to get relief from arthritis pain.
Don't miss: Coriander seeds water benefits for thyroid
3. Honey and Cinnamon for Acne:
The anti-bacterial properties of the two ingredients help fight bacteria and prevent the formation of the ugly spots on the skin. The sticky honey can also help in removing dirt and debris from the skin.
Cinnamon facilitates the formation of collagen and hence can also be used as an anti-aging agent.
Preparation:
Make a thick paste of honey and cinnamon and apply it on the affected area.
Leave the mixture for 15 mins and wash it with lukewarm water.
4. Honey and Cinnamon for Cough and Cold:
Honey has been traditionally used in preventing cough and cinnamaldehyde, in cinnamon has immunomodulating properties.
The two ingredients work together to strengthen immune strength and protect from seasonal changes.
The combination of honey and cinnamon can also help in preventing sinuses, cough, and cold in the winter season.
Preparation:
In lukewarm water, add a pinch of cinnamon powder and honey to taste and drink it in the morning or bedtime.
You can also add little lemon juice.
5. Helps Treat Indigestion And Other Gastric Issues:
Honey is full of nutrients when consumed gets absorbed quickly giving you instant energy and strength. It soothes the membranes of the digestive tract and prevents the growth of bacteria, H. pylori.
It also initiates the release of gastric juices hence useful in indigestion. Cinnamon relieves heartburn, cramps and decreased secretion of gastric acid.
Preparation:
Consume two tablespoons of honey sprinkled with a pinch of cinnamon before meals.
6. Cinnamon and Honey for Heart Disease:
Honey and cinnamon are packed with antioxidants that prevent free radical damage in the body and hence are quite helpful in reducing the risk of heart diseases.
People with high blood pressure and increased levels of LDL and VLDL are at increased risk.
The combination of honey and cinnamon also reduces chronic inflammation, one of the main factors that cause heart diseases.
Preparation:
Cinnamon and honey are good taste and you can make a tasty spread on it to apply it on the bread.

You can make the paste in equal parts or as per your taste buds.
7. Honey and Cinnamon Lower Cholesterol:
A mixture of cinnamon and honey helps in lowering bad cholesterol and triglyceride levels.
Honey is also known to increase HDL, the good cholesterol in the body. It is also effective in treating cholesterol in patients with diabetes.
Preparation:
Take honey, cinnamon powder, and green teacups in 3: 2: 2 proportions, green tea can also be replaced with normal water.
Mix all the three ingredients and consume the mixture 3 times a day. This mixture is quite helpful in reducing chronic cholesterol.
8. Honey and cinnamon Enhance Immunity:
Cinnamon and Honey possess ingredients that have antibacterial and antioxidants properties. These two agents help in preventing seasonal allergies and infections.
It removes oxidative stress and flushes out chemicals from the body. Regular consumption boosts immunity and prevents autoimmune diseases.
Cinnamon has anti-inflammatory properties that relieve pain and inflammation. The combination improves blood circulation providing nutrients and oxygen to all parts of the body and strengthens the immune system.
Preparation:
Add a pinch of cinnamon powder in lukewarm honey water. Consume the syrup twice daily on empty stomach.
9. Honey and Cinnamon for Infertility:
Cinnamon and honey are packed with multivitamins and minerals. These nutrients provide energy to the reproductive tract. It stimulates the ovary and improves the menstrual cycle.
It is also effective in treating uterine fibroids and PCOS (Polycystic Ovary Syndrome). PCOS is one of the gynecological problems that affect fertility in women, and cinnamon helps you to regulate the menstrual cycle.
In men, cinnamon is found to improve sperm count.
Preparation:
Make a thick paste of cinnamon and honey and apply it on the gums.

The mixture slowly gets absorbed in the body and exerts its beneficial effects.
Cinnamon and honey are two traditionally used medicinal compounds that have been scientifically proven to have various health benefits.
The combination is useful in preventing and controlling cholesterol, heart diseases, inflammatory diseases, infertility, skin infection, pimples, cold and flu and immunity.
The mixture can be consumed as a tea or applied as a paste. The sweet and spicy solution in lukewarm water is good to be consumed on an empty stomach.