Home Remedies
8 Easy Steps to Treat Teenage Acne Permanently at Home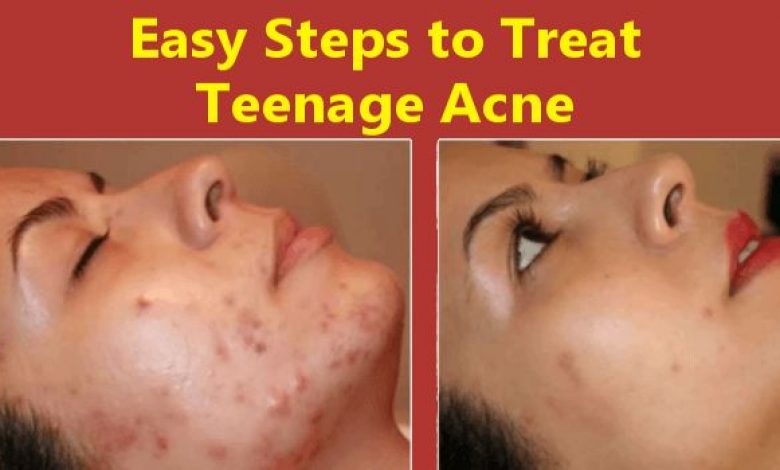 8 Easy Steps to Treat Teenage Acne Permanently at Home: Here we will know easy steps to treat teenage acne at home. Acne or Pimples is one of the most common long term skin diseases that makes your skin dull and ugly. It widely traps old aged people but often affects teenager too due to the increment in the hormones level in their body.
Stress, sleep deprivation, dust, pollution, over sun exposure, sedentary lifestyle, overproduction of sebum, etc. can be the reason behind the ill health of your skin. Acne takes place primarily on your chest, back, scalp and facial region. In this case, you should try home remedies first before going to a medical and expensive treatment.
Here are some practical natural home cures that deal with your acne prone skin and provides you soft, supple and glowing skin.
8 Easy Steps to Treat Teenage Acne Permanently at Home:
1. Tea Tree Oil Remedy for Acne:
It is an excellent source of anti-inflammation and antibacterial qualities. Hence, it works against micro-organism that is responsible for the acne. It eases inflammation, redness, dryness, burning, irritation as well as shorten the duration of acne.
How to use:
• Take 2-3 drops of tea tree oil and mix it with 4-5 tablespoon of carrier oil (you can replace coconut oil with olive oil, water or Aloe Vera Gel).
• Mix it well and then smear the mixture on your acne prone skin.
• Let your skin to soak it entirely.
• Wash your skin with lukewarm water and then dry thoroughly.
• Do this method once in a day.
2. Indian Lilac (Neem) Remedy for Acne:
It is highly recommended for those face acne skin. It is loaded with antifungal, antiseptic, antibacterial, antimicrobial and anti-inflammatory qualities. All these properties are more than enough to deal with acne, inflammations, scars, itching, infection, rashes, allergies, etc.
How to use:
• Grab a handful of fresh Indian Lilac leaves and wash them to remove dust and debris from them.
• Blend them to make a fine paste.
• You can add some turmeric powder into it to make it more potent anti-acne treatment.
• Apply it to the entire acne skin and leave it for some time.
• Wait until it dried up and then wash with ordinary water.
• Go for this method two or three times in a week for better results.
3. Aloe Vera Remedy For Acne:
The soft and clear gel of Aloe Vera is one the widely used ingredients to get rid of acne skin. That's why it is used in cosmetics, soaps, skin creams and lotion. It contains sulfur and salicylic acid that are the superior opponents of acne. Its anti-inflammatory and antibacterial nature inhibits the germs causing acne prone skin.
How to use:
• Take fresh Aloe Vera leaves and peel it off to extract gel.
• Spread the gel directly on your acne skin in order to cover the entire acne portion.
• Allow it to sit for at least 30 minutes and then wash it with water.
• Additionally, you can leave it on your skin because it is known as an excellent moisturizer.
• You can try this procedure on your daily basis until you get the acne-free skin.
4. Lemon Remedy For Acne:
It wards off acne skin as it is a most excellent exfoliating substance that cuts down the dead skin cells and promotes new cells. It is one of the worthy astringent that proffers you a healthy and glowing skin by reconstructing your body tissue. It prevents overproduction of sebum that is a significant cause of acne prone skin. Also, it desolates the germs and bacteria and cleanses your skin thoroughly.
How to use:
• Take a fresh lemon and cut it into two halves.
• Squeeze the slice and extract its juice.
• Grab a cotton swab and dip it into the lemon juice.
• Place it on your affected skin and wait for 15-20 minutes.
• Wash it off with cold water and then dry your skin entirely.
• Do this remedy several times a day. But, if you have a sensitive tone of your skin then avoid this treatment. It causes stinging or irritating effects in that case.
5. Honey Remedy For Acne:
If you are looking for a simple and efficient natural treatment, honey is the ideal solution for you. Honey is packed with anti-inflammatory, antioxidant and antibacterial properties. It mitigates irritation, pain and other discomforts due to acne. The decent nature of honey delivers you soft, smooth as well as glowing skin by encouraging the healing process.
How to use:
• Pour 2-3 tablespoons of raw and pure honey in a mixer bowl.
• Add some cinnamon powder into it to prepare a healing mask and mix it well.
• Wash your face and dry thoroughly and then apply the paste to the ill part of your skin.
• Rinse it with water as usual after 20 minutes.
• You can utilize this method every day to make your skin healthy as earlier.
6. Fuller's Earth Remedy For Acne:
It is also known as "Multani Mitti" that is highly used in skin care products. It roots out greasy as well as acne prone skin. It delivers you an impressive appearance as it absorbs the extra oil of your skin. It helps to unclog the pores and keeps your skin hydrated. Thus, people use it on their daily basis as it helps them to have a beautiful and attractive complexion.
How to use:
• Take two tablespoons of fuller's earth in a bowl.
• Add the equal amount of sandalwood powder in it.
• Mix the powder together and then pour some rose water to prepare a good consistency.
• Put this mud face pack on your acne skin.
• Wash it with water after half an hour.
7. Apple Cider Vinegar Remedy For Acne:
It cleanses your skin by eliminating dirt and debris out of your skin. It kills the micro-organisms, germs, and viruses due to it acidic (mildly acidic) nature. It obstructs the overproduction of sebum and lessens zits, scars, pimples, etc. It makes your skin glow too.
How to use:
• Take few tablespoons of pure, raw and organic apple cider vinegar.
• Add some water to it to reduce its concentration.
• Apply the solution on your skin using a cotton swab. You can wash it later or leave it.
• You can consume this solution if you have a sensitive tone of skin or have a wound on your skin.
8. Green Tea Remedy For Acne:
Most of the people prefer green tea to keep their skin healthy. It is listed in the top anti-acne components. It has a robust anti-oxidant nature. Besides, it carries an essential element, EGCG or epigallocatechin-3-gallate that is a great enemy of acne skin. It desolates the factors such as pimples, scars, excess oil on your skin and keeps your skin away from acne or damage.
How to use:
• Take two cups of water in a bowl and boil it for 5 minutes.
• Add little green tea into it and let it steep for 4-5 minutes.
• Strain it and can add honey to make it a delicious drink.
• Drink it several times within a day to get desired outcomes.
• Furthermore, you can apply this tea (without honey) on your acne prone skin using a cotton pad. Rinse it with water after 20 minutes.
• This natural and efficacious treatment will help you to recover faster.