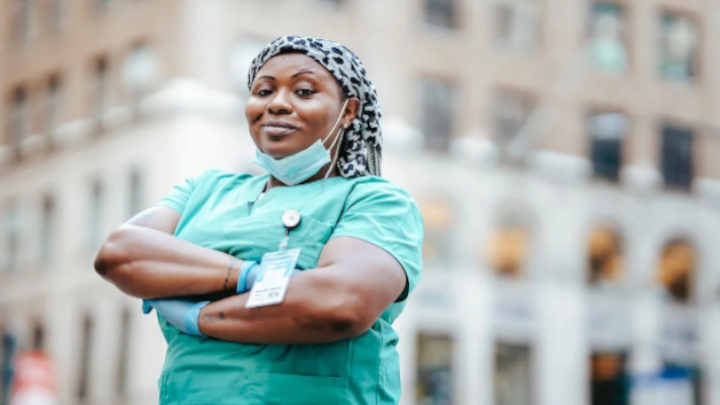 Nurse practitioners have duties comparable to those of a doctor, such as preventing disease, treating injuries and illnesses, and promoting healthcare. They can offer generalized or specialized healthcare to the community. Additionally, they can meet and converse with patients, make diagnoses, compile medical histories, and write prescriptions and referrals.
Is the Nurse Practitioner Program Worth It?
Becoming an NP requires 3-6 months of on-the-job training after completing a master's. The average salary for nurse practitioners is $118,0540, but the salary can go higher with the proper certifications and experience.
Getting a higher certification will allow more earnings as a nurse practitioner. The Bureau of Labor Statistics claimed that the employment of registered nurses would grow by 7% by 2029.
Pursuing Nursing Online
If you are interested in pursuing a nursing degree but prefer an online platform over an on-campus one, you are in luck. Many universities today allow you to fulfill your dream of becoming a registered nurse practitioner from the comfort of your home.
The online programs will help you gain the skills required to serve in primary healthcare and further serve as an educator, counselor, or advocate for patients of various ages.
These online programs are the best way to complete your MSN to NP journey. At completion, you will be awarded credit hours to signify excellent healthcare standards along with theory and evidence-based practice.
Roles and Responsibilities of a Nurse Practitioner
Nurse practitioners provide healthcare services to specific patient demographics. They review the medical histories of their patients and order, carry out, and evaluate diagnostic procedures. They collaborate with medical teams to develop treatment regimens and provide follow-up care.
NPS are usually capable of working independently and writing prescriptions because of their superior training and knowledge.
They can perform practical on-patient procedures, including intubation, casting injuries, and debridement. They are also in charge of teaching patients about the prevention of diseases and maintenance of the post-treatment health phase.
The Journey to Becoming a Nurse Practitioner
Here is a step-by-step approach to give you a comprehensive idea of the nursing career.
1. Get a BSN
The foremost academic requirement to begin a nursing career is a bachelor's degree in nursing (BSN). A BSN degree is typically earned in a time span of four years for full-time students, but it takes longer for part-time students.
2. Get your RN License
The next step after receiving a BSN is to become an RN, for which passing the National Council Licensure Examination is a must. The NCLEX-RN is a competitive exam; the passing rate for all RN candidates in the first half of 2021 was calculated at 72.94%.
3. Obtain an MSN
For NPs, a master's in science in nursing (MSN) degree is the required educational level. Before enrolling in a master's degree in nursing, it is vital to decide on your specialization area so that you may tailor your studies accordingly.
4. Consider Acquiring a DNP
A Doctor of Nursing Practice (DNP) degree prepares a nurse practitioner for leadership roles. People who wish to boost their earning potential and influence healthcare policy may want to explore getting this degree.
5. Ace the National Certification Examination
NPs must take a National Board Certification Exam for their specialization of choice following graduation. In most states, NPs can only start working once they've passed this certification test.
Selecting Patient Focus
A nurse practitioner can serve in various available specialties, with care targeted at a specific community or age group.
1. Acute Care NP
Acute care NPs treat patients with chronic conditions and handle urgent medical emergencies. These professionals could be employed in ERs, ICUs, cardiology units, coronary care, and surgical wards. In the US, 2.9% of NPs serve to provide acute care.
2. Adult Care NP
Patients between late adolescence and full adulthood receive medical support from adult NPs. Most of these NPs provide primary care, including conducting physical examinations, making diagnoses, developing treatment plans, and informing patients about their medical issues. The percentage of NPs specializing in adult care is 5.7%.
3. Family NP (FNP)
An FNP offers complete medical treatment to both individuals and families. This specialty is one of the most adaptable for NPs because their knowledge is not limited to any particular age range. Although they also treat common ailments and track their patient's health over time, family nurse practitioners mainly concentrate on preventive care.
4. Gerontology NP
Gerontology NPs treat the elderly, support patients during acute episodes, stabilize patients throughout chronic illnesses, review medical records, and assist patients in modifying their lifestyles as they age. Such NPs can work in hospice facilities, senior homes, hospitals, and doctor's offices.
5. Neonatal NP (NNP)
Care for ill and premature neonates is provided by a neonatal NP. Their range of practice includes working in hospitals, community clinics, private practices, outpatient facilities, and neonatal critical care units.
6. Oncology NP (ONP)
Oncology NPs provide treatment and palliative care for cancer patients. They work with oncologists to create individualized treatment strategies for each patient. They prescribe diagnostic procedures, supervise infusion therapy, monitor patients' progress, and recommend patients to other professionals.
7. Pediatric NP (PNP)
Pediatric nurse practitioners provide acute and primary care for kids. They provide their patients with exams, vaccinations, injury treatment, and preventive instructions.
Psychiatric Mental Health NP (PMHNP)
Psychiatric NPs are employed in the mental health sector. They make mental disorder diagnoses, carry out treatment programs, and track patients' development.
Women's Health NP (WHNP)
The sexual and reproductive health of women of all ages is a focus of this field of study. Adolescent girls and older women approaching menopause can get wellness counseling from women's health NPs.
Conclusion
Nurse practitioners are highly skilled and dedicated healthcare professionals who play an essential role in providing high-quality care to patients. Nurse practitioners often work long, demanding hours and are called upon to provide care in difficult or stressful situations. They are an essential part of the healthcare system. The job scope is ever-increasing for NPs, with a predicted growth rate of 40% for NPs from 2021 to 2031.