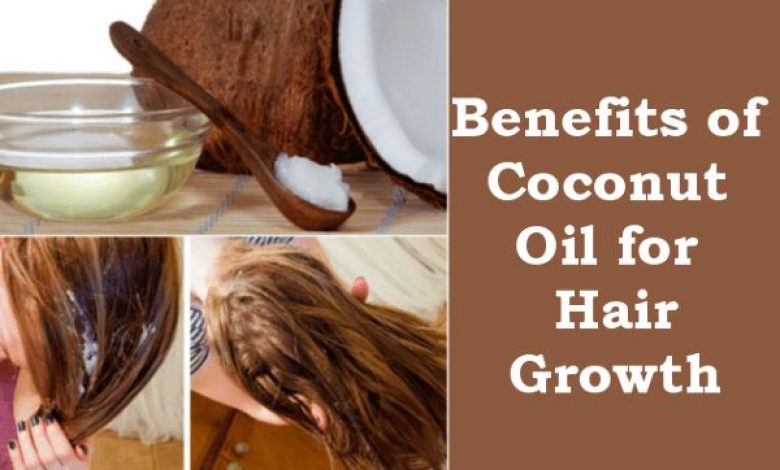 benefits of Coconut Oil For Hair Growth: There are amazing benefits of coconut oil for hair growth. A form of edible oil, the coconut oil is extracted from natural coconut. The matured coconuts are harvested to extract coconut oil from them. The oil can naturally provide multiple benefits to your overall health and body.
Losing weight, increasing your brain functionality, making your skin healthy and glowing, and protecting your health from diseases like Arthritis, Alzheimer and even Blood Pressure, are some of the major.
Coconut oil originates from the ancient land of India, where it has been in use for centuries. Today, the benefits of coconut oil are being discovered throughout the world.
More and more people today are incorporating coconut oil for health benefits. Not many are aware, however, of the benefits coconut oil is capable of providing to your hair and scalp. Using coconut oil overnight can act as a natural hair treatment for hair growth.
If you are still confused about how to use coconut oil for hair growth, keep reading for a great and an immense treasure of hair growth treatments. These natural hair treatments for hair growth are surely going to provide you with benefits like never seen before!
Top 10 benefits of Coconut Oil For Hair Growth:
1. Coconut oil promotes hair growth:
Coconut oil naturally promotes hair growth and gives you healthy hair. Since ancient times, in India, coconut oil is used widely for this purpose.
It is a sure-shot hair growth treatment there! Mixing other oils, herbs and healthy ingredients help stimulate hair growth in a considerable manner. Coconut oil also gives you a healthy scalp. It is capable of providing natural ingredients to your hair to keep the roots of your hair healthy and strong.
You could start by directly applying coconut oil to your head or mix it with other natural ingredients, for example, gooseberries with coconut oil to increase natural hair growth.
Applying this mixture of coconut oil overnight will provide your hair and scalp with natural nourishment and care it requires to grow further.
2. Get rid of dandruff the natural way:
Today, most of use a multitude of hair products just to be sure that those white flakes do not embarrass us in various social and professional situations.
Popular international brands claim to have solutions for these problems. They aim at reducing the issue from its roots, however, they are not kind to our hair health. Coconut oil is not like them. It will treat your hair with love and tenderness.
Simply mix a few drops of lemon juice to natural and organic coconut oil. Massage this mixture to your head and scalp. Massage is in a gentle manner and let it stay on you for about two to three hours before you shampoo your hair. Once you rinse your hair, you are going to see the difference!
3. Natural Conditioner:
Speaking of nourishment and tenderness, you probably are using tonnes of hair conditioning products only to see the same dull results. Well, give coconut oil a try this time. Massage some coconut oil to your hair and scalp at least two hours before you take your shower.
Rinse it off with a good quality shampoo. Try not to apply anything else to your hair, and wait until they are naturally dry. You will see a start difference in the quality of your hair. Your hair is going to be super smooth, shiny, and healthy.
Applying coconut oil overnight is even better for this purpose, especially when you have an important social/professional event.
Coconut oil has natural hair conditioning properties which make these results possible. Your hair will thank you for not treating them with the usual harsh chemicals and using something natural on them.
4. Cure to frizziness:
There can be various times, when you are supposed to be looking at your best, but the natural frizz of your hair does not allow the same. Many products are marketed to control the frizz of your hair, however, using them on a daily basis is damaging to your natural hair growth and strength.
As we said, coconut oil can provide moisture to your hair, acting as a natural conditioner. well, Coconut oil can also provide a solution to frizzy hair. Once the problem of dryness of your hair is solved, frizziness can be tackled with ease too.
A tiny bit of coconut oil taken in the palm of your hand, and applied from your hair roots to tips can tame all of your frizzy hair problems. It can save you in a wonderful manner.
5. Lose those knots:
How many of you are guilty of investing in innumerable hair detangling products and serums? I can probably virtually say, all!
I have been there too! You are not alone. Detangled hair is the biggest hair issue we all face, especially ladies with curly hair. Detangled hair can become weak over a period of time. This can lead to the problems of split ends and hair loss. Here, in this case, as well, the coconut oil health benefits cannot be denied!
Through coconut oil, you can help your hair have an improved texture. Coconut oil is very light and thus, can penetrate into your scalp. This makes it very easy for your hair to not just be moisturised, but also silky smooth without any knots. This is going to help reduce the damage your hair have sustained.
6. Damage reduction:
Speaking of damage! Yes, coconut oil is rich in nutrients and minerals that help you rid your hair of all kinds of damages your hair has been prone to in the past.
Coconut oil improves the quality and texture of your hair. If you do have damaged, brittle and weak hair, try and incorporate coconut oil into your hair care regime. You will see a wonderful difference.
Our hair is exposed to all kinds of pollutants and toxins from the outside world, which can lead to hair damage. Coconut oil is going to act as a barrier for your hair against harsh polluting agents outside.
7. Sunblock for your hair:
Have you ever googled how damaging the rays of the sun are for your hair? Most people do not realise how the sun can lead to deterioration to your hair health. The UV Rays from the sun can make them dull, dry and brittle.
The roots, moreover, can become weak over some time. The necessary nutrients and proteins of your hair can lost because of exposure to sun. This can also lead to them becoming prone to dandruff.
Coconut oil health benefits do not just end at it being used as a hair growth treatment. In fact, coconut oil protects your hair from the harmful sun exposure by retaining all the natural healthy parts of your hair in them! It is thus, a "sunscreen" for your hair.

8. Lice baby:
Children are more prone to lice. They can contract the problem at schools through their fellow classmates. Lice can lead to the formation of excessive knots in your child's hair. Not just this, they are also going to damage your child's hair and rob them off of all-natural hair strength and its nutrients.
Here, coconut oil again comes to the rescue.
Without any side-effects and other harmful effects, coconut oil helps solve the issue of lice. By reducing the infestation of lice in your and your child's hair, it can act as a natural hair treatment for hair growth. Moreover, coconut oil, by penetrating into the scalp can lead to the repulsion of lice as well as their eggs.
Read also: How to use Black Seed Oil for Hair Growth
9. Cools your head off Literally:
Coconut oil can naturally cool your scalp through massaging. Massaging coconut oil to your head can relieve you of all worries and stress that have been bothering you.
People in areas, where the temperatures rise excessively, especially during summers, must definitely incorporate coconut oil to their hair care and stress relieving regime.
10. Natural colouring effect:
Coconut oil is a widely popular method to colour your hair the natural way. The hair colours and the kits contain many harsh chemicals which are dangerous for your hair health. Coconut oil, however, can act as a protective base to reduce the ill effects of hair colouring kits.
The hair colour through this process is retained for long, not to forget the enhanced quality of your hair. Coconut oil can thus, provide your hair the colour you desire without having to compromise on its natural health.
Hope these Hair growth treatments are going to come in handy for you in the long run! Coconut oil health benefits can never end. It is one the best and tried and tested natural hair treatments for hair growth. If you have more to add, feel free to let us know!