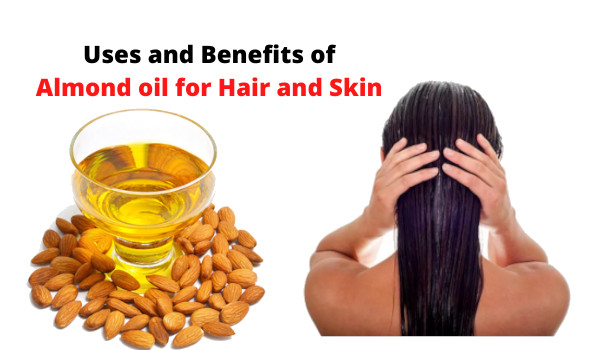 Benefits of Almond oil for Hair: Do you know that you are never too old to become younger if you are investing part of your time in skin and hair care? I believe that being beautiful does not require wearing musk-like makeup; instead, it means being comfortable with your skin.
So instead of put on costly cosmetics focus on the natural products which are more effective to get flawless skin and shining hair? As our skin and hair, the most vital part of our outer looks so they need great care and time.
Our skin reflects our inner health, and to possess a good skin, it needs a chemical-free natural product like almond oil. It is the one product with multiple benefits for hair as well as skin.
Therefore we are here to give you more information about the benefits of almond oil for skin and hair and also how to use it for best results. So here we go.
What is Almond Oil?
The oil we get from the edible seed of Prunus dulcis tree, commonly known as an almond tree is called almond oil.
This oil has a high amount of oleic acid, and it provides various health benefits which include skin and hair benefits too. The oil is extracted by pressing the indecent fruit or seeds of the almond tree. The oil is extracted in the following way:
After harvesting the mature almonds are hulled and then dried.
Refined almond oil is obtained by using high heat and chemicals.
Unrefined almond oil is made by pressing almond in raw condition, and no heat or chemical is used.
Different Uses of Almond Oil:
1):- It has culinary uses. Such as:
For cooking food to get the full benefits of almond oil.
To add extra nutty flavour in dishes.
2):-Used as a part Of Beauty treatment:
To apply on hair for shine
Advantages of Using Almond Oil For Hair Skin and Beauty:
Almonds are brown, oval-shaped nuts which are an all-rounder in terms of nutrition and other aspects. The oil that we get from the delicious almond also has loads of benefits for our health, skin, hair and beauty. There are two types of almond oil:
Sweet almond oil—it is a carrier oil.
Bitter almond oil—it is an essential oil.
Now, let us uncovered the value of almond oil for our skin, hair and overall beauty.
1. Make our skin clear and radiant:
Almond oil is a wonderful asset for our skin. It is mild, and it has hypoallergenic properties. Therefore it is beneficial for sensitive skin also. Sweet almond oil also contains vitamin E, which is extremely powerful and work as an antioxidant.
This is very useful to keep our skin cells healthy and make it smooth and glowing. The fatty acids in almond oil lock the moisture inside, and it remains soft and smooth even in winter.
How to Use:
Almond Oil and Jojoba Oil:
Take equal quantity of almond oil and jojoba oil in a bowl and mix.
Apply with your fingertips on the face and massage in an upward circular motion.
Everyday massage increases blood circulation and makes your glowing.
2. Reduce the Sign of Ageing with Almond Oil:
sweet almond oil is effective skincare oil and reducing ageing signs is one of the most important benefits of using it as a daily ingredient for skincare.
Let us see how it acts:
Everyday use of almond oil can refill our skin's squalane balance. Squalane is a hydrocarbon compound, and it balances the oil production of the skin. It has powerful anti-ageing and moisturizing properties. Lack of Squalance increased the chances of development of wrinkle at an early age.
Almond oil is full of antioxidant that helps to reduce oxidative stress and fight free radicals. Therefore it is useful to keep wrinkles at bay.
Almond oil is loaded with oleic and linoleic acid.
Almond oil also contains a moderate quantity of phytosterols which is plant cholesterol, and it decays the process of collagen loss and boosts up collagen production.

Collagen is responsible for maintaining the structural support of tissues in the face, and thus it holds the skin tightness and elasticity.           
Don't miss: Onion and potato juice for hair
How to Use:
Warm Almond Oil Massage:
Take one and a half teaspoon of almond oil and warm it in the oven. Open a vitamin E capsule and mix the extract with the oil.

Now wash your face and wipe it thoroughly.

Take the warm almond oil and vitamin E mixture on your fingertips and massage it gently on the wrinkle-prone areas.

Do it for 10 minutes.

After 10 minutes wash your face with lukewarm water and pat it dry.
3. Get Healthy and Shiny Hair:
Almond oil holds all the goodness of healthy ingredients which supply nourishment for the hair health. It also has vitamin Z, magnesium, omega-3, fatty acids and phospholipids.
All these compounds are efficient to strengthen hair and even optimal for curing hair related issues like dandruff, itchy scalp etc. In a word, almond oil is truly hair-friendly. It is lightweight and aromatic.
It does not make you feel any stickiness in your hair. Scalp irritation and inflammation are the two most common factors that cause hair loss, dullness, split ends in hair.
But if you include almond oil in as one of the ingredients in your hair care treatment, it will help you to overcome this entire hair related problem.
The minerals that almond oil consists of (zinc, calcium, Magnesium) are useful to cure all these issues, and they also support hair growth. Therefore, the dream of getting a shiny and lustrous hair is possible with almond oil.
How to Use:
Almond Oil and Olive Oil:
Take equal quantity of olive oil and almond oil. Warm it for 2 seconds.
Apply the concoction on your hair and scalp and massage for 15 minutes.

Cover your hair with a cap and keep it for one hour.

Wash it off.

Repeat it at least twice a week to increase the shine and volume of your hair.
ALSO READ: How to Make Rice Water for Hair Growth
4. Remove Dark Circles:
Dark patches under the eye are the cause of constant concern and worry as it has direct impacts on your looks. If you want to find out a sure shot solution, you must use almond oil under the eyes.
Almond oil is naturally blessed with vitamin E, and it will rejuvenate your skin under the eyes. It also reduces the puffiness under the eye area.
The presence of retinol and vitamin K helps to keep the delicate under-eye skin smooth and hydrated.
How to Use:
Almond Oil and Rose Water:
Take a few drops of almond oil.

Now dip a cotton ball into rose water and apply under the eye area. Let it dry by itself.

After it dries naturally apply the almond oil with fingertips and massage gently.

Keep it overnight.
5. Remove Darkness and Soften Lips:
we all desire for soft pink lips. Perhaps lips are one of the most sensitive parts of our looks, and so it needs extra care.
Lack of proper lip care we may lose the softness and natural pink colour of lips. Lips get darker or pigmentation due to some reasons. To mention a few are:
Genetic cause
Smoking.
Lack of water in the body.
Certain medication like chemotherapy.
Drinking excessive coffee or tea.
So, to get rid of such pigmented dark lips, we may take help Almond oil. It is a natural emollient and helps to remove the dead cells from the chapped lips on application.
Thus it makes lips softer and smoother. Moreover, coated out lips with almond oil may protect it from the harmful UV rays and reduce the darkness.
The fatty acid helps to retain the moisturizer and prevent it from getting cracked.
How to use:
A): Almond Oil and honey:
• Take one teaspoon of almond oil and half teaspoon of honey.
• Mix them well and add some sugar.
• Apply this mixture onto your lips. Massage gently at least twice a day.
• Honey and almond oil will make your lip soft and smooth, while the sugar exfoliates the dead cells.
B): Almond oil and Lemon Juice:
• Mix equal quantity of fresh lemon juice or almond oil in a bowl.
• Mix it well and massage the oil onto your lips with fingertips.
• Do it every night before bedtime.
• Lemon juice i9s a natural bleaching agent and almond oil make your lips hydrated.
• Both works together to lighten your lips within a few trials.
RELATED: Get Red lips Naturally Without Using Red Lipstick
6. Work as An Excellent Cleanser:
Oil cleansing is a new method to keep the facial skin clean and dirt free. Almond oil works as an excellent cleanser as it is mild, lightweight and suitable for any skin.
Besides its skin protection power, it is also effective to clean the pores and helps to reduce blackheads and whiteheads.
Though it sounds a bit contradictory, oil cleansing methods is beneficial to get rid of all hidden impurities. It also works on oily skin type too.
Almond oil leaves the skin hydrated when using as a cleanser as it contains vitamin E and fatty acids. The popular concept of oil absorbs oil work here to dissolve all the dirt particles.
How to use:
Almond oil and Castor oil mixture:
• Take equal quantity of Almond oil and castor oil. Mix it well
• Damp a cotton cloth with warm water and place it on your face for 30 seconds.
• Remove the cloth and massage the face with the oil mixture gently with fingertips.
• Leave the oil for two or three minutes on the face.
• Again damp the cloth with warm water and wash the oil by rubbing very lightly.
• You can use coconut oil also instead of castor oil.
7. Remove Entire Make up:
Removing makeup at the end of the day is an essential part of the daily skincare routine.
Using chemical-based makeup remover may cause skin rash and dryness, so it is better to depend on some natural organic ingredients like almond oil.
It is the right option for removing makeup as it makes skin soft and smooth after every use. Let us explain the reason for using almond oil as a makeup remover.
It is pure and natural
Almond oil does not leave any makeup residue inside the skin after use.
It is mild and lightweight. Suitable for all skin type and it penetrates quickly into the skin to clear all impurities.
It is non-comedogenic; therefore, it does not clog the pores.
How to Use:
• Take required quantity of almond oil on your palm.
• Gently massage it on the face. Apply on the eye areas very gently to remove eye makeup.
• Now take a cotton ball damped with rose water and remove the makeup.
• After you clean your face, wash it with warm water.
8. Useful as a Pimple Removing Face Pack:
Almond oil is effective to prevent acne breakouts. It has vitamin a and fatty acids which regulate the sebum secretion.
Less oil production causes the pores to remain unclogged, and it leads to resisting the future breakout of acne.
As almond oil is less anti-bacterial, so it is necessary to mix it up with Neem oil to make pimple removing face pack.
How to Use:
Almond oil face Pack:-
• Take one teaspoon of sweet almond oil.
•Add 2 to 3 drops of Neem oil with it.
• Massage your face with this and leave it for
• In the next morning, wash it off with lukewarm water.
• Do it twice in a week.
9. Remove Stretch Marks with Almond Oil:
Stretch- marks are irregular lines on the skin where it has been stretched due to some physical changes. The most common cause of stretch- marks is pregnancy and obesity.
If anyone loses weight suddenly then stretch marks appears on the knee fold, underarm or abdomen area.
Though it is impossible to get rid of old stretch marks, we can prevent it b oil massage at the beginning of pregnancy.
Almond oil is a perfect oil with fatty acid and vitamin E that helps to prevent stretch marks. Moreover, it is a natural emollient, so it reduces the dryness of the skin and controls the lipid equilibrium.
The linoleic acid in Almond oil helps to keep the skin smooth.
How to Use:
Take adequate quantity of almond oil on your palm.

Massage on the area of stretch marks. Let it soak in the skin.

Before massaging exfoliates the area of skin with a soft brush where stretch marks have been build up.
ALSO READ: Best Home Remedies for Stretch Marks
10. Treat Dandruff and Damaged Hair with Almond oil:
Benefits of almond oil for hair growth and shiny hair are a well-known fact, but few of us know that it has the power to treat dandruff as well. It removes dead cells from the scalp and repair old cells.
How to Use:
• Take one spoon of amla powder.
• Mix it with an adequate quantity of almond oil. Make a smooth paste.
• Apply on the hair.
• Keep for an hour and wash off.
In conclusion, we can say that almond oil has multiple uses, and it is up to you how you can like to incorporate it in your daily life.
Besides beauty benefits, it also promotes heart health, control diabetes, helps to lose weight, and so on.
Now the choice is yours. I hope that this write up will help you with lots of information about almond oil to make a healthy decision.